This has been reviewed and updated as of November 4, 2020.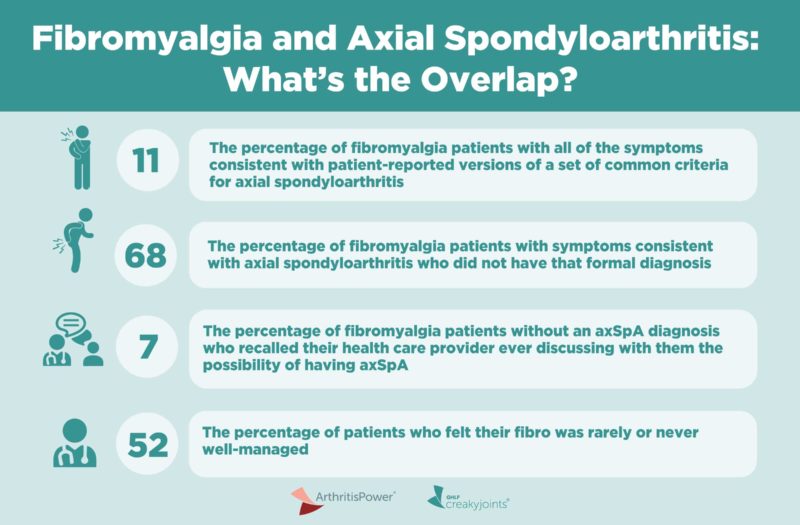 Fibromyalgia — a condition that causes widespread pain, fatigue, and sleep and cognition issues — is not uncommon. According to the U.S. Centers for Disease Control and Prevention, it affects about 4 million U.S. adults. But fibromyalgia is often challenging to diagnose and treat because it frequently occurs alongside other chronic diseases, including autoimmune or inflammatory types of arthritis.
People who get diagnosed with fibromyalgia may, in fact, have fibromyalgia plus other health issues that go undiagnosed. Or they might not have fibromyalgia at all, but rather another health condition altogether.
One common area of confusion has to do with fibromyalgia and a type of inflammatory arthritis called axial spondyloarthritis (axSpA). For a variety of reasons, doctors suspect that axSpA goes undiagnosed in many people who have symptoms of it. Fibro may be one of those conditions that either co-occurs with axSpA or is mistaken for it.
Because fibro and axSpA are treated with very different medication regimens, if patients who think they have fibro could actually have axSpA, this misdiagnosis could have a deleterious impact on their health, as persistent untreated symptoms could lead to long-term joint damage, disability, and a significant decrease in quality of life.
Researchers, including those from our non-profit organization, the Global Healthy Living Foundation (GHLF), set out to learn more about this potential overlap and what it may signify for helping people get better care.
In research presented during ACR Convergence 2020, the annual meeting of the American College of Rheumatology, researchers surveyed 301 patients who reported a diagnosis of fibromyalgia in our ArthritisPower research registry to understand more about their symptoms and patient journey. (Preliminary findings from this research were presented earlier this year at the European E-Congress of Rheumatology 2020, held virtually by the European League Against Rheumatism [EULAR]).
The patients in the study reported having a diagnosis of fibromyalgia without also having a diagnosis of rheumatoid arthritis or psoriatic arthritis. They were asked whether they had a diagnosis of axial spondyloarthritis or ankylosing spondylitis (AS), then answered a number of different survey questions, including those that measure pain interference, sleep disturbance, and fatigue; the Bath Ankylosing Spondylitis Disease Activity Index; and a customized survey developed by the research team.
Here is what we learned.
Symptom Overlap Between Fibromyalgia and Axial Spondyloarthritis
Of the 301 fibromyalgia patients who completed the surveys, only 40 people reported also having a diagnosis of axial spondyloarthritis.
But many patients with fibro and without an axSpA diagnosis reported having symptoms consistent with those of axSpA. For example:
94 percent of fibro patients without an axSpA diagnosis reported back pain lasting longer than three months
61 percent of fibro patients without an axSpA diagnosis reported that their back pain onset was gradual
62 percent of fibro patients without an axSpA diagnosis reported that their back pain did not improve with rest
21 percent of fibro patients without an axSpA diagnosis reported that they had back pain at night
78 percent of fibro patients without an axSpA diagnosis said their back pain started before age 45
You can see in Figure 1 below that in many cases, the symptoms of fibro patients without an axSpA diagnosis were similar in prevalence to those of fibro patients with an axSpA diagnosis.

Formal Axial Spondyloarthritis Diagnosis Is Not Common
A full 11 percent of fibro patients in the study reported having all of the symptoms consistent with patient-reported versions of a set of common criteria for axial spondyloarthritis.
This includes back/buttock pain >3 months, age of symptom onset <45; sacroiliitis diagnosis, and at least one spondyloarthritis feature.
However, of this group, only 32 percent reported having an axSpA diagnosis. That means that 68 percent of people surveyed who had symptoms consistent with axial spondyloarthritis did not have that formal diagnosis.
Axial Spondyloarthritis Is Not Well-Known by Fibro Patients
Of the 257 fibro patients without an axSpA diagnosis, only 7 percent had recalled their health care provider ever discussing with them the possibility of having axial spondyloarthritis, including non-radiographic axSpA diagnosis.
Axial spondyloarthritis is an umbrella term for inflammatory arthritis that primarily affects the spine and sacroiliac joints. Ankylosing spondylitis is a form of AS where joint damage is visible on X-rays; non-radiographic axial spondyloarthritis has similar symptoms but without that visible joint damage.
There are many reasons axSpA may not be discussed between doctors and patients with fibromyalgia. You can read more about these issues here, but they include the fact that axSpA can be — incorrectly — thought of as a "man's disease" and fibro more commonly occurs in women.
Another is that axial spondyloarthritis is not well-known in general; when patients present with the red-flag symptoms of back pain, buttock pain, or pelvic/hip pain, it is commonly chalked up to mechanical causes, such as muscle strain or overuse injuries.
Delays in Diagnosis and Symptom Burden
Some 80 percent of all patients surveyed felt they have had an undiagnosed condition in addition to their fibro and other current diagnoses.
Of those with fibro and axSpA, 52 percent believe that their axSpA should have been diagnosed earlier, with 39 percent reporting that one reason for the delay was their doctors' belief that fibro was the cause of any axSpA symptoms they experienced.
The study also found that half of all the patients surveyed felt that their fibro was rarely or never well-managed.
Fibro is primarily managed with lifestyle changes and medications that include anti-epileptic drugs and antidepressants, while axSpA is typically managed with non-steroidal anti-inflammatory medications or biologic drugs that target the immune system to tamp down inflammation.
If fibro patients are not improving on their current treatment regimen and have symptoms consistent with axSpA, it may be good to discuss the possibility of this diagnosis with a health care provider.
"There is clearly a lot of symptom overlap between fibromyalgia and axial spondyloarthritis," says study co-author Kelly Gavigan, MPH, Manager of Research and Data Science at GHLF. "This study adds to the growing body of evidence about how these conditions either co-exist or are mistaken for each other. Based on these findings, it is likely that a number of people with fibromyalgia and who also have axSpA symptoms either have a misdiagnosis or an additional diagnosis yet to be confirmed."
"We encourage patients to track their health with the different surveys and tools within ArthritisPower," says Louis Tharp, Executive Director of GHLF. "This can allow you to look for patterns in symptoms over time and have a more informed discussion with your health care provider if your current treatment is no longer helping."
Found This Study Interesting? Get Involved
If you are diagnosed with arthritis or another musculoskeletal condition, we encourage you to participate in future studies by joining CreakyJoints' patient research registry, ArthritisPower. ArthritisPower is the first-ever patient-led, patient-centered research registry for joint, bone, and inflammatory skin conditions. Learn more and sign up here.
This study was supported by UCB, which is a corporate sponsor of the Global Healthy Living Foundation.