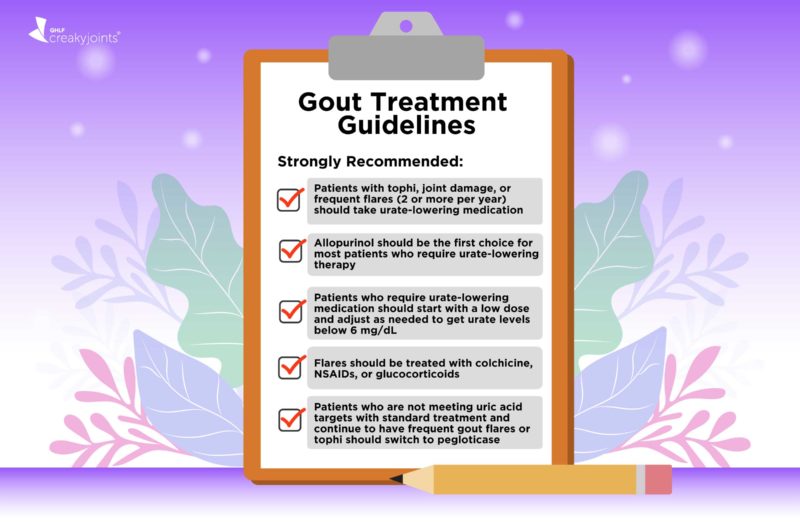 Gout, a form of inflammatory arthritis known for causing excruciating pain in the big toe, stems from a buildup of uric acid (urate) in the body that crystallizes and settles in one or more joints. While medications like naproxen or colchicine can reduce pain and inflammation during an acute gout flare-up, they don't do anything to address the underlying problem. That's where urate-lowering medication like allupurinol comes in.
Though not everyone with gout needs regular, preventive treatment, many do — yet a study published last year found that a mere third of gout patients are getting it. That's a problem because if too much uric acid remains in the bloodstream it often leads to subsequent painful gout attacks. What's more, uncontrolled gout has been associated with an increased risk of other health problems such as diabetes, heart disease, and kidney disease.
Updated gout treatment guidelines from the American College of Rheumatology (ACR) emphasize the importance of a "treat-to-target" approach, which in this case means treating a gout patient as aggressively as needed to keep their urate levels below 6 mg/dL.
"The ACR is recommending treatment to those with evidence of radiographic damage attributable to gout, even if they do not present all 'typical' symptoms at the time of diagnosis," says Daniel Hernandez, MD, director of medical affairs and Hispanic outreach for the Global Healthy Living Foundation. "This is important because getting treatment sooner could reduce the risk for long-term damage."
The previous version of the ACR guidelines for gout management was released in 2012. While the benefit of urate-lowering therapy was already known and discussed at that time, since then "several clinical trials have been conducted that provide additional evidence regarding the management of gout, leading the ACR Guidelines Subcommittee to determine that new guidelines were warranted," the authors explained.
The new guidelines include 42 recommendations, including many that pertain to the use of urate-lowering therapy. Here are a few highlights:
Strong Recommendations
These are supported by moderate or high evidence; benefits are believed to clearly outweigh the risks for most patients
Patients with tophi (visible bumps made of uric acid crystals), joint damage that's visible on imaging tests, or frequent flares (two or more per year) should be taking urate-lowering medication.
Allopurinol should be the first choice for most patients who require urate-lowering therapy. (It carries fewer side effect risks compared to febuxostat (Uloric), another urate-lowering drug that the FDA added a black box warning to last year.)
Patients who require urate-lowering medication should start with a low dose; the dose should be increased periodically during the first few weeks or months until regular blood tests indicate that urate levels have fallen below 6 mg/dL.
Gout flares should be treated with colchicine, nonsteroidal anti-inflammatory drugs (NSAIDs like naproxen), or glucocorticoids.
Patients starting urate-lowering therapy should simultaneously take anti-inflammatory medication for at least three to six months.
Patients who are not meeting uric acid targets with treatment like allupurinol, febuxostat, uricosuric agents, and other interventions and continue to have frequent gout flares (two or more a year) or persistent tophi should switch to pegloticase (Krystexxa), an infused medication for uncontrolled gout.
However, switching to pegloticase is strongly recommended against in patients who are not hitting uric acid targets with other meds but have infrequent flares (less than two a year) and no tophi.
Conditional Recommendations
Less high-quality evidence or more assessment of risks vs. benefits for each patient required
Patients who start urate-lowering drugs should stay on them indefinitely, even if they are not having a lot flares or tophi.
Patients with a first gout episode should not start urate-lowering therapy, except if they have moderate-to-severe chronic kidney disease, kidney stones, or serum urate above 9 mg/dL. This group was given a conditional recommendation to start uric acid-lowering therapy.
Patients taking febuxostat should consider switching to a different drug if they have cardiovascular disease or a history of it.
Patients who are of Southeast Asian descent or are African-American should consider testing to see if they have a mutation to the HLA-B gene; those who do face a high risk of developing a serious skin reaction if they take allopurinol.
Patients having a gout flare and cannot use anti-inflammatory medications like colchicine, NSAIDs, or steroids should consider using a type of biologic called an interleukin-1 (IL-1) inhibitor, such as anakinra (Kineret), or instead of taking no medication.
Ice can be used alongside medications to treat gout flares.
Gout and Diet
The new guidelines also give a nod to the fact that gout is not simply the result of overindulging or eating the "wrong" foods. The guidelines conditionally recommend limiting the consumption of alcohol, purines, and high-fructose corn syrup and conditionally recommend weight loss for those who are overweight or obese, but importantly, they don't overemphasize their importance in gout management.
While losing weight and limiting foods like red meat that are high in purines (which lead to the production of uric acid when metabolized) may be helpful, those measures only go so far. Gout is largely due to genetics, family history, and co-occurring conditions like chronic kidney disease.
The good news, the guidelines conclude, is that "gout has been characterized as a 'curable disease.' As data continue to emerge supporting best practices in management, implementation of these recommendations will ideally lead to improved quality of care for patients with gout."
Track Your Gout Symptoms with ArthritisPower
Join CreakyJoints' patient-centered research registry and track symptoms like fatigue and pain. Learn more and sign up here.