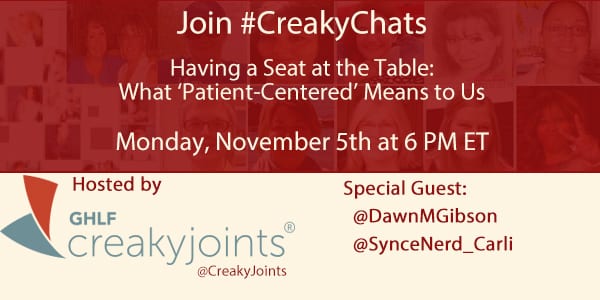 Join us for our next #CreakyChats on May 31st at 6pm ET.
Will we chat about key learnings and highlights from Arthritis Awareness Month.
Our cohost is the Everyday Health.
You don't need to have a form of arthritis to participate. Anyone with any disease is invited to use the hashtag and share..
To join the chat follow @creakjoints and use the hashtag #CreakyChats.
Past #CreakyChats topics include:
what life would be like without chronic disease.
Advocacy: Be the squeaky/creaky wheel.
Share your #CreakyTruth: 24 hour twitter event.
What I wish the world knew about chronic disease: Tips for educating and advocating.
A Discussion on Mental Health and Chronic Disease
Empowerment Through Action
The emotional impact of Chronic Pain
Sharing Chronic Disease Pro-tips
Patient Doctor Communication: Breaking Down Barriers
Topics Rarely Broached in the Chronic Community: Sex, Religion, Money, Politics
Touchdown with CreakyJoints: Sports, Movement and Activity with a Chronic Disease
New Year, New Reflections Looking at the Year Ahead
Managing the Stress of the Holidays
Engaging Marginalized Communities: Access, Research, Outcomes.
Psoriasis Isn't Contagious: Education Should Be. Special Guest National Psoriasis Foundation
More Than a Diagnosis: Exploring the "Patient" Inside the Person
Patient Centered Research: What You Should Know
The Arthritis Journey: From Living With to Thriving Together
Family Planning & Rheumatic Diseases
Male Arthritis Patients: Overcoming Stigma/Achieving Success
Stump the Rheum: A Rapidfire Q&A with Dr. Jeff Curtis
Creating Support Communities
Know Your Labs: The Importance of Diagnostic Testing
Fail First Hurts
Patient Advocacy in 2017
Past Partners include:
U.S. Pain Foundation @US_Pain
Lene Anderson @TheSeatedView
Dawn Gibson @DawnMGibson
Jed Finley @JediMaster941
Everyday Health
Dr. Victor Montori, Patient Revolution, Mayo Clinic
Dina Neils, The Titanium Triathlete
Dr. Sherry Pagoto
Health Central
BlackDoctor.org
National Psoriasis Foundation
HurtBlogger
PCORI
HealthCentral
Men's Health Network
Rheumatology Nurses Society
Spondylitis Association of America
Arthritis National Research Foundation
US Pain Foundation
To read transcripts of chats visit: www.storify.com/creakyjoints. Below is a transcript of our latest #CreakyChats, Engaging Marginalized Communities: Access, Research, Outcomes.