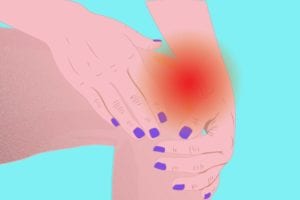 Oral pain medication, injections, and physical therapy can all help ease the discomfort of knee osteoarthritis (OA), but when non-surgical options have run their course it may be time to consider knee surgery. That might mean minimally invasive arthroscopic surgery (in which damaged cartilage is removed), but often the next best move is to replace part or all of the knee joint. Which type of knee replacement surgery should you choose?
While every case is different so you should talk to your doctor, a new study presented at the annual European Congress of Rheumatology (EULAR 2019) in Madrid suggests that partial knee replacement is safer in terms of post-surgical complications.
Researchers led by Daniel Prieto-Alhambra at the University of Oxford in the UK analyzed insurance claims data on more than 32,000 patient who had undergone partial knee replacement and more than 250,000 who had had total knee replacement. They determined that those who had the partial procedure were 25 to 50 percent less likely to suffer a dangerous blood clot (venous thromboembolism) within two months of surgery. Those in the partial knee replacement group were also 15 to 30 percent less likely to report persistent post-surgical pain.
A partial knee replacement is a shorter, less costly, and less complicated surgery because only the area of the knee that has degenerated is taken out and replaced with artificial materials. In a total knee replacement, the entire joint is removed and replaced.
Despite the clear short-term benefits of choosing partial replacement, there is a notable downside: People who have a partial knee replacement are more likely to require additional surgery within five years. According to this study, about 2.5 to 5 percent of people who get a total knee replacement end up needing revision surgery within five years; that number jumps to 5 to 7.5 percent for those who get a partial replacement.
"Although the long-term risk of revision is higher for partial knee replacement, this is likely, at least partly, explained by a greater willingness to revise a partial knee replacement," said study co-author Edward Burn in a release from EULAR. "The results of our study based on real-world data will complement those from a forthcoming randomized controlled trial comparing the two procedures."
Keep Reading