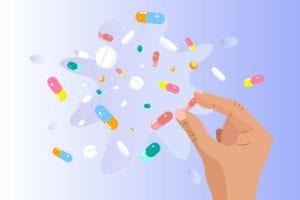 The JAK inhibitor baricitinib (Olumiant) was FDA approved for rheumatoid arthritis (RA) last year, making it the second drug in this class available to U.S. patients with this condition. But that approval came with some serious caveats: The FDA put a "boxed warning" (the strictest kind) on it, cautioning users that it may increase the risk of serious infections, cancer, and blood clots.
When a drug carries such stern risks, doctors and patients often assume that it's best to use it for as short a duration as possible. While Olumiant is certainly not a first-line treatment for RA — only people who haven't had success with TNF inhibitors should consider it — new research suggests that the drug remains effective and does not become more dangerous after using it for several years.
The new study, presented at the European Congress of Rheumatology (EULAR 2019) in Madrid, was an analysis of nine earlier randomized trials that together provided data on 3,770 patients with RA. In one of the trials that was analyzed, patients used Olumiant for up to seven years. According to the authors, the drug "maintained a safety profile similar to that previously reported and acceptable in the context of demonstrated efficacy."
The authors of this study also compared the risks of using 2 mg of Olumiant versus 4 mg. (Only the 4 mg dose is currently FDA-approved). They found that the risk of dangerous blood clots and cancer (aside from non-melanoma skin cancer) were similar in people getting either dose, but the risk of developing shingles was significantly higher among those taking the 4 mg amount.
Keep Reading