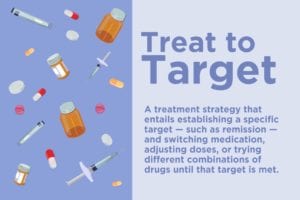 People who have rheumatoid arthritis (RA) may be familiar with "treat-to-target," a treatment strategy that entails establishing a specific target — such as remission — and switching medication, adjusting doses, or trying different combinations of drugs until that target is met. That same type of approach might also prove useful for patients with axial spondyloarthritis (axSpA), according to a presenter at the European Congress of Rheumatology (EULAR) in Madrid.
At this event, Pedro Machado, MD, an honorary consultant in rheumatology and muscle diseases at University College Hospital and the National Hospital for Neurology and Neurosurgery in London, explained that treat-to-target has long been used for patients with conditions other than RA, such as diabetes and high blood pressure.
The catch, however, is that those non-rheumatologic conditions can easily be monitored with objective measures; in diabetes, for instance, you can use an A1C blood test to learn about someone's average blood sugar level over the past three months. Although blood tests can measure levels of inflammation and imaging tests can check for disease progression, monitoring the "target" in rheumatologic diseases can be a lot trickier.
The best target for axSpA, an inflammatory condition that causes chronic back pain among other symptoms, would likely be remission. Current EULAR guidelines already say that axSpA patients with high disease activity who aren't doing well on first-line therapies, such as NSAIDs, should progress to using a biologic drug. Still, several steps would need to be taken before a treat-to-target strategy could be used, because at the moment there's no official definition of remission for this condition. Some type of standardized assessment of disease activity, probably including information taken from patient MRIs, would have to be developed first.
Although there are no randomized trials comparing a treat-to-target approach with routine care for axial spondyloarthritis, "I would say that the observational evidence is almost enough to advocate a treat-to-target strategy in axial spondyloarthritis," Dr. Machado told MDedge.
Keep Reading