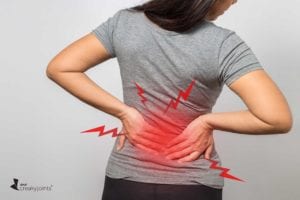 The American College of Rheumatology/Association of Rheumatology Health Professionals Annual Meeting brought a lot of good news and interesting updates for people living with rheumatoid arthritis. The CreakyJoints team was on site at ACR, reviewing studies, attending sessions from top axial spondyloarthritis (axSpA) experts, and chatting with patients and physicians for their take on the most important findings and trends for patients back home.
After sorting through it all, reading updates from other groups covering the meeting, including RheumNow, Medpage Today, Healio, and MD Magazine, and asking our team of advisors to share the insights they really want patients to know about, we curated this guide to axial spondyloarthritis research and trends from ACR you should make sure to be aware of.
For more research breakthroughs from ACR 2019, check out our main guide: 50+ Arthritis Updates That Should Be on Your Radar.
For more specific research on the following conditions, check out our ACR coverage on:
1. Doctors want to get rid of the distinction between 'ankylosing spondylitis' and 'non-radiographic axial spondyloarthritis.' The conventional thinking is that both of these types of inflammatory back pain fall under an umbrella called axial spondyloarthritis (axSpA); with AS, you can see damage on X-rays and with non-rad axSpA, there's not yet visible damage on X-rays. But research increasingly shows that the disease burden is the same, and patients will require similar treatment. "Axial SpA describes one disease spectrum with an artificial distinction between patients with radiographic and nonradiographic disease," Désirée van der Heijde, MD, PhD, of Leiden University Medical Center, Netherlands, told the ACR Daily News. "Given all the similarities and the difficulties in the correct assessment of radiographic sacroiliitis, it is preferred to use the term axial SpA to diagnose a patient — and it is not necessary to make a distinction between non-radiographic and radiographic axial SpA."
2. Non-radiographic axSpA patients may be getting subpar treatment. In a large survey of about 1,000 patients — half of which had ankylosing spondylitis and half of which had non-radiographic axial spondyloarthritis — the nr-axSpA patients were less likely to be prescribed biologic medications than the AS patients, even though they shared similar equal disease and symptom burden. "For the same amount of burden patients are not being treated, not being taken seriously because they don't have definitive ankylosing spondylitis," study co-author Atul Deodhar, MD, of Oregon Health and Science University, told MD magazine.
3. More approvals for non-radiographic axial spondyloarthritis are coming. Part of the reason nr-axSpA patients may be undertreated, of course, is that until 2019 there were no FDA-approved biologic medicines specifically for this indication. That changed with the approval of anti-TNF biologic certolizumab pegol (Cimzia) earlier this year; now research on other types of biologics is underway and looks promising.
Data on ixekizumab (Taltz), which is an IL-17 inhibitor, showed that it did significantly better than placebo improving disease activity in nr-axSpA patients after 16 and 52 weeks. A different trial on secukinumab (Cosentyx), which is also an IL-17 inhibitor, reported significant improvement in signs and symptoms of nr-axSpA through 16 weeks. Both of these IL-17 inhibitors are already approved for ankylosing spondylitis.
"Hopefully this leads to further approvals so that we have the same treatment options for nr-axSpA as we do for AS," rheumatologist Jean Liew, MD, a senior fellow at the University of Washington, told CreakyJoints.
4. Treating non-radiographic axSpA earlier can improve outcomes. Extreme diagnosis delays in axial spondyloarthritis — some patients can take more than a decade to get the right diagnosis — may contribute not only to a delay in treatment, but a poorer response to treatment once started. A study of nr-axSpA patients on certolizumab pegol Cimzia) found that patients who had shorter symptom duration (less than three years) had more improvement in disease activity scores and on quality of life measures than those who started treatment later. Doctors may use this and other data to help nr-axSpA patients get on more aggressive therapy sooner.
5. JAK inhibitors are moving into axSpA. JAK inhibitors — which are oral medications that target specific immune system pathways — have been making big headlines at ACR for the last few years, as they've become more widely used in rheumatoid arthritis and as more types of JAKs come on to the market. Tofacitinib (Xeljanz) has been approved for rheumatoid arthritis since 2012 and psoriatic arthritis since 2017; baricitinib (Olumiant) was approved for RA in 2018, and upadacitinib (Rinvoq) was just approved for rheumatoid arthritis earlier this year.
Now researchers have promising initial results for using upadacitinib to treat active ankylosing spondylitis. "Upadacitinb was shown to be very effective in controlling symptoms and achieving ASAS 40 response when compared to placebo," says rheumatologist and CreakyJoints medical advisor Vinicius Domingues, MD. ASAS40 is an improvement in disease activity and function of at least 40 percent.
"Having an oral agent as an option for AS will be exciting, as oral DMARD therapies such as methotrexate are not effective in AS," Dr. Liew told CreakyJoints. Read more.
6. Comorbidities are common in axSpA and deserve more attention. A large German study of 1,776 patients aimed to assess which comorbidities — or co-occurring diseases — were most prevalent in people with axSpA, and in turn, how they influenced patients' disease activity or daily function. They found that that the three most common comorbidities were hypertension (52 percent of patients), depression (25 percent of patients), and lung disease (23 percent of patients). The hypertension is particularly concerning, as NSAID medications are a first-line therapy for axSpA and hypertension is a well-known side effect.
7. The reasons for diagnostic delays in axSpA are complicated. A study of U.S. health care providers sought to examine how doctors engage with patients who are suspected to have inflammatory back pain. Among the insights, it seems diagnostic delays occur because of many different reasons. For one, patients may be bouncing around from doctor to doctor: 46 percent of providers reported that patients had seen other providers prior to seeing them. However, almost two-thirds of primary care providers (internists and family medicine doctors) said they were the first doctor patients had seen. From there, wait time to see a rheumatologist was an issue: 90 percent of providers estimated that their referred patient would have to wait up to two months to see a rheumatologist. The authors concluded that long wait times as well as insurance restrictions were the primary factors preventing patients from seeing a specialist sooner. Here's more on what to expect at a rheumatologist during a visit to discuss AS.
8. There's a lot of overlap between axSpA and fibro. Small studies have suggested an overlap between spondyloarthritis (SpA) and fibromyalgia, but now a larger meta-analysis confirms it: About 17 percent of SpA patients also have fibromyalgia, compared to 2 to 8 percent of the general population that has fibromyalgia. Females with SpA were significantly more likely than men to have the dual diagnosis of fibromyalgia. They also found that people who live with both conditions are more apt to have higher levels of SpA disease activity. Whether that's a coincidence or related to the underlying pathology of these conditions is unclear. Read more.
9. Females with axSpA fare worse. Research out of Ireland looked at 734 patients with axSpA: 171 were female and 563 were male. They found that females with axSpA have report higher disease activity, greater negative impact on quality of life, higher NSAID use, and proportionately lower use of biologic medication than male patients. The authors concluded, "dedicated research into female patient with axSpA is needed to appropriately address and treat their disease" — and we couldn't agree more.
"[Understanding gender differences] is an important area that we need to study more as we try to personalize treatments for our patients," University of California San Francisco rheumatologist Lianne Gensler, MD, told RheumNow.
10. We need better ways to evaluate radiographic progression in ankylosing spondylitis. Doctors have struggled with being able to measure radiographic progression in AS, according to Dr. Gensler, because X-rays are not a very sensitive tool. (Measuring radiographic progression is important because it allows doctors to know how well treatment is working not just to treat symptoms, but prevent long-term damage.) At ACR, research explored using low-radiation CT scans of the thoracic (middle) spine specifically because that's where people with AS tend to progress and have the most burden of damage, according to Dr. Gensler.
11. Dactylitis may be more common in SpA than we thought. A French study found that almost 30 percent of patients suspected of early spondyloarthritis have dactylitis (which is when the entire digit is swollen, like a sausage). Dactylitis was more common in females and those with psoriasis. This symptom is commonly discussed in regards to psoriatic arthritis, but SpA patients should pay close attention to it as well, particularly because it could be a clue for people with early-stage disease that their back pain is, in fact, inflammatory and not due to an injury or mechanical problem.
12. Axial spondyloarthritis takes a large toll on patients' ability to work. High disease activity and functional impairment in SpA are linked with a decreased ability to work, according to Belgian research on 262 patients. Interestingly, the researchers didn't find any particular links with patients' sex, age, symptom duration, type of work, or type of SpA in terms of their decreased ability to work; in other words, patients seemed to be affected across the board. This "underscores the need for tight disease control in patients with SpA," the authors concluded.
You Can Participate in Arthritis Research Too
If you are diagnosed with arthritis or another musculoskeletal condition, we encourage you to participate in future studies by joining CreakyJoints' patient research registry, ArthritisPower. ArthritisPower is the first-ever patient-led, patient-centered research registry for joint, bone, and inflammatory skin conditions. Learn more and sign up here.
Keep Reading