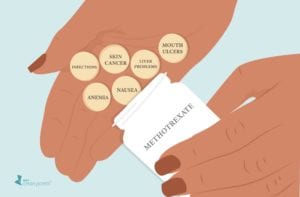 Methotrexate has long been the gold standard first-line treatment for rheumatoid arthritis (RA). It's often used to treat psoriasis and psoriatic arthritis, too. While this disease-modifying drug is popular for good reason — it tends to be effective, affordable, and has an "acceptable safety profile" — it's hardly free of side effects. Now a new study clarifies some of the possible risks associated with taking low-dose methotrexate and, in doing so, provides clinicians with additional information that can help them decide who should or should not take it and what kind of monitoring they may need.
The new study, which was presented at the 2019 American College of Rheumatology (ACR)/Association of Rheumatology Professionals Annual Meeting in Atlanta, involved re-analyzing data from a large trial called CIRT (Cardiovascular Inflammation Reduction Trial) that focused on patients with coronary artery disease, type 2 diabetes, and/or metabolic syndrome (but NOT rheumatoid arthritis or another rheumatic condition).
Because methotrexate appeared to lower the risk of cardiovascular events in rheumatic patients, researchers had theorized that it might help those who had a cardiovascular or metabolic disease stay healthy. That initial premise, unfortunately, did not hold up, as patients in the CIRT trial who were randomized to take low-dose methotrexate were not less likely than those given a placebo to experience a cardiovascular event.
But CIRT did provide researchers an opportunity to learn more about how the risk of adverse effects of methotrexate compared to placebo, especially in a very large trial of patients on the same low doses of the medication used to treat inflammatory arthritis.
Although methotrexate has been used to treat rheumatic patients for decades, the only studies aimed at assessing its risks have been observational (no placebo group) or too small to be considered definitive. Researchers led by Daniel Solomon, MD, of Brigham and Women's Hospital, conducted a secondary analysis of CIRT data for the specific purpose of learning more about the risks taking of methotrexate versus placebo.
At the recent ACR meeting, they reported that 85 percent of the nearly 2,400 CIRT participants who took methotrexate for about two years experienced any type of side effect, or adverse event. While that sounds high, the nearly 2,000 people in the placebo group also had a high rate of adverse events (78 percent).
When the researchers focused in on specific adverse events that they considered to be "of interest," however, some notable differences between the groups became more clear: They found 20 to 30 percent of those taking methotrexate had a high risk of anemia as well as a 15 to 20 percent risk of any infection, such as upper respiratory illness, compared to those in the placebo group. People taking methotrexate were also significantly more likely to develop pneumonia. One surprising finding, Dr. Solomon pointed out, was an increased risk of skin cancer among people on MTX. This could be especially relevant to patients with psoriasis and psoriatic arthritis, who have an increased risk of skin cancer to begin with.
The researchers noted that those taking methotrexate had a higher risk of gastrointestinal, liver, and lung problems, too.
"While the trial was conducted in non-rheumatic disease patients and only select adverse events were [reviewed], the elevated risks observed for infectious, pulmonary, gastrointestinal, hematologic, and skin cancer events represent a broad range of clinical issues, requiring further examination," the authors wrote. "These results quantify risk of [methotrexate] for the many clinicians and patients considering treatment across the spectrum of systemic rheumatic diseases."
"I think these [results] will inform future guidelines about the safe prescribing of methotrexate," Dr. Solomon told MedPage Today. "I don't want to leave people with the impression that methotrexate is a more dangerous drug than you would realize. I think most rheumatologists recognize it has its toxicities, we know how to monitor it, we do that carefully, but we just have to recognize, just like our other DMARDs, it also has toxicities."
You Can Participate in Arthritis Research Too
If you are diagnosed with arthritis or another musculoskeletal condition, we encourage you to participate in future studies by joining CreakyJoints' patient research registry, ArthritisPower. ArthritisPower is the first-ever patient-led, patient-centered research registry for joint, bone, and inflammatory skin conditions. Learn more and sign up here.
Keep Reading