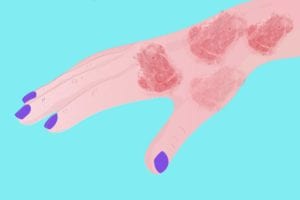 The American College of Rheumatology/Association of Rheumatology Health Professionals Annual Meeting brought a lot of good news and interesting updates for people living with rheumatoid arthritis. The CreakyJoints team was on site at ACR, reviewing studies, attending sessions from top psoriatic arthritis (PsA) experts, and chatting with patients and physicians for their take on the most important findings and trends for patients back home.
After sorting through it all, reading updates from other groups covering the meeting, including RheumNow, Medpage Today, Healio, and MD Magazine, and asking our team of advisors to share the insights they really want patients to know about, we curated this guide to psoriatic arthritis research and trends from ACR you should make sure to be aware of.
For more research breakthroughs from ACR 2019, check out our main guide: 50+ Arthritis Updates That Should Be on Your Radar.
For more specific research on the following conditions, check out our ACR coverage on:
1. PsA treatment should be personalized for patients' most troubling symptoms. The main trend in PsA these days is more treatment options, which means more ability to personalize treatment for the complicated symptoms and "domains" of psoriatic arthritis.
"We used to have a much smaller array of drugs available to us, so treatment decisions were fairly straightforward," M. Elaine Husni, MD, MPH, vice chair of the department of rheumatic & immunologic diseases at the Cleveland Clinic in Ohio told the ACR Daily News. "The availability of so many new agents is exciting, but now it's not always clear what to use, which can be confusing."
Patients with psoriatic arthritis may have different degrees of involvement of skin, joint pain, finger and toe swelling (dactylitis), and pain where tendons and ligaments attach to bone (enthesitis). It's important for doctors and patients to identify which areas are most problematic for patients and choose treatment options that are best suited for them, Dr. Husni says.
2. Having multiple PsA symptoms is linked with worse quality of life for patients. There's a misperception that psoriatic arthritis is just joint pain with skin involvement. Nope. An interesting study sought to assess the impact of such PsA symptoms as enthesitis, dactylitis, and axial disease on quality of life and work productivity. They found that having these psoriatic arthritis symptoms were significantly associated with worse patient quality of life and/or work productivity regardless of how many joints were affected by PsA.
Considering these manifestations of PsA in treatment is important to improve how patients feel. We need to treat the whole PsA patient.
3. Treating psoriasis aggressively could reduce the risk of psoriatic arthritis. Since up to 30 percent of people with psoriasis go on to develop psoriatic arthritis, you could argue that psoriasis is really early-stage psoriatic arthritis, rheumatologist Jack Cush, MD, of RheumNow, said during the conference's Rheumatology Round-Up session. He pointed out an interesting study out of Argentina that found that treating psoriasis patients with biologics seemed to reduce the risk of going on to develop psoriatic arthritis.
4. Guselkumab (Tremfya) had good phase 3 trial results for psoriatic arthritis. A biologic that blocks interleukin-23 (IL-23), guselkumab is already FDA-approved for psoriasis. In two new studies (this one and this one), the drug performed significantly better than a placebo in people with active psoriatic arthritis, including those who had never taken biologics before and those who had not had good responses to biologics.
"IL-23 is really revolutionary," Michael Putman, MD, a rheumatologist at Northwestern University School of Medicine and founder and host of the EBRheum podcast, told CreakyJoints. "We're seeing very impressive gains in PsA and psoriasis." Read more.
Dosing-wise, IL-23 inhibitors may be better for patients because they're given less frequently than other TNF biologics, noted University of Utah rheumatologist Jessie Walsh, MD, in a RheumNow video panel discussion. There may be hints of safety advantages as well, especially compared to IL-17s and TNFs, she noted.
5. Ixekizumab (Taltz) outperformed adalimumab for psoriatic arthritis in a year-long trial. CreakyJoints previously reported on initial findings from the same study; final results were presented at ACR 2019. As MD magazine reported, "at week 52, analyses revealed 39 percent of patients in the ixekizumab group and 26 percent of the adalimumab group achieved the primary endpoint of simultaneous ACR50 and PASI100." Sixty-four of patients who got ixekizumab and 41 percent of those who got adalimumab achieved PASI 100 when examined separately.
ACR50 criteria means an improvement in disease activity of at least 50 percent; PASI 100 means a 100% improvement in psoriasis symptoms.
This extended data shows that interleukin-17 inhibitors like Taltz not only improve psoriasis, according to lead investigator Philip Mease, MD, director of rheumatology research at Swedish Rheumatology Research Group, in an interview with MD magazine, "but also beneficially affect the various musculoskeletal domains of PSA including arthritis, enthesitis, dactylitis, and so forth."
6. Drug withdrawal is tricky for PsA. In one trial of ixekizumab (Taltz), patients who had achieved low disease activity after 36 weeks on the medication (about 40 percent) were randomized to continue taking it or start on a placebo (patients were blinded, so they didn't know whether they were on placebo or not). Over time, almost all the patients who were on the placebo eventually flared and were re-started on the drug. Patients who went back on the drug did well and were able to get back to minimal disease activity.
What this study showed us, according to Northwestern University rheumatologist Eric Ruderman, MD, in a RheumNow video, is that taking patients entirely off a drug is not likely to be an effective strategy. We need more research to see what happens to patients when their medication dose is reduced instead, he said.
7. PsA treatment may be affected by which kind of health care provider you see. Psoriatic arthritis is a complicated disease — some patients may be primarily treated by a rheumatologist; others by a dermatologist; others by primary care providers. A study from researchers at the University of Pennsylvania, with the help of IBM Watson technology, analyzed patient records from insurance databases to see what kind of providers PsA patients saw and, in turn, what kind of medications they were prescribed. They found that 65 percent of rheumatologists' patients were prescribed early pharmacologic treatment compared to only 46 percent of dermatologists' patients.
8. Do probiotics work for PsA? A study from researchers at the University of Nebraska College of Medicine and the University of Pennsylvania looked at patient data from FORWARD, The National Databank for Rheumatic Diseases, and found that many more patients with psoriatic arthritis report taking probiotic supplements over the last decade, but there were no differences in patient self-reports of better function before and after patients started taking them. More research is needed to "examine whether probiotics affect disease activity and function in patients with PsA," say study authors.
9. Patients' sex may affect how well PsA treatment works. Spanish research looked at how males versus females with psoriatic arthritis responded to biologic therapy. In a group of 108 patients, 93 percent were taking anti-TNF biologics and the rest were on IL-17 inhibitors. The researchers categorized patients by whether their PsA symptoms were primarily axial (affecting the lower back) or peripheral (affecting joints such as the knees). They found that regardless of type of PsA, male patients had a higher response to both kinds of biologic therapies and males were more likely to achieve low disease activity than females. The researchers call for more study into what could be causing this disparity in order to improve PsA management and develop new therapies.
You Can Participate in Arthritis Research Too
If you are diagnosed with arthritis or another musculoskeletal condition, we encourage you to participate in future studies by joining CreakyJoints' patient research registry, ArthritisPower. ArthritisPower is the first-ever patient-led, patient-centered research registry for joint, bone, and inflammatory skin conditions. Learn more and sign up here.
Keep Reading