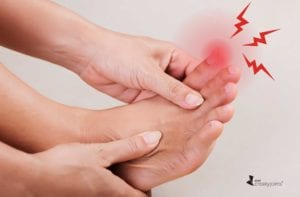 The American College of Rheumatology/Association of Rheumatology Health Professionals Annual Meeting brought a lot of good news and interesting updates for people living with rheumatoid arthritis. The CreakyJoints team was on site at ACR, reviewing studies, attending sessions from top gout experts, and chatting with patients and physicians for their take on the most important findings and trends for patients back home.
After sorting through it all, reading updates from other groups covering the meeting, including RheumNow, Medpage Today, Healio, and MD Magazine, and asking our team of advisors to share the insights they really want patients to know about, we curated this guide to gout research and trends from ACR you should make sure to be aware of.
For more research breakthroughs from ACR 2019, check out our main guide: 50+ Arthritis Updates That Should Be on Your Radar.
For more specific research on the following conditions, check out our ACR coverage on:
1. Gout is curable. "Gout is associated with multiple comorbidities and other disease states as well as it's a very disabling condition for a lot of patients, but most importantly it's curable and I think we need to get that word out," Duke rheumatologist Robert Keenan, MD said in a RheumNow panel on gout updates. "We can actually cure gout."
2. New guidelines call for a 'treat-to-target' approach to gout. New clinical guidelines for managing gout were presented at ACR, though they are still under review and won't be officially published until sometime next year. In a notable update from the last gout guidelines published in 2012, this version calls for a "treat-to-target" strategy around helping patients achieve and maintain optimal uric acid levels of 6 mg/dL or lower. These guidelines contrast with those from the American College of Physicians, the major organization for internal medicine doctors, who instead recommend a "treat to symptom avoidance" strategy.
"We believe that since the last guidelines, enough studies have been published to support the idea that lowering [uric acid] to below 6 mg/dL has shown meaningful improvements in flares and reducing tophi," Tuhina Neogi, MD, PhD, professor of epidemiology at the Boston University School of Public Health and chief of rheumatology at the Boston Medical Center, told Healio Rheumatology.
The gout guidelines call for starting allopurinol at a low dose and increasing the dosage until the uric acid target is reached, even in patients with chronic kidney disease.
Other highlights include a strong recommendation to use allopurinol as a first-line uric acid-lowering therapy and to use an anti-inflammatory medication regimen of colchicine, NSAIDs, or prednisone for three to six months when beginning uric acid-lowering therapy. In gout patients who aren't responding to or who cannot take allopurinol the guidelines suggest switching to febuxostat (Uloric) rather than adding uricosuric. Patients who have ongoing flares and tophi may need to switch to pegloticase (Krystexxa).
The guidelines also suggest testing for the genetic marker HLA-B*5801 before starting allopurinol in patients of Southeast Asian descent and African American descent. People with this gene variation may have serious side effects to allopurinol.
CreakyJoints will provide more coverage of the new gout guidelines after they have gone through peer review and are published.
3. Common type 2 diabetes drugs could raise gout risk. People with type 2 diabetes are more likely than average to develop gout, though it's not clear if it's the diabetes itself or other common risk factors like obesity and hypertension that explain the connection. But new research suggests that that the drugs used to treat diabetes might also tip the balance one way or the other. People with diabetes who took a drug in the GLP1 agonists class were more apt to develop gout compared to those who used an SGLT2 inhibitor instead. The research does not prove that drugs in this class cause gout, but the connection may be worth exploring further. Read more.
4. The biologic medication anakinra (Kineret) can help stop gout flares. Anakinra, an IL-1 inhibitor, is currently FDA-approved to treat rheumatoid arthritis, though it's sometimes used off-label to treat other inflammatory forms of arthritis including gout. In a new study, participants experiencing a gout flare were randomly assigned to get either the biologic anakinra or the steroid triamcinolone. Patients using anakinra tended to have the quickest response in terms of less pain and lower levels of inflammatory biomarkers in their blood. However, both groups reported similar improvements in pain intensity within 72 hours. Read more.
5. Giving pegloticase (Krystexxa) patients methotrexate at the same time may help. Pegloticase is an infused drug used to treat uncontrolled gout. But in some cases, patients on pegloticase develop anti-drug antibodies that cause the medication to not work as well. A small study showed that using an immunomodulating drug like methotrexate along with pegloticase can prevent these antibodies from occurring and allow patients to stay on therapy longer.
6. A new type of medication called an 'inflammasome inhibitor' is being studied for gout flares. Most gout flares happen as a result of inflammation of specific immune system components called inflammasomes from urate crystals, triggering a cascade of activity that leads to the release of other inflammation-causing proteins and resulting in a flare of gout, NYU Langone rheumatologist Olga Petryna, MD, explained in a report for RheumNow.
In this preliminary study from Dutch researchers, a type of medication called an inflammasome inhibitor was studied to learn more about how it can work to stop joint inflammation in people with gout. The researchers noted that the medication helps to lower levels of different kinds of inflammation-causing proteins, "making it a potential therapeutic target for the treatment of acute flares of gout," Dr. Petryna noted.
7. Seronegative rheumatoid arthritis may actually be misdiagnosed gout. In a RheumNow video on gout updates, Florida rheumatologist Guillermo Valenzuela, MD, highlighted an important area of potential gout misdiagnosis that patients should be aware of: seronegative rheumatoid arthritis could actually be gout. "If we look back in the literature, we find a high degree of association between those [seronegative] patients and gout that is subclinically diagnosed. Synovial biopsies have demonstrated the presence of micro-tophi," Dr. Valenzuela explained. "Don't forget about gout," he cautioned doctors, "in a differential diagnosis."
8. There's no one best diet for gout. While diets low in purine are often recommended for gout, research from Harvard showed that three different diet types each helped lower uric acid levels and improved heart disease risk factors: low-fat restricted calorie, Mediterranean restricted calorie, and low-carb non-restricted calorie.
However, it's important to note that each of their effects on uric acid were lower than that of taking a uric acid-lowering drug; in other words, diet can be complementary to medication for gout but it should not replace it.
Rather than focusing on specific foods thought to be high or low in purine, it may be best to focus on simply losing weight, which could help lower uric acid and in turn reduce heart disease risk factors that are also elevated in many patients with gout.
9. Tart cherry doesn't affect uric acid levels. Tart cherry juice or supplements are a popular gout home remedy, but there's not great research on whether or not it actually works — or if so, why. A New Zealand study found that tart cherry juice did not lower uric acid levels in patients with gout. "If it works, it's due to different mechanism; possibly through reducing flares," rheumatologist Nicola Dalbeth, of the University of Auckland, said in a RheumNow panel.
10. The type of provider you see for gout can affect the quality of your care. Gout patients who were seen by a rheumatologist were more likely to get appropriate blood tests for uric acid levels and subsequent prescriptions for uric acid-lowering medications compared with gout patients who saw other health care providers, a study showed. Unfortunately, less than half of those with advanced gout see a rheumatologist. The authors concluded, "more frequent referral to rheumatologists and closer adherence to guidelines may improve outcomes for gout patients."
You Can Participate in Arthritis Research Too
If you are diagnosed with arthritis or another musculoskeletal condition, we encourage you to participate in future studies by joining CreakyJoints' patient research registry, ArthritisPower. ArthritisPower is the first-ever patient-led, patient-centered research registry for joint, bone, and inflammatory skin conditions. Learn more and sign up here.
Keep Reading