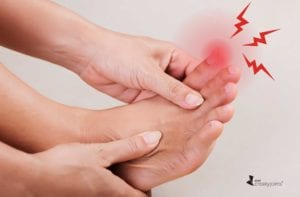 Gout flares are extremely painful, so when they strike it's crucial to tackle the pain and inflammation right away. In many cases, doctors prescribe non-steroidal anti-inflammatory drugs (NSAIDs) like naproxen or a medication called colchicine. Steroids like triamcinolone and prednisone are sometimes used as well.
Now a new study finds that the biologic drug anakinra (Kineret) might be worth considering, too, especially for patients who can't use NSAIDs or colchicine.
Anakinra is currently FDA-approved to treat rheumatoid arthritis, though it's sometimes used off-label to treat other inflammatory forms of arthritis including gout. It works by targeting interleukin-1 (IL-1), a protein that plays a key role in inflammation.
In recent years, scientists have been studying whether anakinra is effective for gout flares, though many of the studies have not included a control group.
Researchers led by Kenneth Saag, MD, a rheumatologist at the University of Alabama at Birmingham, attempted to design a better study on the use of anakinra to treat gout flares. Their research, which was presented at the 2019 American College of Rheumatology/Association of Rheumatology Professionals Annual Meeting in Atlanta, focused on 165 patients who were not able to use NSAIDs and colchicine (either because it was dangerous for them or because the drugs had not worked for them in the past).
Study participants were randomly assigned to get either the biologic anakinra or the steroid triamcinolone. Those in the anakinra group got daily injections for five days; triamcinolone is given as a single injection.
According to the findings, patients using anakinra tended to have the quickest response in terms of less pain and lower levels of inflammatory biomarkers in their blood. However, both groups reported similar improvements in pain intensity within 72 hours.
"Anakinra and triamcinolone reduced patient-assessed gout flare pain to similar degrees in patients for whom conventional therapy was ineffective or contraindicated… [but] the majority of secondary efficacy endpoints favored anakinra," the authors wrote. "Anakinra was shown to be an additional option for use during acute gout flares."
Earlier this year, a study conducted by researchers from the Netherlands reached a similar conclusion. That team randomly assigned patients to either anakinra or their choice of a traditional treatment (colchicine, naproxen, or prednisone) and found that anakinra worked just as well as the traditional treatments. They concluded that "anakinra is an effective treatment alternative for acute gout flares."
You Can Participate in Arthritis Research Too
If you are diagnosed with arthritis or another musculoskeletal condition, we encourage you to participate in future studies by joining CreakyJoints' patient research registry, ArthritisPower. ArthritisPower is the first-ever patient-led, patient-centered research registry for joint, bone, and inflammatory skin conditions. Learn more and sign up here.
Keep Reading