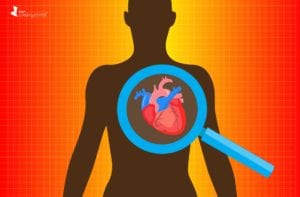 Lupus, a chronic autoimmune disease, has long been associated with an increased risk of heart and blood vessel problems. About 25% of lupus patients develop pericarditis, an inflammation of the membrane around the heart. Other cardiovascular issues including hypertension and atherosclerosis (buildup of plaque in the arteries) are also common. While everyone with lupus should be aware of this vulnerability to heart trouble, new research suggests that African American patients should be on extra high alert.
The study, which was conducted by researchers from the University of Wisconsin School of Medicine and Public Health and Emory University, found that African Americans with lupus were 18 times more likely than Caucasian patients to suffer a cardiovascular event during a 10-year period. Researchers presented their findings at the 2019 American College of Rheumatology/Association of Rheumatology Professionals Annual Meeting in Atlanta.
Lead author Shivani Garg, MD, and her colleagues studied the records of 336 patients who were part of the Georgia Lupus Registry. Most of the participants were women, and 87 percent were African American.
After analyzing 14 years' worth of data, they determined that African Americans were substantially more likely to have a stroke or transient ischemic attack (mini stroke), develop coronary artery disease (decreased blood flow to the heart, which may lead to a heart attack), or be diagnosed with peripheral vascular disease (reduced or blocked circulation in blood vessels, often in the arms or legs).
The researchers also noted that cardiovascular incidents peaked within one to two years of diagnosis.
"Future [cardiovascular disease] prevention efforts should target such populations to reduce racial disparities, particularly around the period of [lupus] diagnosis," the authors wrote.
Earlier this year, researchers at Columbia University College of Physicians and Surgeons found that many young black and Hispanic lupus patients had calcium deposits in their coronary arteries — even if they had not yet experienced a cardiovascular event or noticed any symptoms.
You Can Participate in Arthritis Research Too
If you are diagnosed with arthritis or another musculoskeletal condition, we encourage you to participate in future studies by joining CreakyJoints' patient research registry, ArthritisPower. ArthritisPower is the first-ever patient-led, patient-centered research registry for joint, bone, and inflammatory skin conditions. Learn more and sign up here.
Keep Reading