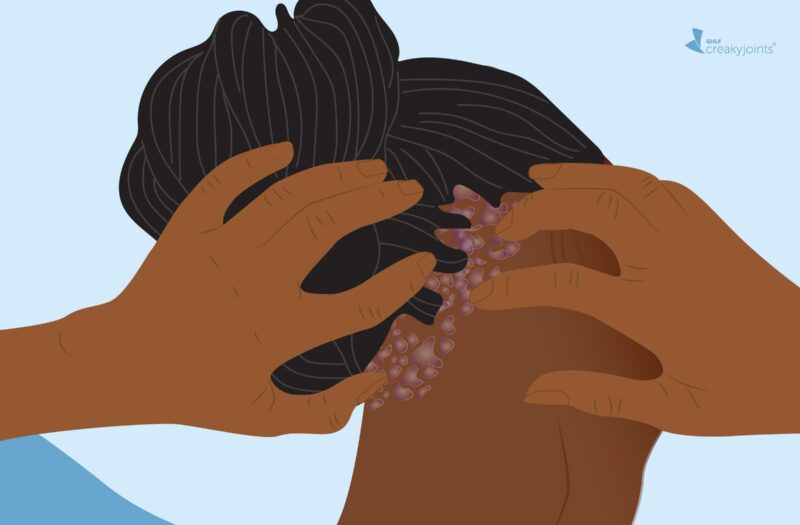 As distressing as psoriasis can be when it affects the skin, it can be just as upsetting when it strikes the scalp. Of the estimated 7.5 million Americans with psoriasis, about half have it on their scalp, with symptoms including fine scaling that looks like dandruff, or thick crusted plaques that cover the entire scalp. And for Black people, managing scalp psoriasis can bring an extra set of challenges. 
For one, scalp psoriasis may present differently in Black patients, making it more difficult to diagnose. "The color of the plaques can vary according to one's own skin complexion," says dermatologist Andrew Alexis, MD, MPH, at Weill Cornell Medicine, NY. "In patients of color, they may not be as obviously red and may vary in hue to red/brown or a violet color compared to what psoriasis looks like in lighter skin."  
Because Black hair requires less washing, scalp psoriasis often advances to more severe stages in populations of African descent, says Dr. Alexis. "There is often a greater degree of scaling," Dr. Alexis explains, "which can affect quality of life even more for patients of color than for other patient populations." 
Living with Scalp Psoriasis
"Being a Black woman, hair is such a big deal," says Nicole Cech, 26, an artist in California's East Bay Area. "There is a lot of thought about growing and maintaining our hair. Until about 2008, it was hard to even find products for Black hair in mainstream stores.  
By the time Nicole began to understand her "4C hair" and finally found products that worked, she got hit with a massive psoriasis flareup. In 2020, her hair started coming out in clumps; her scalp was inflamed; and she had silvery patches that extended down my neck and back. "It was really stressful," recalls Nicole. "I thought, Oh, man, I'm putting all this effort into understanding my hair and growing my hair — and now this.'" 
Yet her diagnosis of scalp psoriasis didn't come easy. "I was going to a derm who didn't think I had psoriasis because I also had eczema and only two percent of the population has both," says Nicole. She has since found a dermatologist who is Black, who diagnosed her psoriasis and then psoriatic arthritis (PsA) down the line. (Up to 30 percent of people with psoriasis will go on to develop PsA, a type of inflammatory disease.) "That was the beginning of me being able to make adjustments to my hair care routine." 
Washington DC-based patient advocate Diane Talbert, founder of Power Beyond Psoriasis, began struggling with scalp psoriasis at age 6. "On my first day of school, I was taken to a hospital and quarantined because they thought I was contagious. My head was shaved," she recalls. "That was the first I ever heard of scalp psoriasis, and I didn't have a clue what it was. My head was shaved because the psoriasis was so thick in there, and they said they could get treatment on my scalp. I had natural hair, and it was very thick." 
The older Diane got, the worse the scalp psoriasis affected her: "It was difficult trying to cover up flakes, and when I was washing it, I had to comb the flakes to the end of my hair to get rid of them," she says. "I was a total mess at times over my hair — I was distanced, isolated, and angry most of the time. I started avoiding social gatherings and totally ignored my friends and family." 
Alisha Bridges was around 7 years old the first time she noticed something wrong with her scalp. "I had flaky patches of dry skin almost the texture of corn flakes. This was when relaxers were popular with African American people," says the 35-year-old copywriter, who lives in Atlanta. "I remember the process of my grandmother sitting me down and greasing my scalp with olive oil to loosen the plaques so she could comb them up with less bleeding. She continued to treat my scalp in that way until I was in high school, and I could do it on my own." 
Treating Scalp Psoriasis
Although today's treatments can help people like Nicole, Diane, and Alisha find relief from the scaling, redness, flaking, soreness, and embarrassment of scalp psoriasis, Black patients still face special challenges, says Dr. Alexis.  
For example, there's a huge disconnect between how often medicated shampoos are meant to be used — usually twice a week or more — and a Black patient's usual hair care practice. "Women with Afro textured hair may have styles where hair washing frequency is once per week or once every two weeks or maybe even less frequently," says Dr. Alexis. Plus, "in many patients of African descent, washing hair with medicated shampoo three or four times a week may result in excessive dryness and fragility of hair, resulting in breakage."  
"The doctors kept telling me to wash my hair every day," recalls Diane. "I am a Black woman and washing my hair every day was not an option. As someone with my hair texture, putting this extra stress on my hair would cause it to fall out." 
Alisha agrees: "As Black women, we have certain hair textures, and I don't think doctors put that into consideration when prescribing treatment," she says, adding that her dermatologist once prescribed a medicated shampoo that had to be used every other day. "When you have big curly hair, you're not supposed to wash your hair every other day. The treatment would make my hair unhealthy."   
Managing Scalp Psoriasis and Black Hair
Here are some patient and expert tips for advocating for yourself and finding the right treatment for scalp psoriasis while caring for textured hair. 
Be Up Front with Your Derm
Work together to find a prescribe treatment that is compatible with your lifestyle and your hair. "Say what your hair care routine actually consists of," advises Dr. Alexis. "How frequently are you comfortable washing your hair? That can help the dermatologist tailor the treatment recommendations accordingly."  
Dr. Alexis explains that dermatologists can often find a middle ground. For example, using a medicated shampoo once a week may be acceptable — or skipping a shampoo and turning to a non-shampoo, leave-on topical product.  
Diane says that over the years, she's used a prescription shampoo weekly and at times has used a topical steroid foam. These days, she mostly uses a medicated shampoo every two weeks. 
If you and your dermatologist opt for a non-shampoo topical, Dr. Alexis advises giving some thought to the consistency that suits your hairstyle and hair care practice best. Some are Vaseline-like ointments, others are lighter lotions, and still other options include creams, foams, and gel- and water-based solutions.  
Think Simple, Gentle, and Loose
"My regimen now is all about giving my hair a break as much as possible," says Nicole. "I don't mess with braids where I add in hair anymore; I only braid with my own hair and keep it loose. No extensions. I keep it pretty simple. I wash my hair every two weeks. That's how long I can go before my scalp gets irritated."  
Diane has been wearing natural hair for the past six years and often sports cornrows or an Afro. "But if I can't get my scalp to cooperate with me at any given moment, I'll throw on a wig or get extensions," says Diane. "As Black women, we are serious about our hair. We've learned from former generations that our hair defines who we are, and the style that defines me is who I want to be at this moment." 
Meet Your Soulmate Stylist
Because Nicole has psoriatic arthritis, she says, "I can't sit for hours on end and manipulate my hair," so she found a stylist who is Black and understands Nicole's scalp condition.  
At their initial consultation, Nicole asked questions like "Have you worked with a client who has psoriasis before?" and "Are you ready to be really gentle?" She explained that "If you see flakes, it's probably not dandruff, and if you scrub those too hard, I will bleed."  
Moisturize, Massage, and Protect
Diane has used many oils and even Vaseline, but her favorite is shea Jamaican black castor oil. Alisha minimizes irritation with coconut, olive, and tea tree oils, while Nicole oils her scalp with products that contain aloe. "I massage it into my scalp to keep it from getting dry," says Nicole. "It keeps any inflammation down, and it's also good for my hair."  
And to reduce friction between her hair and the pillow, Nicole wears a satin bonnet at bedtime. 
Rethink Relaxers
"Every two to three months, I would get my hair relaxed. Relaxers really burn. I'm sure part of that was because of my scalp psoriasis," says Alisha. "I haven't had a relaxer in 15 years, and I would never go back."  
However, Dr. Alexis says that if scalp psoriasis is under treatment and managed, a chemical relaxer "could be suitable; it's contextual," he says. Talk to your health care professional to see if this a smart option for you.  
Turn to Family and Friends
"Surround yourself with supportive Black women, Black friends who get it and who are willing to step in," says Nicole. "Ask them, 'Can you come over and blow dry my hair?'  'Will you come over and braid my hair?' 'Hey, can you come over and help me take down my braids?'" 
Consider Biologics
Nicole, Diane, and Alisha are all taking biologic medications — drugs that zero in on the immune system malfunction responsible for psoriasis flares in the first place. And the treatments have been game-changers.  
"A biologic that works is complete clearance; it's a whole-body treatment," says Alisha. "I'm on a biologic that's working really well; I haven't had an issue with scalp psoriasis in so long." 
Diane has been on a biologic for more than 20 years, only having to stop once when she had to shave her head completely for the third time.   
Be Your Own Best Advocate
According to a study in the Journal of the American Academy of Dermatology, only 3 percent of dermatologists are people of color, which means you may have to educate your health care professional about how important hair care is for you.  
"Educate yourself, but also learn to educate others, especially the health care community," says Diane. "Make them understand that we can't wash our hair every day… that it's not only the scalp psoriasis that we have to deal with but our different hair types and styles. People honestly don't know." 
BIPOC Patient Voices: Living with Psoriasis and Psoriatic Arthritis
By sharing the stories of BIPOC patients living with psoriasis and psoriatic arthritis, we're hoping that others will listen to and learn from their disease journey. This conversation is vital for reducing health disparities and improving delays in diagnosis and access to treatment among patients in the BIPOC community. Representation matters in all aspects of life — and especially in health care. Learn more.     
If you enjoyed reading this article, you'll love what our video has to offer.