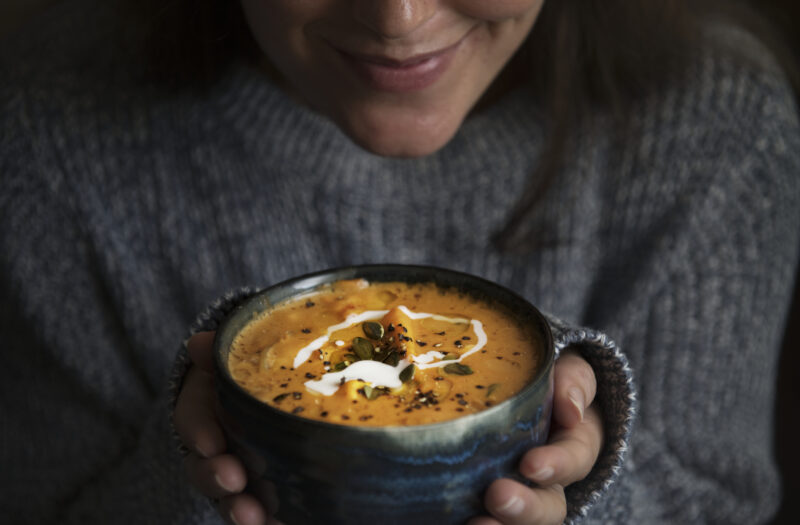 Food is a subject that is universal yet personal. Even though food is a basic human need that most of us derive pleasure from, everyone has a unique relationship with food. For people with chronic disease, that relationship can sometimes be tough, with patients engaging in a process of trial and error to figure out which foods agree best with their bodies.  
For all matters related to food, CreakyKitchen, CreakyJoint's virtual platform where patients gather in a stress-free environment to learn about nutrition and new recipes, is a resource that the chronic illness community can turn to. In this article, we will cover recent CreakyKitchen recipes hand-picked by fellow patients, expert nutritionists, and dieticians.  
Black Beans with Squash and Rice
Does it get more seasonal than squash? In a recent CreakyKitchen episode, Chef Chantelle Marcial shares this fall recipe from her kitchen in Boston. The episode also features rheumatologist Donica Liu Baker, MD, FACR, who offers tips on how to avoid triggers that could cause flares.   
This delicious recipe is full of colorful vegetables and fiber. The best part is that it comes together in under an hour with pantry ingredients.  
Ingredients:
1-2 Tbsp olive oil

 

½ onion, diced

 

1 sweet pepper, deseeded and diced 

 

1-2 Tbsp sofrito (homemade or store-bought)

 

½ packet

sazon

 

½

bouillon cube or 1 tsp jarred soup base (chicken, veggies, or mushroom)

 

Adobo seasoning (to taste)

 

½ tsp cumin

 

2 15.5oz cans of black beans, drained and rinsed

 

½ – ¾ cup water

 

Rice

 

Acorn squash, cut in half lengthwise, seeded and cut into a ¾ – 1 inch half moons

 
Directions for beans:
In a 2-quart saucepan, heat oil to a shimmer. 

 

Add onion and pepper and sauté 3 minutes. 

 

Add sofrito and seasoning and simmer for 3-5 more minutes until fragrant. 

 

Keep this moving over medium heat until the onions are translucent. 

 

Add the drained and rinsed beans and break them up a bit with the back of your cooking spoon/spatula. 

 

Add the water, stir, and simmer on the lowest setting of the burner for 20-25 minutes until beans are tender. 
Directions for rice:
If using plain white rice ratio, cook using two parts liquid (water, stock or brother) to one part rice.

Wash your rice to remove excess starch and let drain in a sieve. 

 

Heat your liquid to a boil and add salt (as desired and either 1 tablespoon of olive oil or butter). 

 

Let the pot come back to a boil, cover, and turn to low. 

 

Cook covered on low for 20 minutes.

Turn off the burner and let the rice sit for an additional 10 minutes or so until all the water is absorbed and the rice can be fluffed with a fork. 

 
Directions for acorn squash:
Seasonings are up to the cook. Options include umami mushroom (for a meaty taste), adobo, cumin, or simple salt and pepper. 

 

Preheat oven to 400 and add line oven tray with non-stick foil or parchment paper.

 

Toss squash in olive oil and season as desired. 

 

Roast for 20 minutes, turning once halfway through. 

 

Test doneness by piercing with the tip of a knife or fork.

 
Chantelle's Famous Mac and Cheese
If you are looking for side dishes for a Thanksgiving meal later this month, Chef Chantelle has your back once again with a classic mac and cheese recipe. Check out the CreakyKitchen episode here.  
Ingredients:
½ lb. of elbow macaroni

 

2 Tbsp butter

 

3 Tbsp flour

 

1 Tbsp powdered mustard

 

3 cups milk

 

¼ cup yellow onion, finely diced

 

1 bay leaf ¼ teaspoon paprika

 

½

tsp paprika

 

1 large egg

 

16 ounces of sharp cheddar (white & yellow mix)

 

Salt and pepper

 

Breadcrumbs (optional)

 
Chef's Tip 
In addition to cheddar, Chef Chantelle sometimes adds in gruyere, depending on what is in her cheese bin. She tries to only use Cabot because it's lactose- free, and she uses Fairlife milk, as it's also lactose-free.  
Directions:
Preheat the oven to 350 degrees.

 

In a large pot of boiling salted water, cook the pasta to al dente.

 

While the pasta is cooking, in a separate pot, melt the butter. Whisk in the flour and mustard and stir for about five minutes. Make sure the mixture is free of lumps. Stir in the milk, onion, bay leaf, and paprika. 

 

Simmer for 10 minutes and remove the bay leaf.

 

Temper in the egg. Stir in ¾ of the cheese and season with salt and pepper. 

 

Fold the macaroni into the mix and pour it into a 2-quart casserole dish. Top with remaining cheese.

 

Melt the butter in a sauté pan and toss the bread crumbs, if using, to coat. Top the macaroni with the breadcrumbs. 

 

Bake for 30 minutes. 

 

Remove from oven and rest for 5 minutes before serving. 
Thanksgiving Sweet Potatoes
Full of vitamin A, sweet potatoes are a gift from nature that are as delicious as they are nutritious. The best part of this crowd-pleasing recipe is that it is also no-frills. This dish can be made ahead a few days before you wish to serve it. Check out the CreakyKitchen episode here. 
Ingredients:
3-4 medium sweet potatoes, peeled and cut into 1.5 cubes (can be bought cut at the store)

 

½ stick butter

 

Pinch of kosher salt

 

1/3 cup of light brown sugar (lightly packed)

 

½

tsp cinnamon (more if you like)

 

¼

tsp fresh grated nutmeg

 

1 Tbsp Good Vanilla Extract (more if you like)

 

¼ cup water

 
Directions:
Combine all ingredients in a sauce pot and turn to medium heat.

 

When it is bubbling, give it a good stir and clamp the lid back on.

 

Turn to medium-low for about 20 minutes until the potatoes soften and the sauce thickens.

 
Butternut Squash Soup
Finally, this recipe will bring you the coziness and contentment you might be aching for as the days become colder and darker. In this CreakyKitchen episode, Chef Chantelle also shares tips for healthy eating during the holiday season.  
Ingredients:
1 butternut squash, peeled and cut into 1-inch cubes

 

2 russet potatoes, peeled and cut into 1-inch cubes

 

1 large carrot, cut into 1'' lengths (optional)

1 white onion, chopped

 

Fresh thyme (to your liking)

 

Olive oil

 

Kosher salt

 

Fresh cracked black pepper

 

1 qt. vegetable or chicken stock (homemade or store-bought)

Nutmeg (grated fresh or about ¼ tsp. ground)

 

1.5 tsp. curry powder

 

1.5 tsp. Ras el Hanout (optional, if you can't find just double the curry powder)

 

½ tsp. cinnamon

 

1 tbsp. unsalted butter (optional)

 

Balsamic reduction glaze (Trader Joe's has a great one)

 
Chef's Tip
Let's start with the obvious – breaking down a squash isn't easy with stiff hand joints. To help with the process, buy pre-cut squash from a nearby store. Alternatively, you can cut the squash in half, season it, place it face down on a baking sheet lined with parchment paper, roast in the oven, and then scoop the softened squash into the soup.  
Also, if you do not have a stick blender, you can use a different kind of blender or food processor, but please BE CAREFUL.   
Directions:
Heat the oven to 400 degrees. 

 

In a large bowl, toss the squash, potatoes, onion, and thyme with a generous drizzle of olive oil, salt, and pepper. 

 

Place on a baking tray lined with parchment and roast until tender (20-30 minutes).

 

In a soup pot (3-4Q) heat the stock to a simmer. 

 

Add all roasted veggies to the stock with the seasonings listed.

 

Take the pot off the burner. 

 

Using a stick blender, process the soup into a smooth consistency. 

 

Taste for seasoning and adjust salt/pepper as needed. 

 

Add the butter and melt it into the soup for a silky consistency. Serve hot with a drizzle of balsamic reduction. 

 
The ancient Greek physician Hippocrates once said, "Let food be thy medicine" and his words ring true today. Food has a profound effect on our mental, physical, and emotional health. And besides, who doesn't enjoy a delicious meal?  Food is a subject that touches us all.  
We hope these recipes bring you some comfort this fall. From our kitchen to yours, we wish you and yours a happy holiday season ahead!  
Join a CreakyKitchens Event
As part of CreakyKitchen, we will cook and share recipes that are hand picked by people with chronic illness, expert nutritionists, and dieticians. Together, we will connect over delicious food and shared experiences. Learn more here.