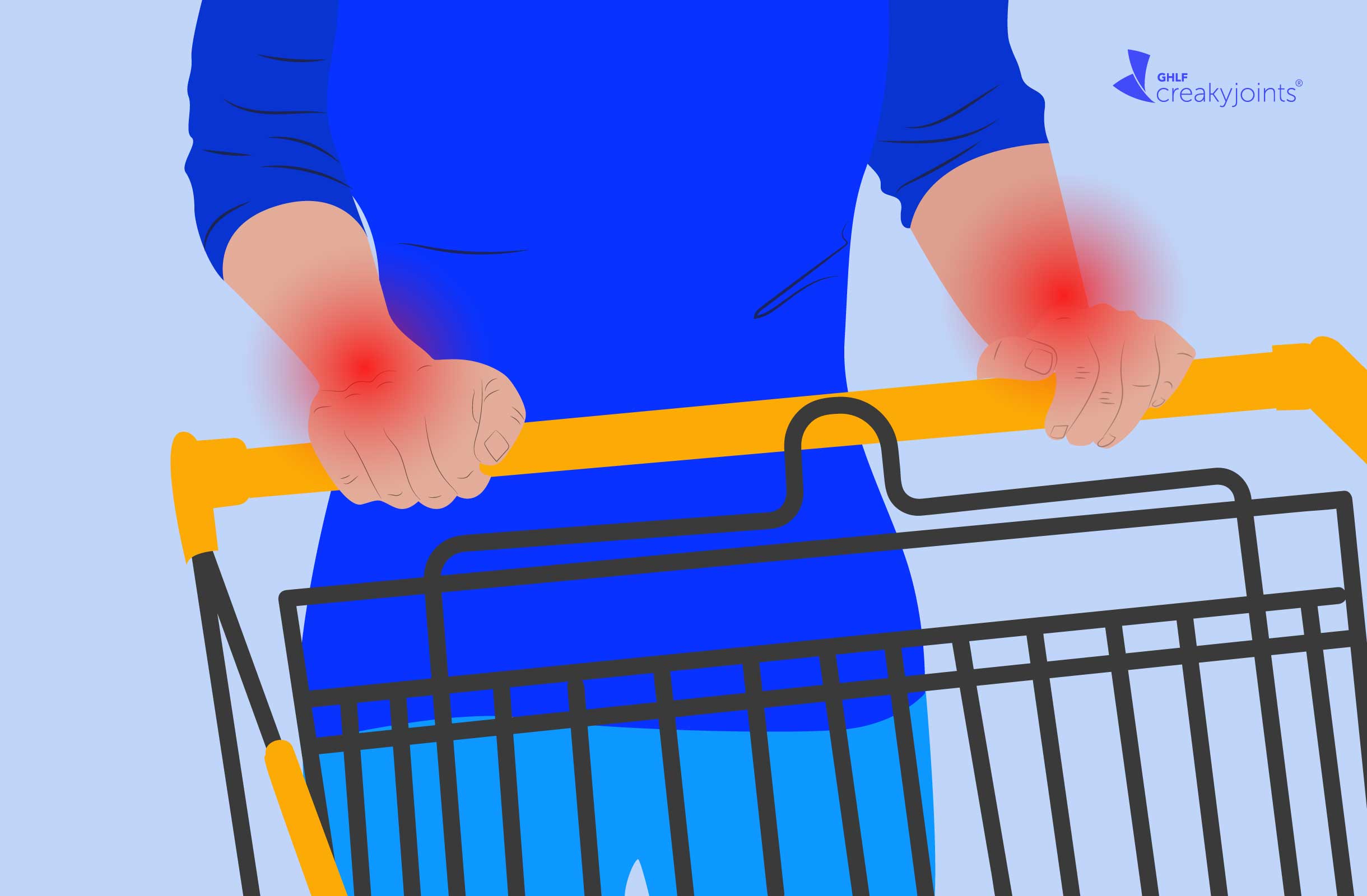 There's no denying it: Things are expensive right now.  
This year, food expenses are expected to rise by six percent, which is above historical average rates, per the U.S. Department of Agriculture. Meanwhile, as wages and business operations costs climb, many gyms also have to raise their membership prices.  
However, if you're living with inflammatory arthritis, you know the importance of nutrition and exercise. Foods rich in antioxidants can soothe or prevent inflammation, a hallmark of rheumatoid arthritis, per the Cleveland Clinic.  
Meanwhile, staying active can help you strengthen your joints, improve range of motion, and give you the opportunity to partake in the activities you enjoy, per Harvard Medical School.  
Eating Healthy on a Budget
Here are savvy tips for making the most out of your budget while also prioritizing nutrition and regular exercise. 
Buy Frozen Foods
Don't be afraid of frozen foods — they're often just as healthy, if not healthier, than the fresh stuff. That's because fruits and veggies are picked at their peak ripeness and frozen within hours, which locks in their nutrients and flavor, per the Academy of Nutrition and Dietetics. On the other hand, fresh foods lose vitamins and minerals over time.  
"So much of how we waste money eating well is by buying food and throwing it away," says Dawn Jackson Blatner, RDN, who says more of her clients are thinking about eating healthy on a budget this year. "Food waste is actually one of the biggest culprits of why people think food shopping is expensive."  
Just think of how many times you've purchased a bag of spinach in an effort to eat healthy, only to notice it is wilted a week later. Of course, you can still get fresh foods, but place them at eye level in the refrigerator (not the hidden crisper drawer) and turn to your frozen options once your fresh grub is eaten up. 
When you purchase frozen food, look at the ingredients and opt for bags of just product, with no extra sauces or sodium added.  
In particular, frozen choices like spinach, kale, Brussels sprouts, cauliflower, and broccoli may be beneficial for soothing inflammation. Leafy greens and cruciferous vegetables are highly anti-inflammatory, per a 2019 study in The Journal of Nutrition.  
According to that research, apples and berries also contain flavonoids that suppress proinflammatory cytokine production and that are powerful antioxidants. Since berries can be expensive to purchase fresh when they're not in season, these are another great staple to snag from the frozen aisle.  
Don't Shun Canned Foods
Canned foods without added sugar or sodium are a great opportunity to save money and eat anti-inflammatory foods.  
"Although canned produce goes under heat treatment, which can be a leecher of nutrition, it's still very nutritious and I'd always rather have someone eat canned fruits and vegetables than none at all," says Blatner.  
Heating is not all detrimental, either: An often-referenced classic 2007 study from Ohio State University found that lycopene (an antioxidant) in tomatoes that is combined with fat and exposed to intense heat during processing are restructured in a way that makes it more easily absorbable into your bloodstream and tissue.   
That said, avoid canned foods with syrups, added salt, and other unnecessary ingredients. Contrary to common belief, canned foods don't need salt to be preserved. 
Fish is also highly anti-inflammatory and is a good canned option — think canned tuna, salmon, and sardines. 
"These staples are so good for you," says Blatner. "But if you buy tuna, go for the smaller fish like skipjack, and avoid albacore. Because albacore is a huge fish, it has a greater likelihood of mercury and PCBs." (PCBs are polychlorinated biphenyls, harmful industrial products, and chemicals.)  
Buy Produce In-Season
Instead of making a list before you get to the store, look around once you get there to see what's in-season. Hint: If it's in season, it will likely be gentler on your wallet.  
"My most favorite thing of all is eating in season," says Blatner. "Look around for the sales, because usually the things on sale are the things that are in season."
Or, if you're a planner, look ahead at smartphone apps (like Flipp) or flyers that show what's on sale at your local supermarket.  
"They put things on sale to lure you into the supermarket," says Joan Salge Blake, RDN, a nutrition professor at Boston University and host of the nutrition, health, and wellness podcast ‌Spot On!‌ "These foods are called lost leaders because the supermarket is going to make very little profit, and may even lose money, but they lead you to other items that aren't on sale." 
If you're conscientious about this strategy used by supermarkets, you can plan your meals around the items that are on sale and skip the ones that aren't.  
Replace Some Animal Protein With Plant-Based Protein
Of course, you don't have to go full vegetarian or vegan if you love animal products, but replacing some meat with staples like canned beans can boost your diet and wallet.  
"Augment meat with more affordable, plant-based foods," says Salge Blake. "For instance, beans are very inexpensive but have phytochemicals and are high in fiber, which most Americans are not getting enough of in their diet. They're also a great source of protein from plant sources, so they're very low in saturated fat." 
You can expand your meals by adding beans to rice, pasta, and other staples that usually include some meat. This can double your portions, giving you plenty of delicious grub to freeze for later.  
Buy Healthy Foods in Bulk
Buying in bulk doesn't always translate to saving money if that food goes to waste, but if you can freeze it, then you have a savvy strategy for budgeting for healthy food.  
"Surprisingly to a lot of people, chicken is on the list of being an anti-inflammatory food," says Blatner, referring to The Journal of Nutrition study. "That may be something that you buy in bulk because it can be frozen." 
Other good options: nuts, bananas (slice and place in an airtight bag first), and even eggs (crack them and freeze the yolks and whites).  
Don't Forget About Everyday Superfoods
No rare ingredients needed: Two of the top foods listed in the study from The Journal of Nutrition are oh-so-common apples and carrots. "These are inexpensive superfoods that people forget about," says Blatner. 
Another example are peanuts, which fall into the anti-inflammatory category. That means you can opt for regular peanut butter rather than more expensive specialties like almond or cashew butter. Just make sure it's not made with added sugar, palm oil, or other ingredients (just peanuts).  
In general, you don't need one special ingredient like mushroom powder or acai pouches to make you healthier.  
"When it comes to any kind of healthy diet, skip 'superfoods' — it's not about superfoods, but about super diets," says Salge Blake. "An expensive ingredient like acai berries isn't going to beat a healthy diet." 
The Mediterranean diet is considered the best option for someone looking for an anti-inflammatory diet, per the Cleveland Clinic. It includes a wide range of colorful fruits and veggies, complex carbohydrates like whole grains and legumes, olive oil, and lean proteins. 
Low-Cost Recipe Ideas 
Buy canned tomatoes with no sugar added, then heat them up with your own seasonings and spices for a frugal tomato sauce.

 
If you're making chili that calls for two pounds of ground beef or turkey, cut the meat back by a pound and add canned beans, tomatoes, and corn to stretch out the servings and pack a nutritional punch. 

 
Add beans, salsa, and in-season veggies to dress up your go-to pasta (bonus points if it's whole wheat). This will double the volume and increase the nutritional value.

 
Exercising on a Budget
The Journal of Nutrition study also looked at lifestyle factors like physical activity and found that people who exercised one to three times per week experienced anti-inflammatory benefits — and those who exercised four or more times a week had even more benefits.  
"Anything is better than nothing, and in this case, more is also better," says Blatner. "It didn't even matter what they were doing. Movement of any kind counts, whether it's swimming, walking, or pickleball." 
Physical activity improves antioxidant capacity, increases concentrations of anti-inflammatory cytokines, and lowers vascular wall inflammation, according to the research.  
Walking, stretching, and gentle exercises like yoga or tai chi are easy ways to get moving for free (and to enjoy the beauty of the outdoors while you exercise).  
"Tai chi helps you strengthen the areas in your body that give you proper stability and balance," tai chi expert Shirley Chock told us previously.  Chock offers free instructional tai chi videos on her YouTube channel and, generally, YouTube is a great place to subscribe to free, arthritis-friendly workout videos.  
You can also integrate simple equipment like resistance bands into your workout routine without needing a gym membership. "Resistance bands are an affordable and versatile exercise tool," says Mary Sabat, RDN, a nutritionist and an American Council of Exercise (ACE) certified trainer. "They can be used for strength training exercises that help maintain muscle strength and support joint stability. Look for inexpensive resistance bands online or at your local sporting goods store." 
And, of course, if you have access to a pool, water exercises can also be a gentle way to exercise while reducing stress on your joints.  "Many community centers or YMCAs offer affordable access to pools and water exercise classes," says Sabat.  
Be a More Proactive Patient with ArthritisPower
ArthritisPower is a patient-led, patient-centered research registry for joint, bone, and inflammatory skin conditions. You can participate in voluntary research studies about your health conditions and use the app to track your symptoms, disease activity, and medications — and share with your doctor. Learn more and sign up here.
Byrd DA, et al. Development and Validation of Novel Dietary and Lifestyle Inflammation Scores. August 2, 2019. The Journal of Nutrition. doi: https://doi.org/10.1093/jn/nxz165.  
Exercise can ease rheumatoid arthritis pain. Harvard Medical School. May 5, 2023. https://www.health.harvard.edu/pain/exercise-can-ease-rheumatoid-arthritis-pain.  
Frozen Foods: Convenient and Nutritious. Academy of Nutrition and Dietetics. October 25, 2022. https://www.eatright.org/food/planning/smart-shopping/frozen-foods-convenient-and-nutritious.  
Interview with Dawn Jackson Blatner, RDN. 
Interview with Joan Salge Blake, RDN, a nutrition professor at Boston University and host of the nutrition, health and wellness podcast ‌Spot On!‌ 
Interview with Mary Sabat, RDN, a nutritionist and an American Council of Exercise (ACE) certified trainer.
Summary Findings. Food Price Outlook, 2023. U.S. Department of Agriculture. June 23, 2023. https://www.ers.usda.gov/data-products/food-price-outlook/summary-findings/.  
Turning Up The Heat On Tomatoes Boosts Absorption Of Lycopene – 08/13/08. Ohio State News. August 12, 2008. https://news.osu.edu/turning-up-the-heat-on-tomatoes-boosts-absorption-of-lycopene—081308/.  
What's the Best Diet for Rheumatoid Arthritis? Cleveland Clinic. November 30, 2022. https://health.clevelandclinic.org/rheumatoid-arthritis-diet-tips/.