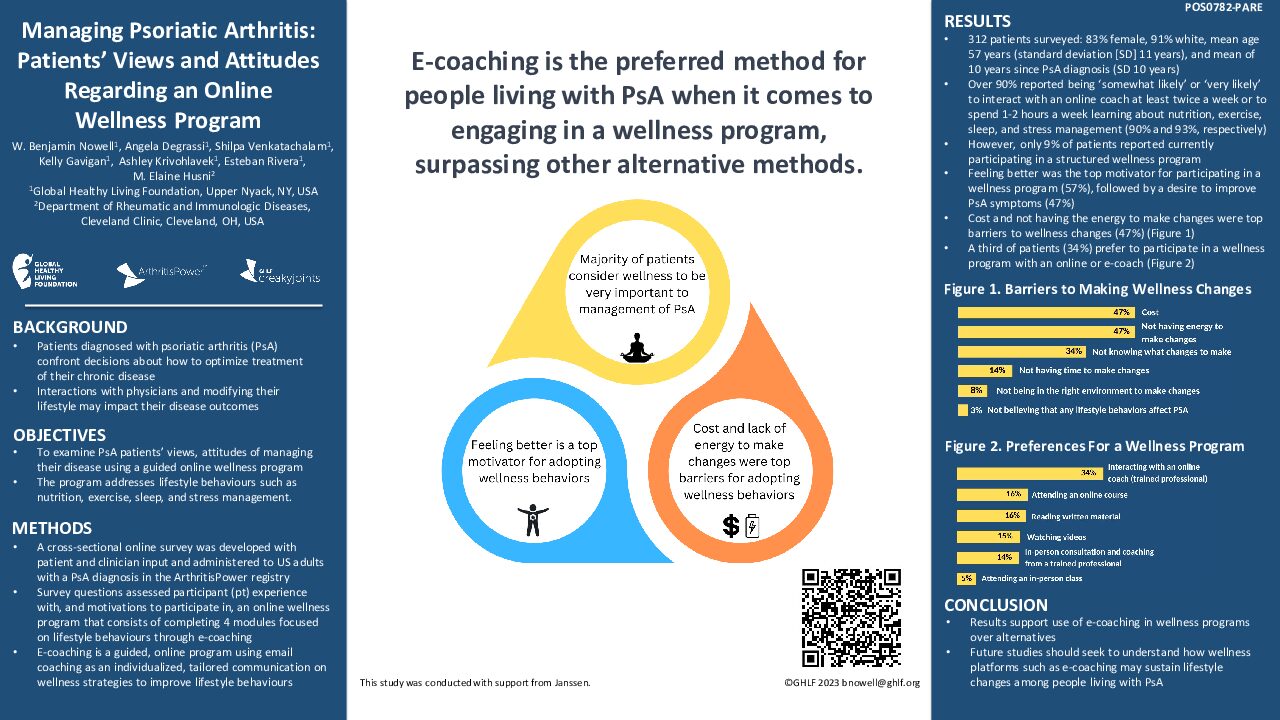 Key Takeaways
People with psoriatic arthritis (PsA) are excited about using online wellness programs to improve their lifestyle and manage their condition effectively.
Wellness programs offer valuable tools for individuals with PsA to take control of their health.
The main barriers to adopting wellness changes for individuals with PsA are cost and lack of energy.
Researchers set out to find out if people with psoriatic arthritis (PsA) would be interested in using online wellness programs and working with coaches to improve their lifestyle. The results were positive, showing that individuals with PsA are excited about using these programs as part of their overall management of the condition. However, it's crucial to note that these programs must meet two essential criteria: accessibility and affordability. 
The Survey and Participants
In collaboration with clinicians and patients, the Global Healthy Living Foundation (GHLF) conducted an online survey. The questions in the survey were designed to gather information about participants' previous experiences with online wellness programs, their motivations for participating, and their interest in an online program guided by e-coaching. 
Elaine Husni, MD, MPH, and Len Calabrese, DO, rheumatologists and researchers from the Cleveland Clinic, joined forces with GHLF to gain insights into how participating a specialized online wellness program with professional e-coaching support could impact PsA symptoms and management.  
Shilpa Venkatachalam, PhD, Director of Patient-Centered Research Operations and Ethical Oversight and Co-President of GHLF Canada, explained the study's purpose and process. "We developed a cross-sectional online survey with patient and clinician input for patients with PsA to complete. Survey questions were about experiences with, and motivations to participate in, wellness programs for people living with PsA," she says.  
One hundred eighty-six people completed the survey. The participants were mostly female (86 percent) and white (89.8 percent). They had a mean age of 56.9 years and were diagnosed with psoriatic arthritis 10 or more years prior. More than 57 percent had a college degree.  
The results will be presented in a poster titled, "Managing Psoriatic Arthritis: Patients' Views and Attitudes to Using an Online Wellness Program," which will be presented at EULAR Congress 2023, the annual meeting of The European Alliance of Associations for Rheumatology. 
Understanding Online Coaching
More than 90 percent of the participants expressed their likelihood to engage with an online coach, indicating they were either "somewhat likely" or "very likely" to interact at least twice a week or dedicate one to two hours per week to learning about nutrition, exercise, sleep, and stress management. 
An online or virtual coach collaborates with individuals who participate in a health program to enhance their health and well-being. They help clients develop an overall plan and break it down into manageable tasks. The coach maintains communication with you once or twice weekly, adapting to your specific needs.  
"We know that patients are very keen on using wellness strategies and combining these with their medications  for their overall health," says Venkatachalam. "What was surprising was that only 9 percent of patients reported participating in a structured wellness program. Not surprisingly, cost and not having the energy to make changes were the top barriers to wellness changes."   
What Are the Benefits of Participating in a Wellness Program?
Wellness programs offer valuable tools to empower individuals in taking control of their health. They can assist in managing chronic conditions and provide preventive strategies like smoking cessation or weight loss support. 
"Wellness activities can even help us manage our emotions better and help us deal with the constant challenges that come from living with a chronic disease," says Venkatachalam. Engaging in physical activity, even in the form of mild exercise and movement, can significantly reduce the risk of developing chronic conditions like type 2 diabetes and heart disease. Just practicing 10 minutes of mindfulness daily can lead to improvements in chronic pain, anxiety, and depression. It may also contribute to lowering blood pressure and slowing down the progression of dementia. "To be clear we are not saying that wellness activities can cure your chronic condition but combined with your medications, we now no more than ever through research and anecdotally that they can help a great deal both mentally and physically." 
Wellness programs might include: 
Exercise programs, including fitness centers

Health screenings and health risk assessments

Nutrition education

Smoking cessation

Stress reduction

Structured activities

Vaccination clinics

Weight loss programs
What Was Driving Their Response?
The survey uncovered reasons people wanted to participate in an online wellness program and why they didn't. "Feeling better was the top motivator for participating in a wellness program (57 percent), followed by a desire to improve PsA symptoms (47 percent)," says Venkatachalam. 
The main reasons for individuals not adopting wellness behaviors were cost and a lack of energy to make changes. Other reasons for not wanting to make changes or work with a health coach included: 
Not knowing what changes to make

 

Lack of time

 

Not being in the right environment to make changes

 

No specific reason; simply not wanting to make changes

 
Additionally, seven respondents expressed the belief that making any lifestyle changes would not impact their psoriatic arthritis (PsA) symptoms.  
"We have several resources that can help patients interested in wellness," says Dr. Venkatachalam, noting the Psoriatic Arthritis Wellness: A Newsletter Series to Help You Feel Better with PsA and Psoriatic Arthritis Wellness Center, created in collaboration with United Rheumatology. "Our goal at GHLF is to help patients live better, but we know that wellness programs can be costly and are often not covered by insurance. We want everyone to be able to integrate these behaviors into their treatment plan."  
Be a More Proactive Patient with ArthritisPower
ArthritisPower is a patient-led, patient-centered research registry for joint, bone, and inflammatory skin conditions. You can participate in voluntary research studies about your health conditions and use the app to track your symptoms, disease activity, and medications — and share with your doctor. Learn more and sign up here.