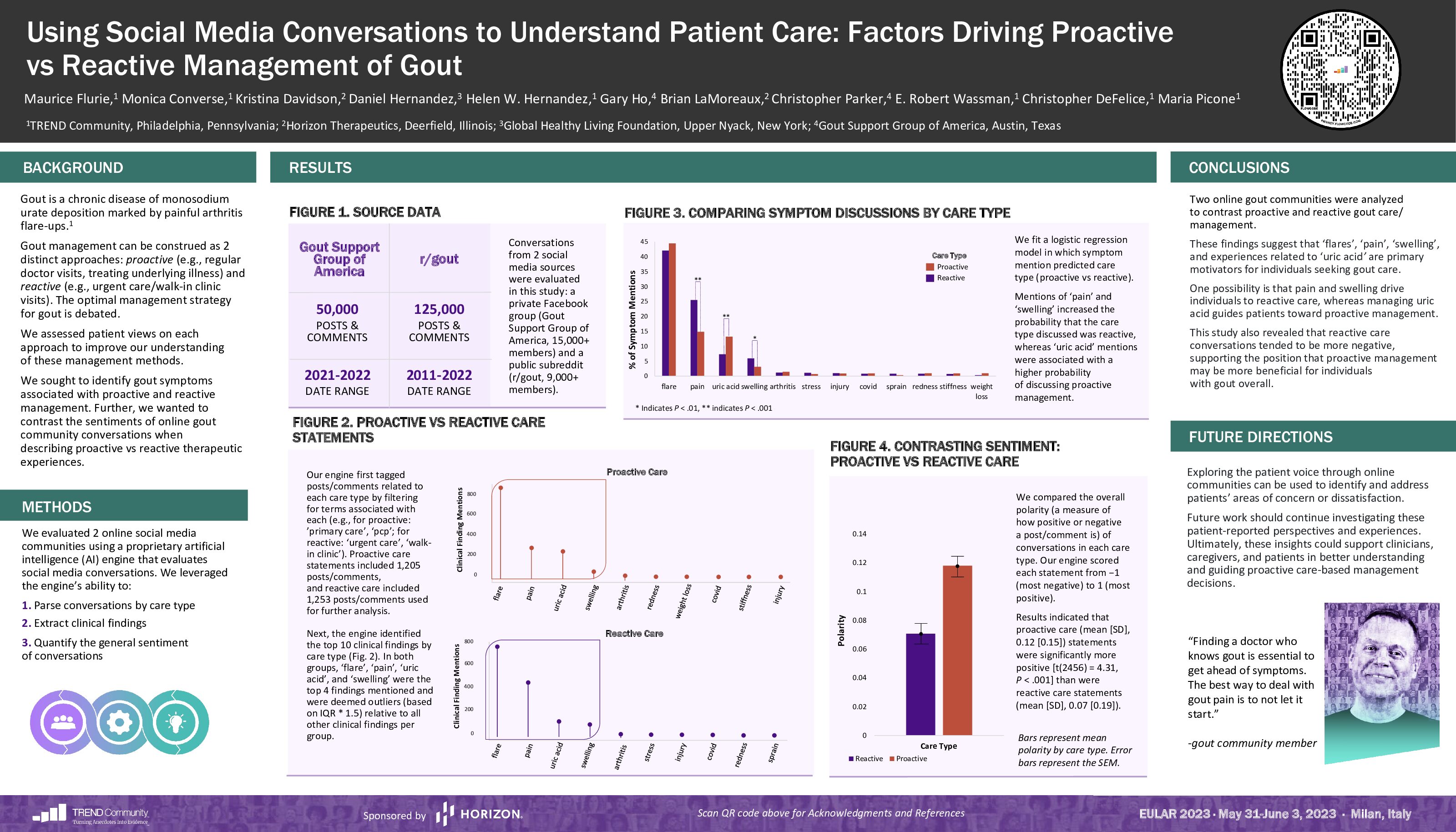 Key Takeaways
Researchers analyzed social media posts from gout patients to understand their perceptions of proactive and reactive therapies.

 

Patients seeking reactive care were more likely to mention pain and swelling, while proactive care discussions included terms like flares, pain, uric acid, and swelling.

Reactive care posts tended to have a more negative tone, supporting the hypothesis that proactive care may be more beneficial for managing gout.

 
Researchers from the Global Healthy Living Foundation (GHLF) and TREND Community, an organization whose proprietary technology gleans patient community insights through social listening, studied social media posts by gout patients to determine which symptoms made patients seek immediate care and how they felt about two distinct approaches to gout management: proactive (regular doctor visits, treating underlying illness) and reactive (urgent care, walk-in clinic).  
The researchers noted that the American College of Physicians recommends a treat-to-symptom-control approach.  
Mining Social Media Conversations
The study aimed to analyze how individuals living with gout discuss the management of their symptoms, specifically examining proactive and reactive care approaches.  
Researchers utilized an artificial intelligence tool to categorize posts and comments related to both types of care. They then assessed the presence of symptoms in conversations about proactive care and evaluated the overall sentiment as positive or negative. 
The researchers examined the following platforms as part of their study: 
Gout Support Group of America, a Facebook group with more than 1,000 members from 99 countries. The group had 50,000 posts or comments in 2021-2022

 

R/gout, a public subreddit with more than 9,000 members and 125,000 posts of comments in 2021-2022

 
A Glimpse into Gout Symptoms and Management
According to the study, the most frequently used terms include flares, pain, uric acid, and swelling.  
For reactive care, the researchers found 1,253 posts and comments from 624 unique users. They were much more likely to mention "pain" and "swelling" and had a much lower probability of mentioning "uric acid." 
For proactive care, there were 1,205 posts and comments from 521 unique users. The terms "flare," "pain," "uric acid," and "swelling" were found. Users who mentioned "flare" did not influence the mention of a specific type of treatment.  
Other findings included: 
Primary motivators for seeking care included flares, pain, swelling, and concerns about uric acid.

 

Posts mentioning pain were twice as likely to mention reactive care. 

 

Reactive care posts tended to be more negative than posts for proactive care. 

 
"The results are interesting in an unexpected way," says Daniel Hernandez, MD, Director, Medical Affairs. and Hispanic Outreach at GHLF. "The insight gathered from social listening — this is basically good proof of concept on what social listening can accomplish. Having a finger on the pulse of what is important for a specific community gives us an opportunity to address any concerns through our engagement." 
The findings will be presented in a poster titled "Using Social Media Conversations to Understand Patient Care: Factors Driving Proactive vs. Reactive Management of Gout" at EULAR Congress 2023, the annual meeting of The European Alliance of Associations for Rheumatology. 
Be a More Proactive Patient with ArthritisPower
ArthritisPower is a patient-led, patient-centered research registry for joint, bone, and inflammatory skin conditions. You can participate in voluntary research studies about your health conditions and use the app to track your symptoms, disease activity, and medications — and share with your doctor. Learn more and sign up here.