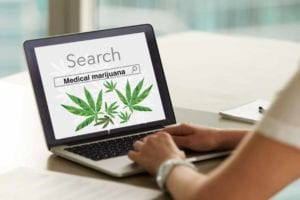 If you have an inflammatory bowel disease (IBD), like Crohn's disease or ulcerative colitis, you might have heard that medical marijuana may help treat your symptoms. To learn more, you might have jumped on Google and started reading. Good idea?
Maybe, but a new study presented at the Advances in Inflammatory Bowel Disease (AIBD) conference earlier this month suggests that you shouldn't let the internet be your sole source of information on this topic.
To conduct the study, George Washington University researchers did a web search for "marijuana IBD" and analyzed 89 websites for "therapeutic claims, inclusion of references, precautionary information about marijuana use, and whether they discussed approved treatments for IBD." They determined that most sites (including those aimed at consumers as well as some aimed at health care professionals) provided "average" information.
Even if "average" sound OK to you, the catch is that even the consumer-focused sites used wording that might be too complex for some patients to understand.
"The majority of these websites were intended for consumers, however their readability grade level exceeds the National Institutes of Health 6th grade recommended reading level for medical information," the authors concluded. "It is critical that readily available online information about cannabis therapy in IBD be readable, evidence-based, and comprehensive in order to allow for informed medical decisions."
So where can you go for solid, easy-to-understand guidance about using medical marijuana for IBD? That's not totally clear, as your doctor might not be experienced in this area.
Assuming medical marijuana is legal in your state, you may be able to find a "medical cannabis specialist." Keep in mind, however, that this is an emerging area of medicine, so even a specialist's knowledge may be limited.
Right now, only a few small studies (observational ones and animal trials) pertaining to IBD and marijuana been completed, though some experts believe that that the drug can help with inflammation by stimulating endocannabinoid receptors in the digestive tract.
Keep Reading
##
Subscribe to CreakyJoints
There are currently no clinical trials for marijuana and CBD for arthritis patients. We need to change that. Subscribe to CreakyJoints, for free, and we'll email you with ways to support medical marijuana research and opportunities to participate in future studies.