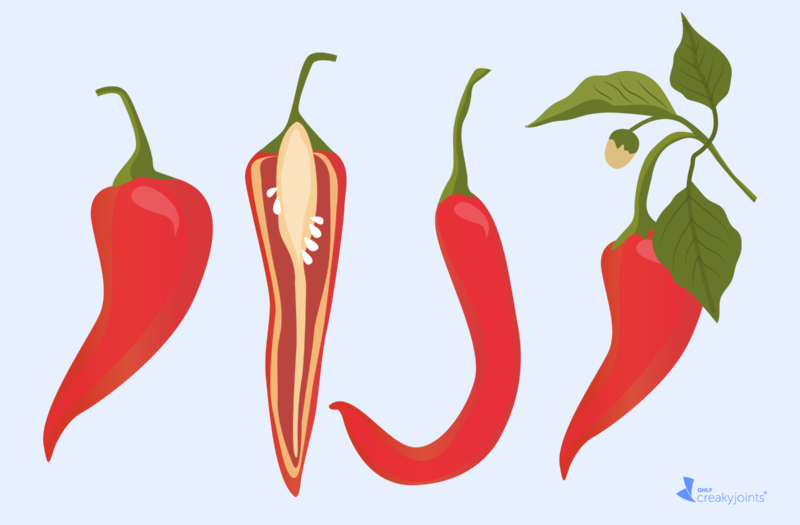 Capsaicin, a substance derived from hot chili peppers, has long been used in topical pain relievers including creams, gels, and patches. Some people find that these products help ease joint discomfort, but studies on their efficacy are mixed.
Would injecting capsaicin directly into the impacted joint work better?
Scientists working with Centrexion Therapeutics think so. They developed a synthetic version of capsaicin called CNTX-4975 and have been testing its safety and efficacy as an injectable medication. Most recently, they shared results from their phase III clinical trial at the American Society of Interventional Pain Physicians (ASIPP) virtual meeting.
According to lead author Randall Stevens, MD, the study determined that CNTX-4975 injections significantly reduced pain in people who had osteoarthritis (OA) in both knees. Participants said they continued having less pain for eight weeks.
Whether injecting capsaicin is preferable to applying it topically isn't known. Previous research by Centrexion Therapeutics found that capsaicin was absorbed more rapidly when administered via injection versus a patch, but that study was extremely small (only 16 patients) and it's not clear whether faster absorption translates to better pain relief.
The exact way that capsaicin (in any form) works isn't clear, either. Scientists think it interferes with pain signals in the body.
Side effects from capsaicin are rare, unless you're allergic to it. The main downside is that this substance causes a burning sensation upon initial application, and receiving an injection of CNTX-4975 can be uncomfortable. Centrexion researchers previously found that applying an ice water wrap or ice gel pack wrap after an injection cut post-injection pain in half.
Because this treatment is still in clinical trials means it's not available to the general patient population yet.
Osteoarthritis is tough to treat, with few FDA-approved therapies. Many people with moderate to severe OA manage symptoms with pain relievers such as non-steroidal anti-inflammatory medications, steroid injections, and lifestyle changes like weight loss. We are committed to following emerging research on potential osteoarthritis therapies and will continue to share news updates as they occur.
Not Sure What's Causing Your Pain?
Check out PainSpot, our pain locator tool. Answer a few simple questions about what hurts and discover possible conditions that could be causing it. Start your PainSpot quiz.