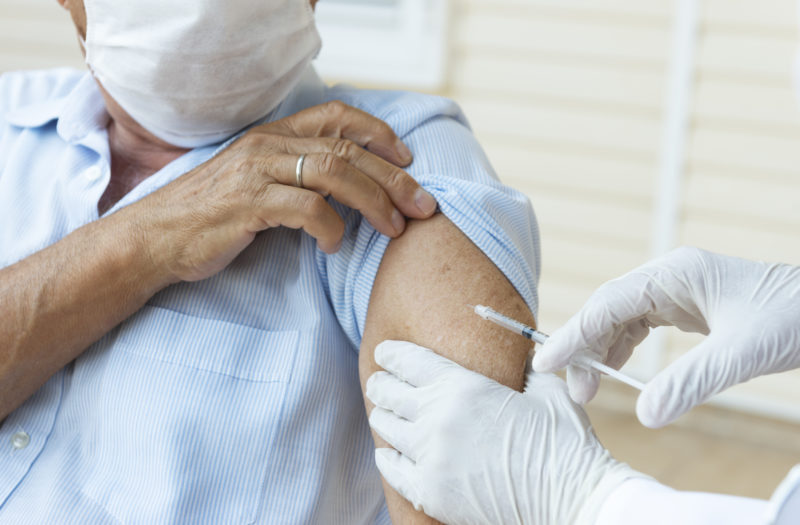 Key Takeaways
An advisory committee to the FDA voted in favor of approving vaccines to protect older adults against RSV.
The vaccines are not yet FDA-approved, though the agency usually follows guidance from its advisory panel. Stay tuned for the FDA's decision, which is expected this May.
RSV poses the greatest risk to young children, older adults, and adults with chronic health conditions.
Take steps to lower your risk of respiratory viruses, including RSV. Wash your hands frequently, avoid sick people, and consider

wearing a mask

in crowded areas.
Last December, more than 80 percent of U.S. hospital beds were occupied, and COVID wasn't the only reason. The flu and respiratory syncytial virus (RSV) also caused a surge in hospitalizations. While we have vaccines to help protect against COVID and the flu, there's no vaccine for RSV yet.
But that could change soon. An advisory panel to the FDA voted in favor of approving two different RSV vaccines. One is made by Pfizer and the other is made by GSK.
However, this doesn't mean that the FDA has approved the vaccines yet. The agency still needs to vote on it, but they usually follow the advice of the Advisory Committee.
What Is RSV?
RSV is a virus that's pretty common in the U.S. during the fall and winter. It usually just gives you cold-like symptoms that will go away on their own after a week or two, so you might have had it before without even knowing.
But here's the thing: RSV can be more serious in some people, especially babies who are six months old or younger. If babies get RSV, they might have trouble breathing and need to go to the hospital.
Adults who are 65 years old or older also have a higher chance of getting serious complications from RSV, including pneumonia (lung infection) or bronchiolitis, which is inflammation of the small airways in the lungs. These complications can impair breathing and, in some cases, prove fatal.
Every year, more than 60,000 older adults are hospitalized because of RSV and about 6,000 of them die from the infection.
How Well Do the New RSV Vaccines Work?
The new vaccines are made to protect older adults from getting sick from RSV. There are also vaccines being tested for infants, but they're not ready for the FDA to evaluate yet.
The FDA Advisory Committee checked if the new Pfizer and GSK vaccines work and if they're safe. They voted seven to four on the Pfizer vaccine's effectiveness and 12 to 0 on the GSK vaccine's effectiveness. They based their decision on scientific evidence presented by both manufacturers.
Pfizer did a study with their RSV vaccine candidate, and it showed that the vaccine was about 67 percent effective at preventing people from getting two or more symptoms of "RSV-associated lower respiratory tract illness." It was also 86 percent effective at preventing three or more symptoms.
GSK showed data from a phase 3 clinical trial in The New England Journal of Medicine. The study found that the vaccine was about 83 percent effective against RSV-lower respiratory tract disease, and 94 percent effective at preventing severe RSV.
If approved, an RSV vaccine could save thousands of lives every year. "If 8,000 older adults die from RSV each year in the U.S., a vaccine that's 80 percent effective could save 6,400 lives," said Dean L. Winslow, MD, a professor of medicine in the division of infectious diseases and geographic medicine at Stanford University, in an interview with Verywell Health.
What Are the Downsides?
The FDA Committee voted 7 to 5 on the safety of the Pfizer vaccine and 10 to 2 on the safety of the GSK vaccine.
The biggest safety concerns raised was about the risk of Guillain-Barre syndrome, a rare but serious nervous system disorder. In the GSK trial, one participant developed this disorder, and in the Pfizer trial, two people had it. This might not seem like a lot, but typically, Guillain-Barre only impacts up to 3 out of 100,000 people age 60 and older.
When Will the FDA Decide About RSV Vaccines?
The FDA is expected to decide whether or not to approve these RSV vaccines this May.
The Advisory Committee has already suggested that if the Pfizer vaccine is approved, the manufacturer should conduct a post-marketing safety study to further investigate the potential risk of Guillain-Barre syndrome. That means they'll continue studying its safety even after its potentially approved.
What This Means for You
Respiratory viruses like RSV can pose a risk to your health, but there are steps you can take to lower your risk. One important measure is to wash your hands frequently, as this can help reduce the spread of germs. Additionally, it is wise to avoid close contact with people who are sick, as this can help prevent the transmission of respiratory viruses.
If you are in crowded areas, you may want to consider wearing a mask as an additional precaution. This can help protect you from inhaling airborne particles that may contain viruses like RSV. By taking these precautions, you can help reduce your risk of getting sick from respiratory viruses.
It is important to stay tuned for updates on this decision, as it could affect the availability of certain treatments or medications. Keeping informed about developments like this can help you make informed decisions about your health and well-being.
Be a More Proactive Patient with ArthritisPower
ArthritisPower is a patient-led, patient-centered research registry for joint, bone, and inflammatory skin conditions. You can participate in voluntary research studies about your health conditions and use the app to track your symptoms, disease activity, and medications — and share with your doctor. Learn more and sign up here.