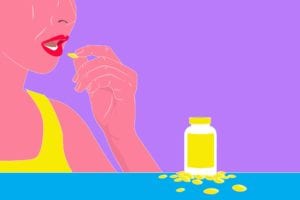 Many patients with rheumatoid arthritis (RA) have several swollen joints (that aren't explained by another condition), joint deformities that can be seen on imaging tests, and rheumatoid factor (RF) and/or anti-citrullinated peptide (anti-CCP) antibodies in their bloodstream. In those kind of clear-cut cases — where it's obvious that a patient has RA — doctors usually prescribe a disease-modifying antirheumatic drug (DMARD) like methotrexate right away.
But what about patients who don't have positive antibody tests but still have other signs of rheumatoid arthritis — how should they be treated?
Those who don't have the antibodies that are commonly associated with RA but meet other criteria should be diagnosed with seronegative RA — and they should be treated just as promptly, according to a new study.
Researchers found that seronegative patients who started taking methotrexate within three months of diagnosis were more than twice as likely to achieve a "good" or "moderate" response according to EULAR criteria compared to those who waited longer to start the medication.
The study, which was published in the journal Arthritis Research & Therapy, relied on data from a large French study of patients with early arthritis. The researchers homed in on 172 people with seronegative RA who had been prescribed methotrexate within a year of diagnosis.
After a one-year follow-up period, 66 percent of participants had achieved a good or moderate EULAR response, but those who had started the drug within the first three months (rather than later in the year) were much more likely to be in the category that benefitted substantially from methotrexate.
"The only relevant prognostic marker of a good therapeutic response was the early introduction (within three months after symptom onset) of the DMARD," the authors wrote. "Other studies have shown similar results and confirmed the benefit of early treatment start, but our study is the first time that this finding was replicated in seronegative patients."
"In conclusion, we confirmed that seronegative RA does not greatly differ from [seropositive] RA in terms of both therapeutic response and structural and functional prognosis and, most importantly, that the usual and consensually recommended concepts of therapeutic management should not be applied differently in these patients. "
Not Sure What's Causing Your Pain?
Check out PainSpot, our pain locator tool. Answer a few simple questions about what hurts and discover possible conditions that could be causing it. Start your PainSpot quiz.
Keep Reading
Fransen J, et al. The Disease Activity Score and the EULAR response criteria. Rheumatic Diseases Clinics of North America. 2009. doi: 10.1016/j.rdc.2009.10.001.
Lukas C, et al. Predictors of good response to conventional synthetic DMARDs in early seronegative rheumatoid arthritis: data from the ESPOIR cohort. Arthritis Research & Therapy. 2019. doi: 10.1186/s13075-019-2020-x.