For CreakyJoints and Global Healthy Living Foundation members who work, managing their jobs as the coronavirus pandemic evolves and states begin to reopen non-essential businesses is one of the most urgent and anxiety-provoking issues right now.
While some members have been working per usual throughout the pandemic (and many are retired or on disability), a good number of people have been working remotely or were furloughed while under stay-at-home orders. They are now being forced to make hard decisions about whether they feel safe going back to their work environment and whether they feel they can still perform their jobs while practicing safe social distancing, as well as weighing many other concerns and issues.
We asked members in our GHLF Patient Support Program, which includes people with all forms of chronic illness and may be at higher risk for coronavirus complications, about this topic in a recent community poll. You can see top-line results in the infographic below. While 29 percent of respondents have been able to continue working remotely during this time, another 14 percent say they have been working remotely but will have to start working in person again soon.
Our community feels pretty strongly about the use of face masks and enforcing social distancing at work, with 71 percent of respondents wanting employees/patrons to wear masks and 66 percent wanting employees/patrons to stay six feet apart from each other. Half said they would want temperature checks of employees.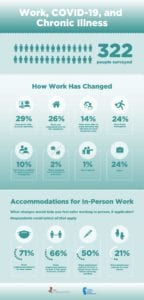 We also asked people to anonymously share their concerns about their work situation and we received hundreds of candid, thoughtful, sobering, and even alarming comments, along with some positive ones about employers who people feel are doing things right. Below, we curated responses that represented common themes, modified as needed to ensure anonymity.
Lack of Social Distancing and Hygiene
"I work as a lead in a warehouse. I am most worried about social distance. In this particular situation I feel that is not possible."
"There's a lack of concern for employees with compromised health. There is no appointed personnel to enforce six-foot distancing. We need sanitizing stations throughout the factory, not just one at the entrance. We need more than one bottle of sanitizer for 10,000 square foot space."
"I am concerned that colleagues don't practice social distancing or have good hand hygiene."
"People ignoring the use of gloves, masks, and safe distancing."
"I'm back at work and no one is social distancing. Only a few are sporadically wearing masks. Potlucks and large meetings in tight spaces are still happening."
"Work did not care at all about six feet apart, masks, gloves, or sanitizer! With my RA and weakened immune system I'm having to quit but they cut my hours to only six hours a week anyway. This is a very had time right now."
"Eventually I will have to return to the office in order to support the team I supervise. I'm not comfortable with this due to close space and air circulation. My office is not designed well for social distancing, and we have internal customers that visit us frequently. I don't trust that masks and other precautions are sufficient, against high traffic close quarters and no windows. The added stress makes me flare up, so I feel at high risk even though I'm not on a biologic and my doctor says I'm not at risk."
"I may be forced to leave because my employer will not provide significant accommodations for my condition."
"It's easy to forget to stay six feet apart. We all back into our habits upon return to work. It's difficult to remember all the things you're not supposed to do."
"I have been able to work remotely from home, but I do have to occasionally go in. Last week I was there four days for eight hours each day. Only three of us were wearing masks, though they were social distancing. They stated that they don't have to wear masks and because I am at a higher risk, that I should be the one to take precautions. This concerns me, especially when they tell us we can go back to work [in-person]."
Note: Face masks should be worn to protect others from potentially sick and asymptomatic individuals. Read more about this here.
Not Being Able to Do My Job Properly and Safely
"I am a bookkeeper so I handle money all day. Cross contamination from the money worries me." 
"I work with dogs and have to enter homes. I am concerned that people may have been ill and I won't be aware of it. Some of my clients are elderly and ill (not with COVID) and I would not want to take the illness to them. My concern is for myself and for spreading it to vulnerable people."
"I am a restaurant inspector and I take a biologic. Routine health inspections were put on hold for the past two months, but I will need to get back into the restaurants for re-openings. I am a little nervous that during my inspections I may not be able to social distance because employees are usually working during the inspections. (This is part of the inspection to make sure they are preparing/cooking/storing food as outlined.) I enjoy my job and want to get back into it. I am afraid if I reach out to my doctor to ask if this if OK, she will recommend I do not do my regular duties. I don't want to hear that."
"I'm a college professor who teaches a hands-on discipline in a specialized space with lots of shared equipment and demonstrations. What can I do to create a classroom/work community where we all respect the new standards? I have older coworkers some who are immunocompromised as well. They have asked me to do things I am uncomfortable with. How do we handle bosses and other senior employees who ask us to do things we feel are unsafe or against our doctor's recommendations?"
"I am a probation officer and I will soon be going back to the office working with teens and highly dysfunctional families. We share our one bathroom with probationers who take part in drug testing. I am very nervous about meeting with my clients. I am from New York so I was able to work from home under Matilda's Law [so far]."
"As a hands-on therapist working in a private shop for disability equipment, I am concerned for personal and client safety and the provision of personal protective equipment (PPE)."
"I am a research scientist and my work supports dozens of labs at a university. I have been able to work from home but now that people are tired of staying home, they are starting to demand in-person services to support non-essential research. Health officials are being ignored, even at a hospital-based university. I will have to choose between the safety of my spouse and my paycheck. There is too much confusion and not enough people who know what they're talking about standing up to protect workers and at-risk groups. So far there are no guidelines for spouses of at-risk individuals."
"My role requires me to take older people home from the hospital or care home in a car. I would feel anxious, as most require help to get in/out of the car, so you can't social distance.      I feel vulnerable being so close."
Unsafe Commutes
"I will be forced to take the train for six hours a day."
"Since I live in New York City and don't have a car if I need to go anywhere (work, doctors) I am putting myself at risk since I will need to take public transit."
Losing Access to Teleworking
"I am concerned about how long I will be able to work from home since I am immunocompromised.  Will my employer allow me to telework until a vaccine is developed?
"I was only looking for a new job at the beginning of lockdown and now I am afraid that I will not find one any time soon, given the situation."
"My job may simply disappear as the social interaction is a basic part of it."
"I worry that I will be laid-off."
Working with Customers
"I work in retail and I can't see our customers adhering to the rules. I served a lady who was buying furniture just before the lockdown and she informed me that her husband had symptoms and was self-isolating. Then why was she OUT SHOPPING?!! At the time I was sitting next to her on a sofa. People are selfish and they will put others in jeopardy."
"I work in a large retail store and can only hope that the customers do not come in to shop if they are ill."
"We're opening to the public on Monday and I'm extremely concerned. The three people in our office are very compromised. We all have health issues that put us at greater risk."
Issues with Age
"Some school districts are proposing no employees over age 60. and I am 65 with psoriatic arthritis. I was counting on this part-time job to supplement my Social Security.  It had been an ideal job because it was only three hours a day and I could pick and choose days I worked as a cafeteria sub, which helped greatly in coping with my pain and fatigue."
Long-Term Care Home Concerns
"My concerns are not with the staff in our long-term care home (everyone has tested negative) but with the visitors. From what I've seen while out getting groceries there are a lot of people who do not take this seriously, so I'm worried about having to make contact with them."
"I work at a nursing home. I'm very concerned for residents due to the possibility of asymptomatic staff."
"I set up medications in tenants' rooms in an assisted living center. It is not possible to distance six feet in most parts of the apartments."
Losing Unemployment Benefits
"I am afraid [we will lose access to] further pandemic unemployment payments after July. I live in Alabama and regular unemployment is only $114.00 per week for me."
"I'm 77 and a personal care aide. I have to work because I can't live on $800 a month social security. I had to stop working and self-quarantine to make sure I didn't have COVID. I applied for unemployment, which will last till the end of July. After that I can't pay my bills and eat and pay the rent. I will be homeless again."
Being the Breadwinner
"I am at a higher risk due to multiple autoimmune diseases. I am the only family member that works so we rely solely on my income. But I am literally afraid for my life or not to be able to support my household!"
Less Work to Do
"I am a freelancer. I fear that I will never go back to the level of work I had before."
Too Much Work to Do
"I work as a medical coder. We have been swamped with virtual visit coding and many changes in policies for billing COVID-19."
Brain Fog and Stress
"It's difficult to concentrate and perform at previous capacity due to 'pandemic brain' — feeling stressed about other stuff."
Relieved to Be Retired
"I am so relieved that I retired just in time."
Feeling Fortunate
"I am a health care employee. I feel my employer has taken the necessary steps to keep me as safe as possible."
"I have been advised that if I need to take leave, I'm able. And if I require any special accommodations, [I should] discuss with my health care provider about my need for the accommodation."
"It is not bad news for everyone. There are good guys out there too. I am lucky that my employers are amazing and already arranged for our whole team to start working remotely as soon as the situation in Italy became apparent. By shifting our ways of working before the formal lockdowns started in our country, we had time to get ourselves and our families organized. Now that things are starting to open up again, we are all being given the option to work back in the office or continue to work from home with no questions asked. It is truly amazing for everyone to be treated absolutely equally regardless of age, health status, gender, or social arrangements. When we do go back into the office, everything is being arranged as if each and every one of us was in an at-risk group so we are as safe as we can be."
"My work is being great through this. Their first concern is their employees."
"I am a pharmacist, so I have not stopped working. We wear masks and gloves and our patients have not been allowed in the pharmacy.  Because of the precautions, I have not really been concerned to work."
Get Free Coronavirus Support for Chronic Illness Patients

Join the Global Healthy Living Foundation's free COVID-19 Support Program for chronic illness patients and their families. We will be providing updated information, community support, and other resources tailored specifically to your health and safety. Join now.