Organization History
CreakyJoints co-founder Seth Ginsberg was diagnosed with spondyloarthropathy at age 13. By the time he reached college, he felt isolated and frustrated that it was so hard to connect with other people, like him, who were diagnosed with arthritis. Inspired to create the community he was seeking, Seth reached out to entrepreneur Louis Tharp, a high school mentor for whom he had interned. Together, they became social entrepreneurs, creating CreakyJoints in 1999. CreakyJoints started as a simple online message board and blog (the term blog hadn't been invented yet, back then it was called a diary), focused on reaching people seeking education and support in an uplifting and motivating way.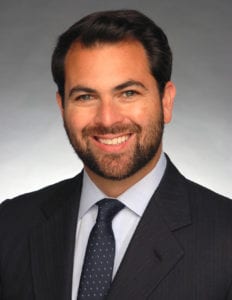 Seth recalls, "When we started CreakyJoints, the Internet was still in its infancy (think: AOL dial-up). Plus, at the time, the public attitude toward arthritis was full of misconceptions stemming from what people imagined arthritis to be, which was a disease that caused their grandparent to have gnarled hands and joints that ache. But arthritis is so much more than that and certainly not just a disease of older adults. Fast forward twenty years, and we've made huge strides in raising awareness of all forms of arthritis including educating our community about the variety of treatment and management strategies. We've also worked incredibly hard to invite and motivate members of the arthritis community to speak up about what they need from researchers, doctors, lawmakers, policy wonks, and regulators to help us live a high quality of life with arthritis."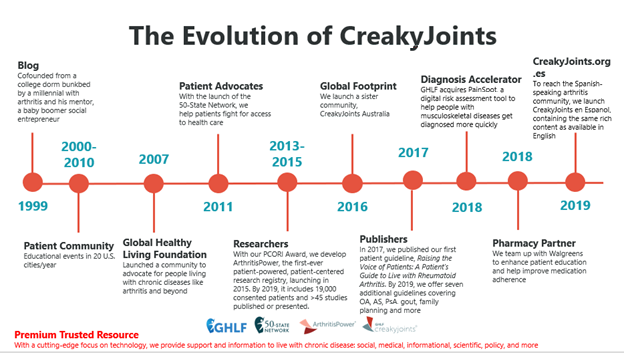 Today, CreakyJoints is a digital, patient-driven community for millions of patients and their families world-wide, who are seeking education, support, advocacy, and patient-centered research about arthritis. With offices in Upper Nyack, NY, Manhattan, and now Australia with CreakyJoints Australia, the organization includes 18 full-time employees who design programs and help members engage with the organization. Our free disease-tracking and research participation mobile app, ArthritisPower, includes over 19,000 consented users (as of June 2019) who contribute their health data to research. The organization's 50-State Network includes more than 1,500 trained volunteer patient advocates.
CreakyJoints is an open community. It's always free to participate and we conduct no public fundraising, no financial solicitation and will never sell members products or subscriptions. CreakyJoints is a part of the non-profit Global Healthy Living Foundation, which receives funding from grants and sponsorships from pharmaceutical manufacturers, private foundations, and government-sponsored research grants. We frequently collaborate on research with major research institutions and universities.