Organization History
CreakyJoints co-founder and president Seth Ginsberg was diagnosed with spondyloarthropathy at age 13. By the time he reached college, he felt isolated and frustrated that it was so hard to connect with other people, like him, who were diagnosed with arthritis. Inspired to create the community he was seeking, Seth reached out to entrepreneur Louis Tharp, a high school mentor for whom he had interned. Together, they became social entrepreneurs, creating CreakyJoints in 1999. CreakyJoints started as a simple website with an online message board and blog (the term blog hadn't been invented yet, back then it was called a diary), focused on reaching people seeking education and support in an uplifting and motivating way.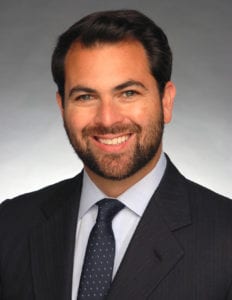 Seth recalls, "When we started CreakyJoints, the internet was still in its infancy (think: AOL dial-up). Plus, at the time, the public attitude toward arthritis was full of misconceptions stemming from what people imagined arthritis to be, which was a disease that caused their grandparent to have gnarled hands and joints that ache. But arthritis is so much more than that and certainly not just a disease of older adults. Fast forward more than twenty years, and we've made huge strides in raising awareness and increasing education about of all forms of arthritis. We've also worked incredibly hard to invite and motivate members of the arthritis community to speak up about what they need from researchers, doctors, lawmakers, policy wonks, and regulators to help us live a high quality of life with arthritis."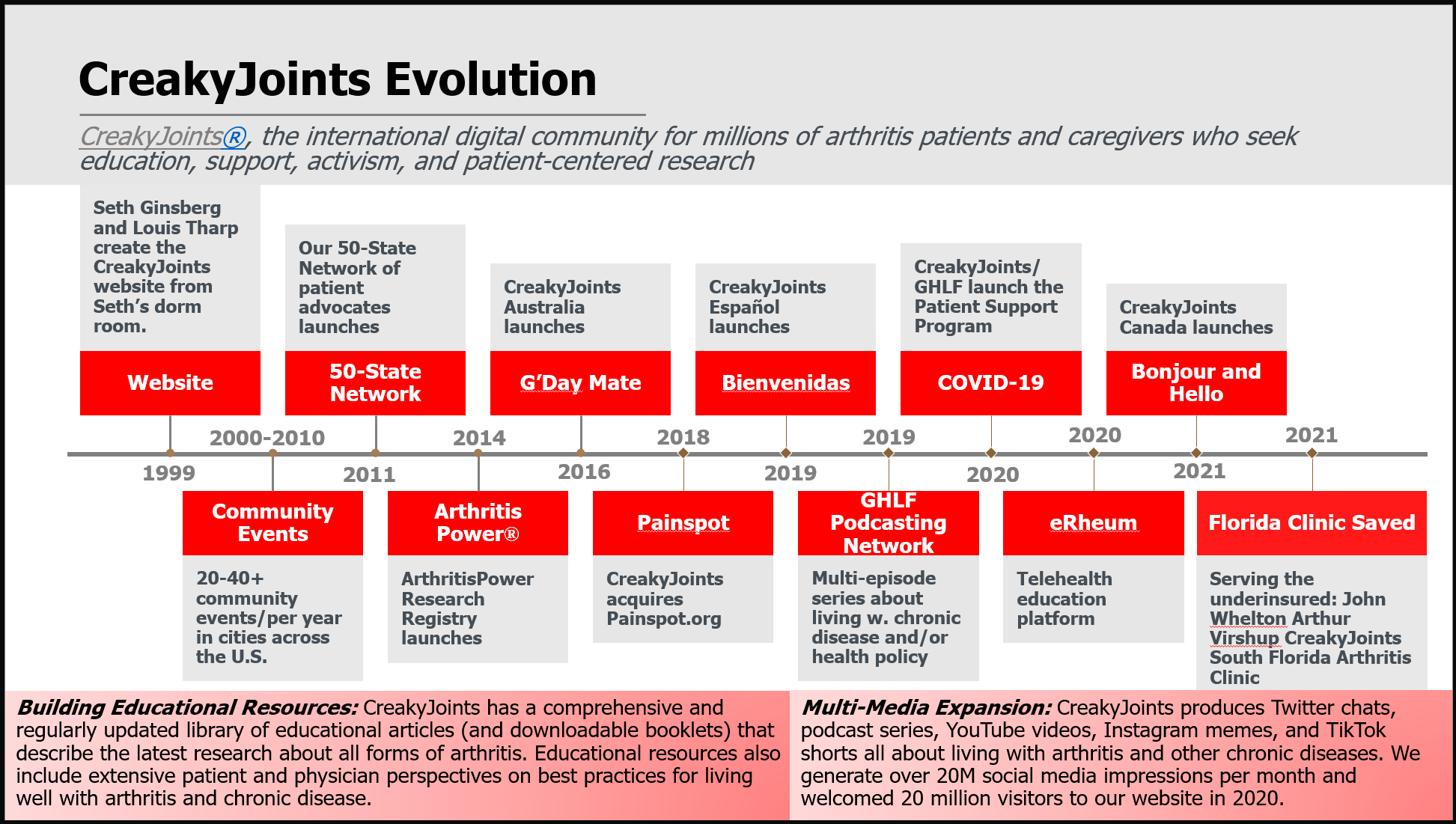 Today, CreakyJoints is a digital, patient-driven community for millions of patients and their families world-wide in English, Spanish, and French, who are seeking education, support, advocacy, and patient-centered research about arthritis. With offices in Upper Nyack, NY, Manhattan, Toronto, and Sydney, the organization includes nearly 50 employees who design programs and help members engage with the organization. We invite you to explore CreakyJoints, CreakyJoints Canada (launched in 2021 with resources in English and French), CreakyJoints Australia (launched in 2016), and CreakyJoints Español (launched in 2019 and entirely in Spanish) and follow our social media channels so that you or your loved one can participate in our conversations.
Launched in 2015, our free disease-tracking and research participation mobile app, ArthritisPower, includes more than 39,000 consented English and Spanish-speaking users (as of October 2022) who contribute their health data to research. Many of our research studies are done in partnerships with nationally recognized health systems and universities, such a Yale University, Duke University, Penn Medicine, Hospital for Special Surgery (NYC), and many others. Since then, we've published or presented at domestic and international rheumatology professional meetings nearly 150 studies, meaning that our CreakyJoints members have significantly added to what we understand about living with arthritis.
In addition, our 50-State Network, the grassroots advocacy arm of the Global Healthy Living Foundation, consists of patients with chronic illness who are trained as health care activists to proactively connect with local, state, and federal health-policy stakeholders to share their perspective and influence change.
Are you new to arthritis? You might benefit from visiting some of our resources like:
About PainSpot
PainSpot by CreakyJoints® educates and empowers people to better understand their health, so they can get diagnosed and treated faster. It is an innovative algorithm-based website for patients with musculoskeletal diseases or injuries that features an interactive, easy-to-use pain-assessment tool, based on the same validated decision-making tools employed by health care professionals in a clinical setting. After participating in the assessment, the patient receives a summary of three possible conditions that could be causing the pain and is invited to join, for free, the Global Healthy Living Foundation, CreakyJoints, and/or the ArthritisPower® Research Registry. They will also receive a follow-up email series designed to drive action toward a diagnosis and chart a pathway for living the best, healthiest life with that condition or postinjury. The first version of PainSpot was created by Doug Roberts, MD, an independent clinical rheumatologist with 30-plus years of experience diagnosing and treating patients with arthritis and musculoskeletal diseases. For more information, visit PainSpot.org.
About eRheum
Created by CreakyJoints®, eRheum.org is a website designed to help patients get the most from their telehealth appointments. Written in patient-friendly language, eRheum defines telehealth and how rheumatologists utilize it, provides patients with access to difference videoconferencing portals to try with their physician, and explains how to make the most of quick-moving appointments. To learn more visit, eRheum.org or in Spanish at eRheum.org.es.
John Whelton Arthur Virshup CreakyJoints South Florida Arthritis Clinic
Since 2021, CreakyJoints has provided administrative support, education, advocacy and research to the John Whelton Arthur Virshup CreakyJoints South Florida Arthritis Clinic. Established in 1975 by rheumatologists Dr. John Whelton and Dr. Arthur Virshup, for whom the clinic is now named, the John Whelton Arthur Virshup CreakyJoints South Florida Arthritis Clinic serves South Florida arthritis patients who cannot afford treatment, providing regular and free rheumatology care to more than 100 area patients. Once a month, rheumatologists volunteer their time to care for patients at their private offices in Boca Raton, Boynton Beach, Stuart, and West Palm Beach, Florida. These patients receive consistent and high-quality care identical to patients seen in private practice and have access to laboratory and imaging services. Visit https://awareness.creakyjoints.org/free-clinic/ to learn more.
CreakyJoints is an open community. We believe chronically ill patients have enough financial worries with their disease treatment so our programs and services are always free. We conduct no public fundraising, no financial solicitation, no walks, no galas, and will never sell members products or subscriptions. CreakyJoints is a part of the non-profit Global Healthy Living Foundation, which receives funding from grants and sponsorships from pharmaceutical manufacturers, private foundations, and government-sponsored research grants. We frequently collaborate on research with major research institutions and universities.
Find us online:
CreakyJoints: CreakyJoints.org
CreakyJoints Español: CreakyJoints.org.es
CreakyJoints Australia: CreakyJoints.org.au
CreakyJoints Canada: CreakyJoints.ca
Global Healthy Living Foundation: ghlf.org
Facebook: facebook.com/CreakyJoints & facebook.com/GlobalHealthyLivingFoundation
Twitter: @GHLForg, @CreakyJoints, #CreakyChats
Instagram: @creaky_joints, @creakyjoints_aus, @creakyjoints_esp
TikTok: globalhealthylivingfnd
Global Healthy Living Foundation Podcast Network: https://ghlf.org/patient-education/listen/
YouTube: @GHLForg, @CreakyJoints
LinkedIn: linkedin.com/company/ghlf