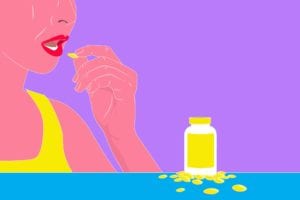 Treatment guidelines for rheumatoid arthritis (RA) say that most patients should start taking methotrexate to modify disease progression and treat RA symptoms, but people who don't fare well enough on it may need to switch or add another medication to their treatment regimen.
That other medication is often a biologic class called a TNF inhibitor, but other classes of targeted drugs, including JAK inhibitors, are also showing promise.
Two JAK inhibitors — baricitinib (Olumiant) and tofacitinib (Xeljanz) — are already FDA-approved, and new research suggests that a third option, filgotinib, may soon join their ranks.
Bernard Combe, MD, PhD, from Montpellier University in France, presented preliminary results on filgotinib at the European League Against Rheumatism (EULAR) 2019 Congress in Madrid earlier this month. More than 1,700 RA patients participated in this phase III clinical trial. They were split into four groups: 200 mg filgotinib, 100 mg filgotinib, adalimumab (Humira, a TNF inhibitor), or placebo.
According to the early findings of this study, filgotinib started working within 12 weeks and the impact lasted at least through week 24. The full trial, which will last for a year, is still ongoing, but the interim data shows that filgotinib "led to significant improvement in signs and symptoms of RA, prevented radiographic progression, and improved physical function compared to [placebo]."
These early results also suggest that 200mg of filgotinib works as well as adalimumab. Serious infections, blood clots, and adverse events were low in all the groups.
Based on this report, it appears that filgotinib is likely as safe and effective as other JAK inhibitors, Thomas Dörner, MD, chair of the EULAR scientific program committee, told Medscape. Assuming these results hold up when the full trial is completed and that additional safety data is supportive, there's a good chance that filgotinib could be approved and hit the market within two years.
JAK inhibitors are small-molecule drugs that limit inflammation by targeting the JAK (Janus kinase) pathway inside cells. They are taken orally, unlikely anti-TNF drugs (which must be infused or injected).
Keep Reading