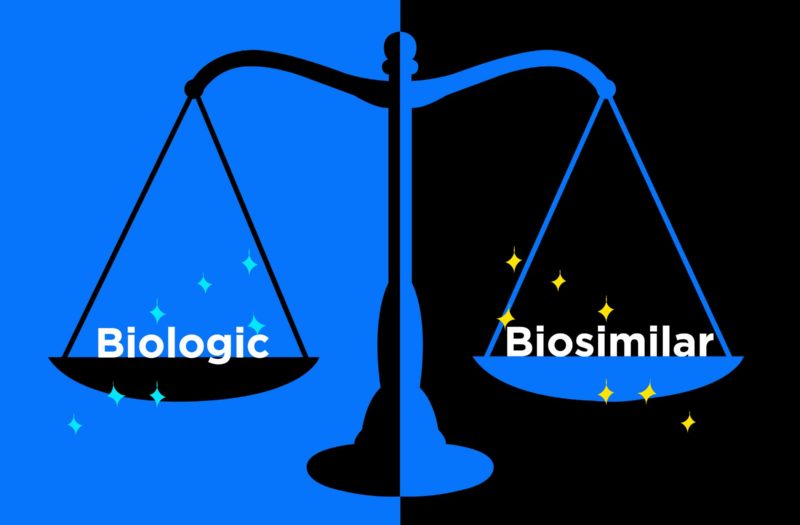 Most drugs on the market that have been out long enough for the original manufacturers' patents to expire are available in generic form. Even though the medication name and label is different, the active ingredients between the brand medication and the generic version are exactly the same. That usually translates to a major cost savings for consumers as well as health insurance companies.
Literal "generic" versions of biologic drugs like Remicade (infliximab) and Enbrel (etancercept) can't be made, due to the complexity of these molecules.  But the FDA has approved biosimilar versions of these drugs, which — as you may have guessed from the name — have been proven to be highly similar to the original product. Research has shown that biosimilars are equally safe and effective as — and have the potential to be far less expensive than — the "originator" drugs they are based on. The FDA has approved several biosimilar medications over the last few years.
Yet few Americans with rheumatic diseases are actually using them.
A new study, published in the journal Arthritis & Rheumatology, focused on the use (or lack thereof) of biosimilars for infliximab, a biologic known as a TNF inhibitor because it blocks an immune system protein called tumor necrosis factor, which is involved in systemic inflammation. The research, which was based on insurance claims data, examined prescriptions for TNF inhibitors (including infliximab) that were dispensed between January 2016 and March 2019. Nearly 100,000 patients in the database had used a TNF inhibitor during this timeframe, and two biosimilars for infliximab — Inflectra and Renflexis — were approved and on the market prior to the beginning of the study.
Despite the availability of these less-expensive options, most patients continued to stick with a brand-name biologic. About 20 percent of anti-TNF drug prescriptions filled were for brand-name infliximab (Remicade); less than 1 percent were for an infliximab biosimilar. The remaining bulk of prescriptions were for other TNF blockers adalimumab (Humira) or etanercept (Enbrel).
In an accompanying editorial, Jinoos Yazdany, MD, of the University of California San Francisco, lamented that biosimilars have failed to take off in the U.S. She explained that several factors have prevented biosimilars from penetrating the market here as they have in Europe. Those include:
Drug manufacturers' attempts to extend patents or continue tweaking products to prevent the development of biosimilars
Manufacturers and pharmacy benefit managers offering rebates for brand-name drugs (which make them more affordable for consumers yet still quite costly for health insurance companies)
Health care providers' unwillingness to prescribe biosimilars (in some cases because they haven't been properly educated about them)
Regulatory issues related to FDA approval
"Each of these [barriers] will need to be tackled in turn to reduce the legal, financial, regulatory, and clinical barriers that have impeded the development of a more vibrant biosimilar market that fosters competition and leads to cost savings," said Yazdany.
Read more about what biosimilar are, how they're created, and why they are just as safe and effective as biologics in our downloadable resource: A Patient's Guide to Understanding Biosimilars.
Track Your Medications with ArthritisPower
Join CreakyJoints' patient-centered research registry and log your medications to track side effects and impact on disease activity. Learn more and sign up here.
Keep Reading