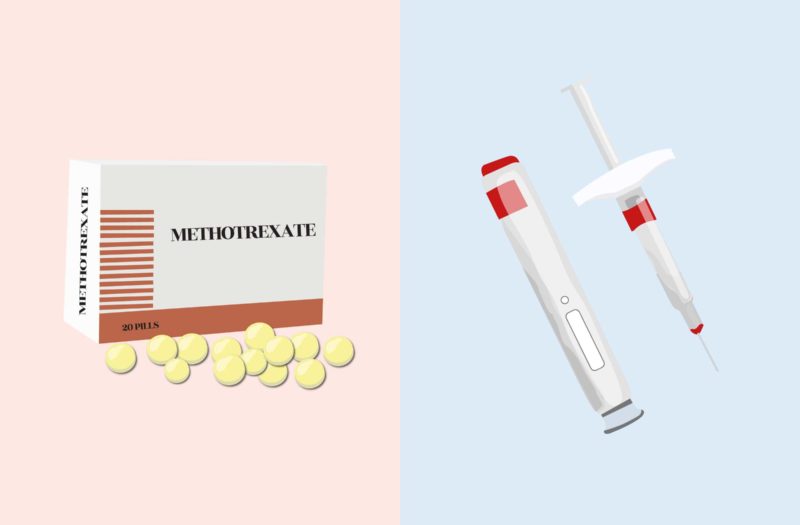 Methotrexate is a gold standard, first-line therapy for treating rheumatoid arthritis, and it is frequently used to treat psoriatic arthritis as well. However, methotrexate is not part of routine care for people with axial spondyloarthritis (axSpA) because it has not been thought to be effective for inflammatory disease that predominantly affects the spine.
But a new study suggests that methotrexate might play a role in the treatment regimen of axial spodyloarthritis, particularly for axSpA patients who are using adalimumab (Humira).
Unlike methotrexate, adalimumab is currently FDA-approved for the treatment of ankylosing spondylitis, a form of axSpA. The latest guidelines from the American College of Rheumatology say that axSpA patients who have active disease despite first using non-steroidal anti-inflammatory drugs (NSAIDs) should take a TNF inhibitor biologic, such as adalimumab, etanercept, or infliximab. Research shows that these drugs are often but not always effective.
In many cases, a TNF inhibitor initially works well but fails to provide a sustained benefit. This seems to happen, at least in part, because many patients develop antibodies to the drug.
However, adding methotrexate to the mix could change that, according to new research published in the journal RMD Open.
In the study, 110 people with axial spondyloarthritis who were candidates for adalimumab were given a subcutaneous injection of this biologic drug every other week. Half of the group also got weekly methotrexate injections. After 26 weeks, blood tests showed that those who were using both methotrexate and adalimumab were significantly less likely to have developed antibodies to adalimumab.
"This result is of importance because [developing antibodies] to monoclonal antibodies [like TNF inhibitors] is an unwanted outcome responsible for loss of response and treatment discontinuation in chronic inflammatory diseases," the authors explained.
This medication combo doesn't guarantee a perfect response, however: 25 percent of those using methotrexate and adalimumab still developed antibodies to adalimumab. What's more, those who incorporated methotrexate into their regimen did not have lower disease activity compared to those who only used adalimumab, at least not within 26 weeks.
"The quantification of the effect of [methotrexate] on clinical outcomes such as ASDAS [ankylosing spondylitis disease activity score], should be assessed further than 26 weeks, in future studies," the authors wrote.
Track Your Medications with ArthritisPower
Join CreakyJoints' patient-centered research registry and log your medications to track side effects and impact on disease activity. Learn more and sign up here.
Keep Reading