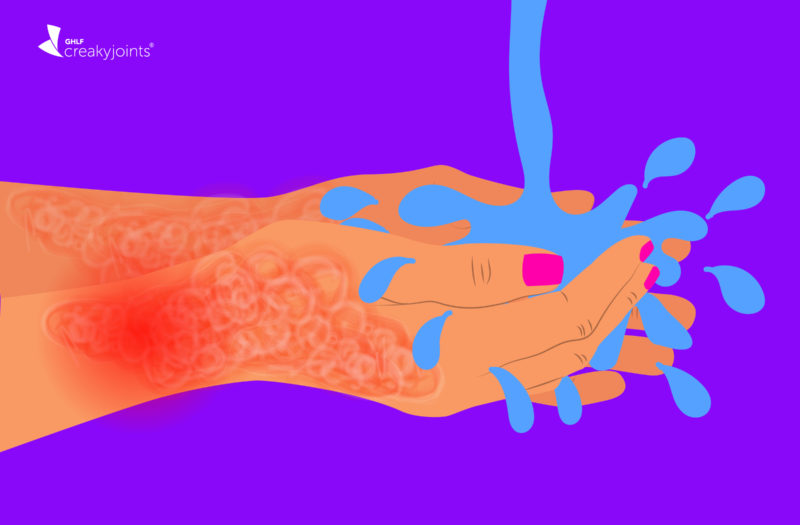 Because psoriasis primarily impacts the skin, many people assume it's merely a cosmetic problem. In reality, psoriasis is an autoimmune disease. This means that an overactive immune system is driving inflammation and overproduction of skin cells. As with other autoimmune conditions, psoriasis patients may have a higher than average risk of contracting COVID-19 (novel coronavirus) and developing serious complications, though more research on this patient population is needed.
"People with psoriasis who are on biologic medications that alter their immune system may be at higher risk of COVID-19 complications" because these drugs suppress immune response, says California-based dermatologist Cynthia Bailey, MD, a diplomate of the American Board of Dermatology. "People with psoriasis are also known to have a greater incidence of chronic medical conditions, such as heart disease, that put one at higher risk for COVID-19."
Having psoriasis during the coronavirus pandemic may also be problematic because your skin is much more apt to become irritated from all the frequent hand washing and sanitizing. You may also develop skin cracks or sores.
"I wonder if the virus can pass through open skin sores, but I could not find any scholarly scientific information to suggest that it has been seen," says Dr. Bailey. At this time, it is believed that COVID-19 is primarily transmitted when someone inhales virus particles, or touches them and then touches their mouth, nose, or possibly eyes.
Even if direct skin transmission does not turn out to be possible, breaks in the skin's barrier and irritation are still serious issues, says Joshua Zeichner, MD, director of Cosmetic and Clinical Research in the Department of Dermatology at The Mount Sinai Hospital in New York City.
"The skin on your fingers is generally where the virus lives, and when you touch it you can spread it to your face," he explains.
People who are prone to skin inflammation and scaly plaques on their hands may have a hard time washing their hands thoroughly. "If you can't wash your hands well you may be more likely to spread the virus if you come in contact with it," he adds.
Dr. Bailey also has concerns about hand hygiene in patients experiencing psoriasis flares. "Psoriatic skin lesions are characterized by a lot of scale, and these are rough places where viral particles may be able to lodge and resist easy removal by washing," she says.
Here's what you can do to stay healthy.
Follow CDC and local government recommendations for social distancing  
If you're on immune-suppressing medications or have other comorbidities that place you at higher risk for coronavirus complications, you should avoid leaving your home as much as possible and avoiding close contact with other people if you need to go to work or run an essential errand.
Touch base with your dermatologist
If you're currently taking medication that suppresses the immune system, do not stop. But it is a good idea call your provider and find out what the best strategy is for you at this time. Use telehealth when possible to see your health care provider instead of having an in-person visit.
Depending on what you're using as well as your current health status, your dermatologist might advise switching to a different drug or making other changes to your treatment regimen. Whatever you do, don't go it alone or you risk having your condition worsen. "I do not recommend stopping your medicine without your doctor's supervision and future plan of action," says Dr. Zeichner.
Use soap and water over hand sanitizers
This is good advice for everyone because hand sanitizers are not as effective for removing COVID-19 as plain old-fashioned hand washing, but it is especially key for anyone  prone to skin problems.
"Alcohol-based hand sanitizers are drying and will lead to irritant hand dermatitis," says Dr. Bailey.
Choose gentle cleansers
There's no need for harsh abrasives or antibacterial formulas. "Stick to hydrating cleansers that will not dry out the skin barrier," says Dr. Zeichner. Dr. Bailey adds that hypoallergenic, foaming soaps are often a good pick.
Rinse well
The importance of scrubbing thoroughly with soap has been drilled into everyone at this point, but don't forget to rinse well with water when you're done. "Any retained [soap] residue will continue to strip skin oils and lead to chapping and painful hand cracking," says Dr. Bailey.
Moisturize, moisturize, moisturize
Keep a thick, hydrating cream near every sink in your home and use it after you wash your hands. Petrolatum-based moisturizers like Vaseline are among the options worth considering. "They help form a protective seal over the surface of the skin, which keeps hydration in and microbes out," says Dr. Zeichner. If you find your skin getting irritated, ask your dermatologist for product recommendations that are right for your psoriasis-prone skin.
Get Free Coronavirus Support for Chronic Illness Patients

Join the Global Healthy Living Foundation's free COVID-19 Support Program for chronic illness patients and their families. We will be providing updated information, community support, and other resources tailored specifically to your health and safety. Join now.