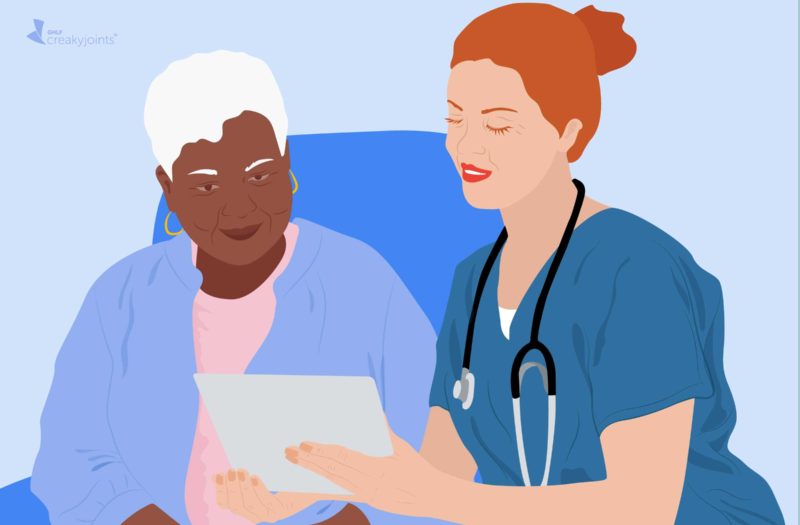 A good rheumatologist can be hard to find, at least in some areas. Can patients feel confident in their care if they see a nurse practitioner instead? A randomized trial conducted suggests that the answer is yes.
The study, which was presented at the European E-Congress of Rheumatology 2020, held virtually by the European League Against Rheumatism (EULAR), was led by Kirsten Hoeper, PhD, of the Rheumatology Center Lower Saxony and Hanover Medical School in Germany. She said that there is a shortage of rheumatologists in her country; as a result, patients must often wait as long as nine to 12 months to see a rheumatologist. But for many inflammatory conditions, such as rheumatoid arthritis, there is an ideal three-month window of opportunity to start treatment once a patient starts experiencing symptoms. It is also important to see patients who start medication frequently to make sure the therapy is working and to monitor side effects.
To find out whether nurses with additional training in rheumatology might be able to safely fill in some gaps, she and her colleagues took 236 rheumatoid arthritis (RA) patients and randomly assigned them to two groups. Half had regular checkups with a rheumatologist and the other half had their appointments with a rheumatology nurse practitioner instead.
A nurse practitioner (NP) is an advanced practice registered nurse who has earned at least a Master's degree and completed additional training in a specialty area of medicine — in this case, rheumatology.
Disease activity scores were assessed when the study began as well as at set intervals throughout the trial and finally at the 12-month mark (after the intervention was completed). Researchers also looked at patient-reported measures of daily functioning, quality of life, and depression.
According to the findings, patients who saw a rheumatology nurse fared as well as those who saw a rheumatologist (doctor) in terms of all of the above-mentioned measures.
The authors concluded that nurse-led care for RA management was "non-inferior" to care provided by physicians. This study indicates that relying more heavily on rheumatology nurses "could improve care and help carry the doctors' workflow."
At a press conference about the study findings, Robert Landewe, MD, PhD, of the University of Amsterdam/Amsterdam Medical Center and the chairman of the EULAR meeting, said the research "has shown that rheumatology nurses can indeed help patients with rheumatic and musculoskeletal diseases. And nurses do not necessarily replace the physician but they definitely have their own additional tasks and their own additional experience," reported MedPage Today.
Found This Study Interesting? Get Involved
If you are diagnosed with arthritis or another musculoskeletal condition, we encourage you to participate in future studies by joining CreakyJoints' patient research registry, ArthritisPower. ArthritisPower is the first-ever patient-led, patient-centered research registry for joint, bone, and inflammatory skin conditions. Learn more and sign up here.