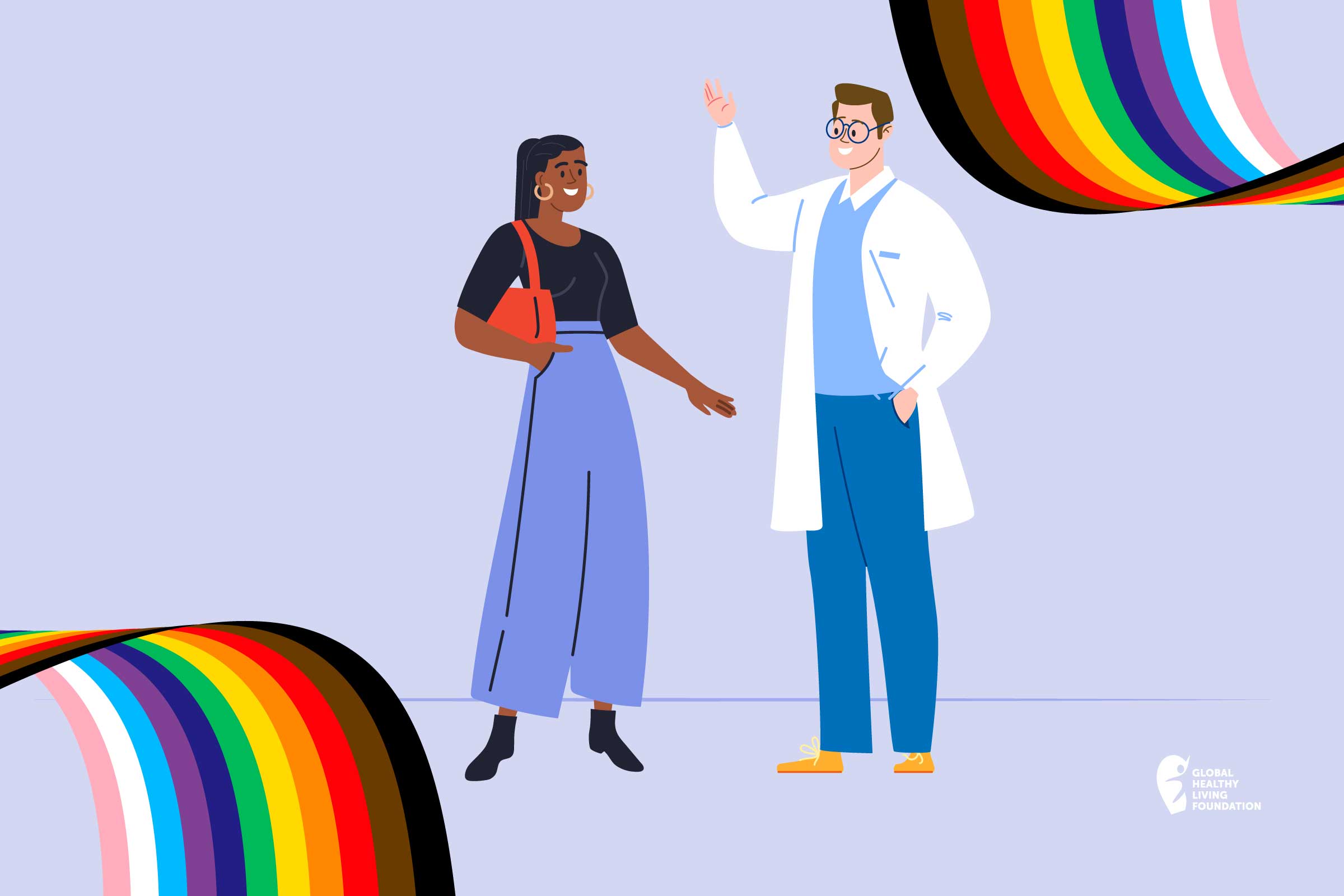 Editor's note: LGBT stands for lesbian, gay, bisexual, and transgender. Throughout this article, you'll also see common variants of this acronym referenced in research and expert interviews, including LGBTQ (which includes queer or questioning persons) and LGBTQIA (which includes intersex and asexual persons). As an editorial team, we use the full acronym and the plus sign when referring to the LGBTQIA+ community, which symbolizes the large diversity of other identities that can't yet be fully described with letters and words. 
In every field of medicine, including arthritis, it's increasingly clear how important it is to recognize disparities in the care of LGBTQIA+ patients.  
In 2022, 7.1 percent of Americans identified as lesbian, gay, bisexual, transgender, or something other than heterosexual — double the percentage from 2012, per Gallup data. What's more, about 21 percent of Gen Z Americans who have reached adulthood (those born between 1997 and 2003) identify as LGBT, nearly double the proportion of millennials who do. The gap is even more striking when compared to older generations.  
However, these patients don't always receive the same level of care as others, even though they have unique needs — including when it comes to pain management.   
The Challenges LGBTQIA+ Individuals Face
The LGBTQ+ population experiences unique needs regarding chronic pain management compared to the general population, note the authors of a November 2021 review in the Journal of Pain Research.  
Here are three key facts from that review to consider: 
Sexual minority adults experience functional limitations more frequently due to pain and are more likely to experience pain from multiple sites compared to heterosexual adults (for instance, back pain, shoulder/neck pain, migraine, and arthritis are more common in this population)

There's a well-established link between depression and pain. These conditions are strongly linked to each other and lead to worse outcomes when patients suffer from both — and sexual minority adults experience higher levels of depressive symptoms and disorders than heterosexual adults.
A larger portion of LGBTQ+ individuals lack access to health insurance and live in poverty than is the case in the general population. LGBTQ+ individuals are more likely to delay medical care or forgo it entirely. Reasons for avoiding health care include discrimination from health care providers and even denial of care.
When it comes to arthritis specifically, the prevalence is 5.6 percentage points higher among gay/lesbian adults than among straight adults (26.7 percent vs 21.1 percent), per a 2015 study published in the journal Preventing Chronic Disease.  
What's more, over 30 percent of transgender individuals reported at least one negative experience related to being transgender, like being refused treatment, being harassed or assaulted, or receiving incompetent care, per The Report of the 2015 U.S. Transgender Survey. 
This can be compounded if you're part of a sexual minority group and also a person of color.  
"When we look at the LGBTQIA+ community, they have multiple challenges — not only with race and ethnicity, but also of course sexual orientation," says Sheila Thorne, President and CEO of Multicultural Healthcare Marketing Group. "For instance, Black, Latino, Asian, and Native American LGBTQIA+ people have a very different experience than those who are white LGBTQIA+." 
What Health Care Providers Can Do
Before these barriers to care can be eliminated, it's key for providers to acknowledge the unique challenges and health problems of the LGBTQIA+ community. This will enable them to better treat chronic pain and improve the quality of life for these patients.  
"Provider education and dedication to improving cultural competency are measures that the medical community can take to help this population gain confidence in utilizing health care," note the authors of the Journal of Pain Research review. "Additionally, improving access to health insurance remains a necessary step."  
There are several steps that can be taken to ensure this from the health care provider perspective, says Amber Dixon, the CEO of Elderly Guides, an organization that provides resources for coping with age-related issues. Those steps include:  
Improving cultural competency

. Health care professionals should receive ongoing training to understand the unique experiences and health needs of LGBTQIA+ individuals, including those with arthritis and chronic pain.

Creating inclusive environments

. Health care facilities should adopt inclusive policies, anti-discrimination guidelines, and use gender-neutral language to ensure a welcoming and safe environment for LGBTQIA+ patients.

Addressing mental health

.

Providers need to understand the increased risk of mental health issues in the LGBTQIA+ community and provide appropriate support and referrals as needed, especially when dealing with chronic conditions like arthritis.

Foster collaboration

.

Health care providers should collaborate with LGBTQIA+ advocacy organizations to better understand the needs of the community, share resources, and promote access to care.

 
"You really have to surround the community and saturate it with a message," says Thorne. "The resources are there — including governmental resources and using social media carefully. These are the best ways to reach populations with messages that will educate, empower, motivate, and activate people to take charge and take control of their health."  
How You Can Advocate for Yourself
Although many responsibilities fall into the hands of health care providers and the larger health care system, there are also ways you can advocate for yourself in the doctor's office if you are an LGBTQIA+ individual. 
The first step is connecting with a caring doctor — and making corrections and asking questions as needed, per Cedars-Sinai. This may involve telling your doctor if you are being misgendered or dead-named (when a transgender person is called by their birth name even after they have changed their name as part of their gender transition).  
You should also speak up if you're not being offered preventive health screenings appropriate for your sex designated at birth or for your risk factors based on your sexual practices.  
Ask questions about why your provider enquires about particular practices, habits, or bodily functions if you don't understand the reasoning. That clarification can improve your relationship with your doctor and help you determine if you're getting caring, adequate care — and enable you to understand your symptoms and treatment options better.  
If your physician doesn't provide judgment-free care or isn't culturally competent, look for a new provider. You may ask community members of friends for referrals to LGBTQIA+-friendly providers or search online using keywords like "inclusive," "LGBTQIA+-friendly," and "gender-affirming care."  
The LGBTQ+ Healthcare Directory, which was created by the Gay and Lesbian Medical Association in partnership with Cigna and the Tegan and Sara Foundation, is a free and searchable database of health care professionals who are knowledgeable and sensitive to the unique health needs of LGBTQ+ people in the United States and Canada. You can use the platform to search specific types of providers in your area. 
Meanwhile, the National LGBT Health Education Center offers resources for both health care providers and patients on improving access to care for LGBTQI+ individuals, including webinars on topics like Long COVID and LGBTQIA+ Mental Health and Primary Care for Transgender and Gender Diverse Patients. 
Health care disparities in the LGBTQIA+ community won't be cured overnight, but bit by bit, many organizations and health care providers are working toward providing better care for this population.  
"This is a journey — it's not a 90-day wonder," says Thorne. "You really have to be committed to making sure that your efforts are sustainable, measurable, and replicable. It has to be focused on where the population is, what the resources are to access care, and hopefully galvanize the community around health issues that will enable them to live a quality life, especially if there's no cure for their condition."  
Asthma Podcast: LGBTQ+ Patients
In this edition of The Asthma Podcast, we dive into the stories of LGBTQ+ asthma patients within the theme of "Love Should Take Your Breath Away, Not Asthma," exploring how LGBTQ+ individuals navigate their identities, relationships, and asthma all at the same time. Listen now.