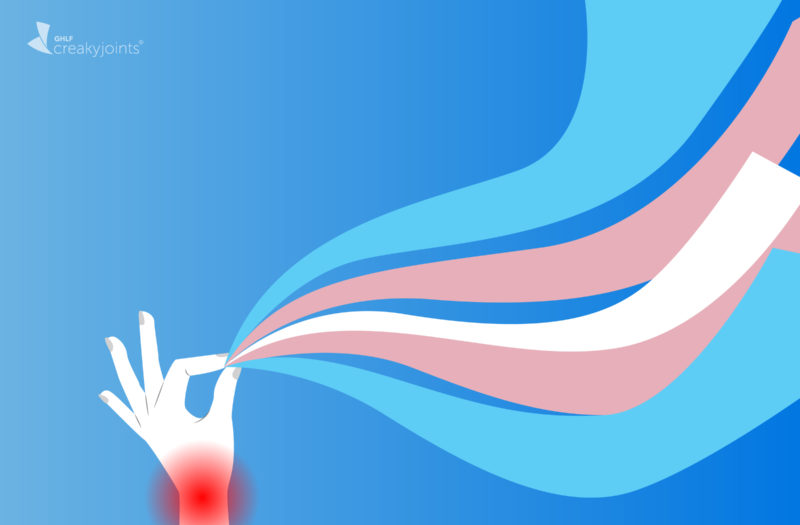 The COVID-19 pandemic has been horrific in so many ways but, as a glass-half-full kind of person, I've discovered one good thing to come out of this tragedy.
The relentless, 24/7 goal of trying to avoid a deadly virus has actually turned me into a healthier person.
I may have temporarily canceled my gym membership and I've been known to eat 12 mini chocolate chip cookies for breakfast in quarantine. But overall, the coronavirus crisis has profoundly altered my behavior, changed my perspective about my body, and made me much more proactive about taking care of myself.
I think the shift started back in April when I had to make a decision whether or not to go to my biologic infusion appointment. At the time, we were only a few weeks into the pandemic, and it was unclear if it was safe for rheumatoid arthritis and other patients with altered immune systems to continue treatment. In those early days, it was scary to show up anywhere, let alone a doctor's office with potentially sick people.
But medical experts quickly determined it would be worse not to go, because our disease flares could make us much more vulnerable to serious complications from COVID.
The lesson: the healthier you are, the better you may stave off and survive COVID-19. Sure enough, as more and more research came out, it was clear that comorbidities such as diabetes, high blood pressure, and obesity were prevalent in a lot of the serious COVID cases. Underlying conditions that could, in some cases, be controlled with a healthier lifestyle.
As I read news article after news article confirming as much, it scared me straight. If I wanted to be able to battle COVID-19 successfully, I had to make my health a priority ASAP.
Cooking Meals at Home and Intermittent Fasting
Because restaurant in-dining was closed in my state, I started cooking dinner at home at least four out of seven nights per week, usually a protein and hopefully some kind of vegetable. I was so bored in quarantine, I started eating dinner really early, around 5 p.m., and headed into what I affectionately call "my chamber" (my bedroom) around 8 p.m. Once I was in my chamber, I didn't eat anything more for the night and usually got lots of restful sleep as I faded off to a Harry Styles meditation on the Calm app to ease my anxiety.
(This is excluding the week of the election when I didn't sleep for like five days straight and had to gobble down a bottle of Extra Strength Tylenol to fix my neck, which was locked in the prayer position from looking down at my phone 24/7.)
Despite my neck issues, which continue to this day unfortunately, I'm happy to say I've lost 12 pounds without really trying — and without eliminating Whatchamacallits, MilkBar birthday cake and Rice Krispies Treats from my diet. I think I'm accidentally doing intermittent fasting because I go to bed so early. Weirdly, I've lost that weight without going to the gym. I've just been walking and hiking whenever possible.
With all the sweets I'd been eating in lockdown, I made an appointment with my dentist the minute they opened back up from restrictions. I'd always been good about getting a teeth cleaning every six months. My dad forced us growing up and the routine stuck with me (plus I liked picking out a treat from the treasure chest of toys after my appointment… until I was like 17). The only other doctor I ever showed up to regularly was my RA doc, right on time every eight weeks. I also took my meds religiously every night before bed. But that's because if I didn't, I wouldn't be able to walk.
Prioritizing Primary Care
That was my biggest problem. I hadn't regularly been to any other kind of doctor in, oh, decades? My RA always had the potential to cause other problems, so it was really kind of dumb of me not to have other docs and specialists on my roster. For instance, I have a low thyroid and have been taking levothyroxine for so long, I don't even remember who originally prescribed it. My RA doc refills it but has asked me to have it checked out by someone other than him numerous times. I have ignored this request.
The only primary physician I've ever had was my pediatrician. (Absurdly, I've only been to the gynecologist like twice in my lifetime. I'm 51. I know, I know.)
The best excuse I have — and it's not a good one — is that I'm transgender. I've never felt seen, understood, or respected at doctor appointments.
Before my last gyno appointment, I sat in the waiting room sobbing and shaking, only to be met by a cold doctor with zero bedside manner or understanding of LGBTQ issues. This was a long time ago, pre-Glee and even Ellen coming out, so imagine the conversation about pregnancy and sexual activity. Insert eyeroll emoji here.
So anyway, it was all awkward and uncomfortable, with some light lying and question dodging. That's not who I want to be and why I stopped going to most doctors years ago, opting for urgent care when absolutely necessary.
Finding a Doctor Who Gets It
By the time COVID happened, times had changed drastically, and I realized it finally could be possible to find LGBTQ or LGBTQ-friendly physicians. First up, I needed a primary. I didn't have much luck just Googling LGBTQ doctors in my area. There really isn't a good tool that I could find for that. However, when I visited the website for Eisenhower Health, my excellent local hospital campus, they had an entire section on their website called "LGBTQ Community Support," with links to primary care, specialty treatments, and a team of providers, including a special transgender patient advocate.
I made an appointment with a family medicine physician Scott Nass, MD, who happens to be gay and has an office about 10 minutes from my house. I told the front desk that I preferred to be called Dibs instead of my legal name and they put it into the computer system.
When Dr. Nass came into the examining room, he introduced himself, told me his pronouns were he/him and asked what I preferred. That is the first and only time in my life that has ever happened, and it made me choke up a little. Then my glasses fogged up because you know, masks. But it was okay because he kept accidentally bonking his face shield on his computer as he typed in my info.
He sat with me for 45 minutes, going through my entire medical history, which includes a double mastectomy. Any other doctor I've ever gone to before this has asked whether it was elective or for cancer and left it at that. Dr. Nass made me feel comfortable discussing my breast removal at length, and I felt safe taking my shirt off if need be.
Channeling my late Grandma and her friend Sophie, I told him every ache and pain I'd ever experienced in my life, and he set up blood tests and other tests that I'd probably needed for years. I got flu and pneumonia shots for the first time ever for extra protection this winter. I even made a friggin' colonoscopy appointment! I also regaled him with the sweat-drenched details of my nightly menopausal hot flashes, and he insisted I go to the gyno.
I agreed. It was time.
Going Back to the Gynecologist
Finding the right gynecologist was a very delicate situation for me. I asked a friend who has a transgender son for a recommendation and got a rave review for an nurse practitioner named Valerie who specialized in menopausal women (or whatever I am) in Santa Monica, two hours away but worth the trip if I only needed to go twice a year.
Valerie was a pro with a heart of gold. She knew how to discuss women's health with someone (me) who doesn't really consider themselves female (me) but is stuck in a female body (me).
I got a bunch of tests and my Pap smear came back normal, thank God. I was so scared since I let it go so long, but it turned out I'd been roaming around in the world with like zero estrogen.
She put me on a plan and a path to help me make it through menopause without going batshit crazy. Thank you, Valerie.
I left those doctor appointments feeling so positive and proud, knowing that I was doing everything in my power to be as healthy as possible during a time of such blind uncertainty.
COVID-19 makes us feel so out of control and powerless but taking a few proactive steps to be your best, healthy self can really help ease some of that anxiety.
Get Free Coronavirus Support for Chronic Illness Patients

Join the Global Healthy Living Foundation's free COVID-19 Support Program for chronic illness patients and their families. We will be providing updated information, community support, and other resources tailored specifically to your health and safety. Join now.