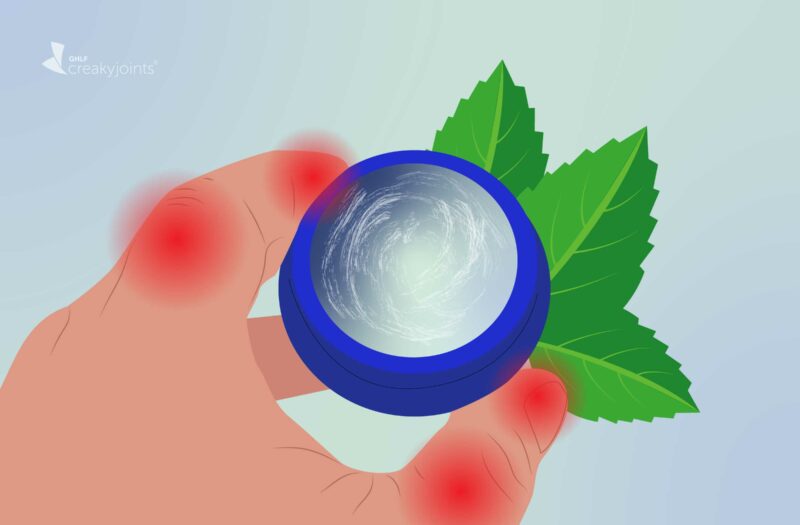 You'll find menthol in cough lozenges, gum, and Vicks VapoRub. Menthol might be in your favorite body wash, and you'll certainly find it an array of over-the-counter creams and ointments. The ingredient seems to have an endless number of uses. But what exactly is it? And — perhaps more importantly for people with joint problems — can menthol ease arthritis pain?
In a word, yes: Menthol is often useful for easing joint pain associated with many types of arthritis. But It's hardly a cure-all, and it's unlikely to be the only treatment you need. While individual results vary significantly, many arthritis patients do find that menthol is a helpful add-on to their treatment regimen, says Nilanjana Bose, MD, MBA, a rheumatologist at the Rheumatology Center of Houston.
"It's not really a treatment; it's more like an ancillary or complementary therapy" in that it won't treat the underlying cause of your pain, says Dr. Bose. "But I definitely recommend topical creams or ointments [with menthol] because it's just another tool in the toolkit."
The best part: These products are inexpensive, available, and there's "nearly zero risk" of trying them, she says.
Dr. Bose adds that compared to topical pain-relief products that contain capsaicin, which is derived from chili peppers, menthol-based products tend to be less irritating.
You can find menthol in topical pain products including creams, ointments, roll-ons, sprays, and patches. The type of formulation you choose isn't terribly important, says Dr. Bose, as long as it's convenient and appealing to you.
"Almost anyone who wants to try [menthol] — whether they have osteoarthritis, rheumatoid arthritis, psoriatic arthritis, or any other kind — can use it and see what happens. If the patient doesn't get any benefit, at least we tried," she says.
What Is Menthol, and How Does It Relieve Pain?
Menthol is a chemical that is naturally found in mint plants such as peppermint. It has also been manufactured synthetically since the 1970s.
"Menthol works [for pain relief] in two ways," says Faye Rim, MD, Medical Director, Pre-Surgical Chronic Pain Management at Hospital for Special Surgery in New York. "One is as a counter-irritant. When you rub it in, it causes another sensation that distracts from your underlying pain. Menthol also creates a cooling sensation, like an ice pack, that can desensitize nerve endings."
Menthol binds to cold receptors in your skin and muscles and essentially tricks them into thinking that they've come into contact with something super chilly.
Can Menthol Treat Arthritis Pain?
There hasn't been a lot of research on menthol for arthritis, but some studies have suggested that it might help people with osteoarthritis (OA) as well as those with rheumatoid arthritis.
Menthol won't treat your underlying problem, such as cartilage deterioration due to osteoarthritis or joint inflammation due to an autoimmune or inflammatory condition like RA. But there is reason to believe that it may relieve some of the pain caused by these conditions.
Menthol isn't as effective as oral pain medication, disease-modifying antirheumatic drugs (DMARDs), or pain-relieving injections, so it's unlikely to be sufficient if you're in a lot of pain and it's certainly not a stand-alone treatment if you have a chronic inflammatory or autoimmune form of arthritis. But for patients with mild discomfort, as well as those who want to supplement other treatments, menthol is an option, says Dr. Bose.
Menthol is apt to work best for arthritis when used to target joints like those in your hands and knees that are close to your skin's surface. The catch is that menthol's benefits tend to be short-term. "It doesn't provide long-lasting relief, but it may be beneficial to use right before painful activities," says Dr. Rim. Check with your doctor first to make sure that it's okay for you to engage in an activity that would otherwise be too uncomfortable.
Anyone with any kind of arthritis can try menthol; your specific condition won't impact how menthol works. "That said, autoimmune or inflammatory arthritis, such as rheumatoid arthritis, is more complex than osteoarthritis, so patients will need to use stronger medications in general," says Dr. Rim.
She adds that some people with autoimmune or inflammatory arthritis also have skin problems. For instance, if you've developed an RA-related rash or have psoriasis along with psoriatic arthritis (PsA), menthol might lead to increased skin irritation.
How to Use Menthol for Arthritis Pain
Menthol products come in a variety of formulations. Picking one really comes down to personal preference. "Some people like the convenience of a patch, some like to rub in creams or gels," says Dr. Rim. Your choice might also depend on where on your body you intend to use the product as well as how often you intend to use it.
Keep in mind that there are many topical menthol products on the market, and even the same company may manufacture different variations. Read labels carefully to make sure you understand what you're buying, including how much menthol an item contains as well as whether other extra active ingredients such as lidocaine or camphor are present. Additional active ingredients aren't necessarily problematic, unless you're allergic to them. (You should, of course, avoid menthol if you're allergic to it.)
The more menthol in a product, the more apt it is to work well — though it might make you feel too cold. Dr. Bose says she often uses Biofreeze Spray (which contains menthol) to numb patients prior to giving a corticosteroid injection. 
As with any medication, always follow the application instructions on the package. Always keep it away from sensitive spots like your eyes, nose, mouth, and genitals. If you decide to use a product like a cream or gel that you need to rub on with your hands, remember to wash up afterward.
Some menthol products to consider include:
Final Considerations
Menthol is hardly a cure-all for arthritis, but experts agree that it's a low-risk, possibly moderate-reward option that might be worth adding to your treatment arsenal.
"I think it's a very good, gentle therapy, especially for osteoarthritis since there's not that much in the way of medications for it," says Dr. Bose. As long as you're not allergic to menthol and keep it away from extra sensitive skin — including any cuts, wounds, or rashes you might have — it's safe to give it a try. "Just have realistic expectations," she says.
Use Our ArthritisPower App to Manage Your Arthritis
Join CreakyJoints' patient-centered research registry to track your symptoms, disease activity, and medications — and share with your doctor. Learn more and sign up here.