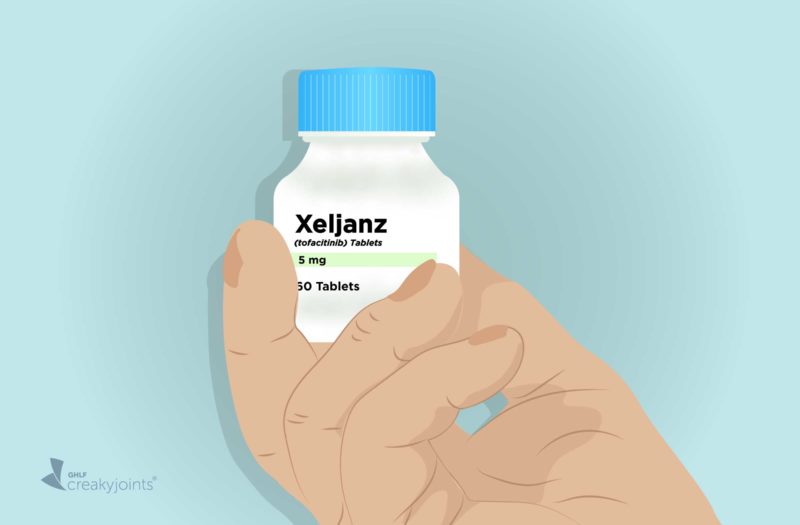 You may have seen recent headlines calling into question the safety of tofacitinib (Xeljanz), an oral medication that is approved to treat rheumatoid arthritis, psoriatic arthritis, ulcerative colitis, and polyarticular juvenile idiopathic arthritis.
The medication, which is a type of drug known as a Janus kinase inhibitor, or JAK inhibitor, already has a black box warning that it might raise the risk of blood clots, called deep vein thrombosis (DVT), which can potentially be fatal if they travel to the lungs (known as pulmonary embolism). The black box warning also includes cautionary notes about risks of serious infections, as well as lymphoma and other cancers.
Now data from a new study raises more concerns about Xeljanz in addition to the blood clot risks — and potentially for other JAK inhibitors, too. The study is known as a post-marketing safety study, which is sometimes required by the U.S. Food and Drug Administration after it approves a medication but wants more data on its safety and side effects.
The study — conducted by the Pfizer, which manufactures Xeljanz — pitted Xeljanz against a different type of medication called a tumor necrosis alpha (TNF) inhibitor. Two types of TNF inhibitors were included in the study: adalimumab (Humira) and etanercept (Enbrel). The study was designed to determine whether Xeljanz was not "inferior" to TNF drugs in terms of the risk of side effects (called adverse events). Unfortunately it was not able to do that, as patients in the Xeljanz group were significantly more likely to experience a serious cardiovascular event (most common was a heart attack) or develop cancer (most common was lung cancer).
Pfizer revealed preliminary results late last month. The study, known as the ORAL Surveillance trial, included 4,362 people with rheumatoid arthritis who were 50 or older and had at least one additional cardiovascular risk factor. Participants were randomly assigned to receive 5 mg or 10 mg a day of Xeljanz or Humira or Enbrel.
Patients knew which drug they were getting: Xeljanz is taken orally every day, whereas these TNF drugs are usually injected weekly or every other week.
According to the early findings, RA patients who were taking the highest (10 mg) dose of Xeljanz were the most apt to suffer a cardiovascular event such a heart attack or stroke, but those getting the 5 mg dose were also far more likely than those using a TNF to have a serious cardiovascular event.
Additionally, patients in both Xeljanz groups were significantly more likely than those using a TNF inhibitor to develop cancer.
The full study is not yet complete, and Pfizer stated it will be working with the FDA to review the full results when they become available.
A week after the preliminary study results were released, the FDA issued a communication that warned health care providers and patients about the risks, but didn't take any additional steps, such as changing the warning label on the medication or imposing restrictions on who should take it. The communication stated that the FDA is waiting for more data from the full trial results in order to make any conclusions or recommendations:
"We will evaluate the clinical trial results we have received to date and will work with the drug manufacturer to obtain further information as soon as possible. We will communicate our final conclusions and recommendations when we have completed our review or have more information to share."
To patients, the FDA said that no one taking Xeljanz should stop taking it without first talking to your provider and to talk to your provider if you have any questions or concerns.
To providers, the FDA said that they should consider the benefits and risks of when deciding whether to prescribe or continue patients on the medicine.
What This Means for Patients
Rheumatology experts are eager for more data before making any conclusions or changing treatment recommendations for patients.
"Until we have a deeper dive on the data, and understand which patients were impacted, what were the risk factors, how this impacts the future use of JAK inhibitors is not clear," Stanley Cohen, MD, Clinical Professor in the Department of Internal Medicine at the University of Texas Southwestern Medical School, and Medical Codirector of the Metroplex Clinical Research Center, told Healio Rheumatology.
Further complication the issue is that other studies that look at patients on medications in the real world — not in a clinical trial — have not shown big differences in the rates of serious heart events or cancers between Xeljanz and TNF inhibitors.
Dr. Cohen told Healio that this data could suggest that patients who don't do well on methotrexate or another conventional disease-modifying drug should start a biologic (such as a TNF inhibitor) before a JAK inhibitor like Xeljanz, but acknowledged it may come down to a patient's overall risk factors for issues like blood clots and cardiovascular events.
"While this doesn't look good for tofacitinib, I think to be fair, the patients who entered this trial were sick patients. They had a lot of comorbidity. They were supposed to be at risk for cardiac events and infection; not necessarily DVTs [deep vein thrombosis] … but nonetheless, it was a fairly sick cohort who were then given these drugs and I'm not surprised that some signal occurs here," said rheumatologist Jack Cush in a recent RheumNow podcast that addressed this issue.
Dr. Cush went on to note that we don't yet know whether similar safety issues will occur with other JAK inhibitors, so we can't yet say whether this applies only to tofacitinib or it's something that's an issue for all kinds of JAKs.
Other approved JAK inhibitors include baricitinib (Olumiant) and upadacitinib (Rinvoq), which also have boxed warnings about infections, thrombosis, and cancer risk.
"Where this is going to pan out remains to be seen," said Dr. Cush. "Baricitinib and upadacitinib have their own long-term safety studies in play and we haven't heard anything from them as yet, so we'll see."
"We believe that extensive additional analyses of these study data, and communicating them as soon as possible, will further clarify the benefit and risk profile of tofacitinib to help inform medical decision making and patient care," Tamas Koncz, MD, PhD, Chief Medical Officer, Inflammation and Immunology at Pfizer, said in a release.
Track Your Medications with ArthritisPower
Join CreakyJoints' patient-centered research registry and log your medications to track side effects and impact on disease activity. Learn more and sign up here.
Pfizer, which manufactures tofacitinib (Xeljanz), is a corporate sponsor of the Global Healthy Living Foundation, as are Eli Lilly, which manufactures baricitinib (Olumiant) and AbbVie, which manufactures upadacitinib (Rinvoq).