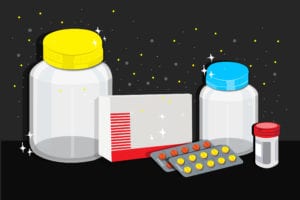 If you have arthritis, there's a good chance that you rely on over-the-counter or prescription non-steroidal anti-inflammatory drugs (NSAIDs) to help relieve joint pain and stiffness. Drugs in this class include ibuprofen (Advil or Motrin), naproxen (Aleve), and celecoxib (Celebrex). While the most common side effect of NSAIDs is stomach upset, some users (especially long-time ones) end up with ulcers, kidney disease, strokes, or heart attacks.
Although anyone can experience a serious adverse event from an NSAID, some people are believed to be more vulnerable than others. While experts know that some specific factors make using NSAIDs more risky, there hasn't been a way to put all the possible risk factors together — until now.
Researchers led by Daniel Solomon, MD, MPH, from Brigham and Women's Hospital in Boston, have created a scoring calculator for this purpose. According to their study, published in the journal Arthritis & Rheumatology, the NSAID Precision Score accurately predicts who is most apt to develop NSAID toxicity within the first year of taking prescription NSAIDs.
The study relied on earlier trials that included nearly 24,000 patients with either osteoarthritis (OA) or rheumatoid arthritis (RA). Everyone in these trials had been randomly assigned to received standard prescription doses of ibuprofen, naproxen, or celecoxib. Dr. Solomon and his colleagues took the data on these patients and ran it through their risk calculator. The calculator factors in a number of issues that are known to increase the risk of NSAID toxicity, such as having high blood pressure, being male, having diabetes or pre-existing heart disease, being a smoker, taking a statin (cholesterol-lowering) medication, and being diagnosed with RA (versus OA).
Researchers determined that, using their calculator, 27 percent of patients in the study fell into the highest-risk group for NSAID toxicity (more than 4 percent risk of having a serious cardiovascular event, severe gastrointestinal issue, kidney injury, or death). When they reviewed what actually happened to the patients in each of these earlier trials, they found that those who fell into the highest-risk group based on the calculator were indeed the most likely to have experienced a serious adverse event.
While future studies will be needed to confirm the accuracy of this risk calculator, it appears to have the potential to help doctors and patients decide whether using NSAIDs is advisable or too risky.
Keep Reading