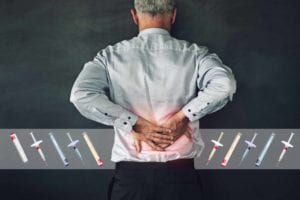 Axial spondyloarthritis (axSpA), a type of inflammatory arthritis that causes lower back pain, is often divided into two categories. Radiographic AxSpA (which may be called ankylosing spondylitis), means that evidence of joint damage is visible on an X-ray. Non-radiographic AxSpA (nr-AxSpA) is essentially the same condition, but without joint damage being visible on X-rays. Many experts consider nr-AxSpA to be an earlier stage of radiographic axSpA.
For patients, this distinction matters because while there are several FDA-approved biologic drugs that can be used to treat radiographic axial spondyloarthritis, the same drugs are generally not approved to treat non-radiographic axial spondyloarthritis, although this is starting to change. In March, the FDA approved certolizumab pegol (Cimzia) for nr-AxSpA, making it the first TNF inhibitor biologic to get the approved for this indication.
In Europe, other TNF inhibitors, including adalimumab (Humira), are already approved for use in people with nr-AxSpA, but the European Medicines Agency (Europe's counterpart to our FDA) required drug manufacturers to conduct post-approval studies to make sure that patients were not being over-treated.
One such study, ABILITY-3, found that people with non-radiographic axial spondyloarthritis who continued taking adalimumab after reaching remission were more likely to avoid flares compared to those who had stopped using the drug. The main findings were published last year in the journal the Lancet.
Now a new study, published in the journal RMD Open, homes in on a subset of patients from the ABILITY-3 trial to learn about which patients with nr-AxSpA are most apt to reach remission with adalimumab.
The new study focused on nearly 600 non-radiographic axial spondyloarthritis patients who received 40 mg of adalimumab every other week. The researchers determined that nr-AxSpA patients were more likely to achieve remission if they met certain criteria:
People who were male, age 45 or younger, HLA-B27 positive, and those who had higher initial scores of sacroiliac joint involvement (as determined with MRIs) were most apt to achieve remission within 12 weeks and stay in remission until at least week 28.
"Identification of baseline predictors of remission with adalimumab treatment may aid in clinical management of the disease," the authors wrote, but they cautioned that these findings "should not be interpreted as an implication that those without [such predictors] would not benefit from therapy."
Track Your Medications with ArthritisPower
Join CreakyJoints' patient-centered research registry and log your medications to track side effects and impact on disease activity. Learn more and sign up here.
Keep Reading