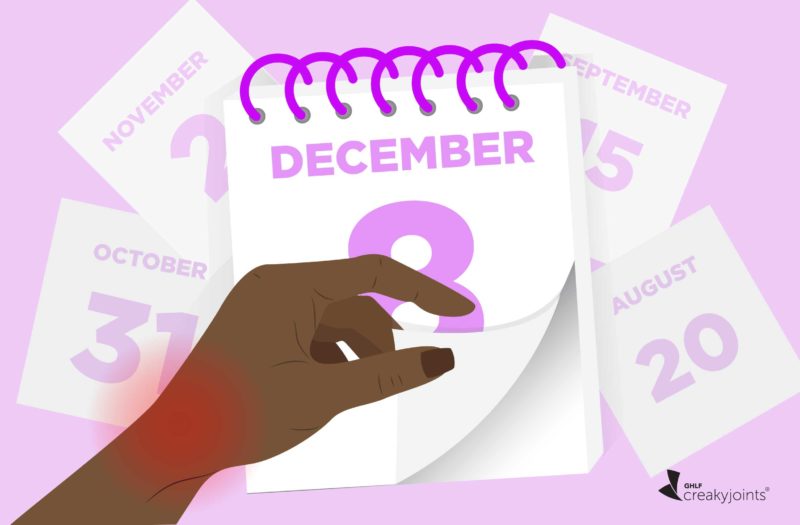 Official guidelines say that doctors should use a "treat-to-target" strategy for rheumatoid arthritis (RA) patients. That largely boils down to treating the condition as aggressively as necessary to get a patient into remission or low disease activity, which often entails prescribing a biologic drug if a traditional DMARD (disease-modifying anti-rheumatic drug) fails to work sufficiently within a few months. But according to a new study, many health care providers are not following this treatment strategy.
The research, which was published in the journal Clinical Rheumatology, followed 409 patients who were enrolled in the U.S. Corrona RA Registry between 2014 and 2018. At the start of the study, all participants had moderate to high disease activity — and more than half of them (54 percent) were still in that same situation after six months of taking a DMARD. Yet only 29 percent of those who had not sufficiently responded to a DMARD alone were given an additional or different medication at that time.
"This finding is in agreement with a recent study looking at prescribing patterns of biologic and nonbiologic DMARDs among patients with RA, which reported that a large number of patients did not receive care consistent with guideline recommendations," the authors wrote.
It's not entirely clear why providers aren't following the guidelines, and there may be more than one explanation. The authors theorized that lack of adequate training for health care providers, patients' reluctance to escalate treatment, and financial concerns due to the high cost of biologic drugs probably all factor in.
The researchers noted that more studies are need to understand why so many patients are not being treated according to the guidelines, adding that "there is considerable need for a treat-to-target approach to care to prevent joint damage and physical disability and maximize long-term health-related quality of life for patients with RA."
Track Your Medications with ArthritisPower
Join CreakyJoints' patient-centered research registry and log your medications to track side effects and impact on disease activity. Learn more and sign up here.
Keep Reading
Harrold LR, et al. Assessing Disease Severity in Bio-naïve Patients with RA on Treatment with csDMARDs: Insights From the Corrona Registry. Clinical Rheumatology. 2019. doi: 10.1007/s10067-019-04727-7.
Rheumatoid Arthritis Guidelines: Guidelines Summary, Treating to Therapeutic Target, Management of Early RA. Medscape. https://emedicine.medscape.com/article/331715-guidelines. Published November 12, 2019.
Solomon DH, et al. Treat to Target in Rheumatoid Arthritis: Fact, Fiction or Hypothesis? Arthritis & Rheumatology. April 2014. doi: 10.1002/art.38323.