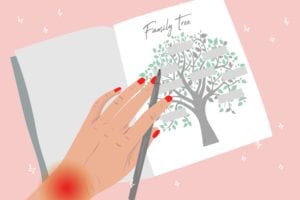 It may not come as a huge surprise that people who have a first-degree relative (parent, child, or sibling) with rheumatoid arthritis (RA) are more apt to get it themselves. What is surprising, however, is just how strong your genes may be — and that a family history of RA isn't the only familial condition that might increase your risk of developing the condition.
According to a new study, published in the journal Arthritis Care & Research, people who have a first-degree relative with RA are more than twice as likely as the general population to develop RA.
The authors also determined that having a family history of lupus, scleroderma, thyroid disease, and inflammatory bowel disease (Crohn's disease and ulcerative colitis) also substantially increases the risk of RA. After adjusting for potential confounding variables (other factors that might otherwise account for an increased risk of RA) — including age, sex, body mass index, race, education, and smoking status — they determined that study participants who had a family history of a rheumatologic autoimmune disease like lupus or scleroderma were twice as likely to develop RA.
A family history of several non-autoimmune conditions, including pulmonary fibrosis, sleep apnea, and autism, also appeared to increase the odds of developing RA, though to a lesser extent compared to having a family member with an autoimmune condition (including RA itself).
While autoimmune diseases tend to run in families, it's not clear why having certain non-autoimmune conditions (like sleep apnea) might also raise rheumatoid arthritis risk. "It is plausible that family history of other comorbidities might also predispose to RA due to overlapping heritability or disease mechanisms," the authors speculated.
To conduct this study, researchers from the Mayo Clinic analyzed health questionnaires that had been completed by 821 RA patients and 2,455 matched controls (who did not have RA) between 2009 and 2019.
"These findings can help refine tools to predict RA risk," they wrote. "Future studies exploring the mechanisms for such associations may help uncover RA disease pathogenesis."
Not Sure What's Causing Your Pain?
Check out PainSpot, our pain locator tool. Answer a few simple questions about what hurts and discover possible conditions that could be causing it. Start your PainSpot quiz.
Keep Reading
Kronzer VL, et al. Family history of rheumatologic, autoimmune, and non‐autoimmune diseases and risk of rheumatoid arthritis. Arthritis Care & Research. November 2019. doi: https://doi.org/10.1002/acr.24115.