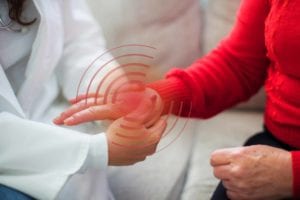 Pain and inflammation often go hand in hand, especially for people with inflammatory conditions like rheumatoid arthritis (RA). So it logically follows that when inflammatory markers decrease, less pain would follow. But according to a new study that isn't always the case.
The study, which was presented at the 2019 2019 American College of Rheumatology/Association of Rheumatology Health Professionals Annual Meeting in Atlanta, used data from three earlier trials. The authors, led by Mart A.F.J. van de Laar, MD, PhD, from Arthritis Center Twente in the Netherlands, aimed to separate patient reports of pain from objective measures of inflammation (including swollen joint counts and C-reactive protein).
In each of the three trials, a sizeable portion of RA patients being treated with baricitinib (Olumiant) achieved inflammation control by week 24, yet not everyone who had less inflammation reported corresponding improvements in pain. Not surprisingly, patients who said they had less pain in addition to low inflammation as indicated by swollen joint count and C-reactive protein level were more likely to report better physical functioning, less fatigue, and overall better quality of life compared to those whose inflammation (but not pain) was brought under control.
"Despite apparently well-controlled inflammation [swollen joint count ≤1 and CRP ≤1 mg/dL], residual pain may persist," the authors concluded. "This may have implications for management decisions beyond treating to disease activity targets alone."
Baricitinib is a JAK inhibitor, an oral medication that is not a first-line treatment for RA. Whether a similar number of patients taking difference types of RA medications, such as TNF inhibitors, experience improvements in inflammation but not pain is unclear as it was not part of this research.
Track Your Symptoms with ArthritisPower
Join CreakyJoints' patient-centered research registry and track symptoms like fatigue and pain. Learn more and sign up here.
Keep Reading