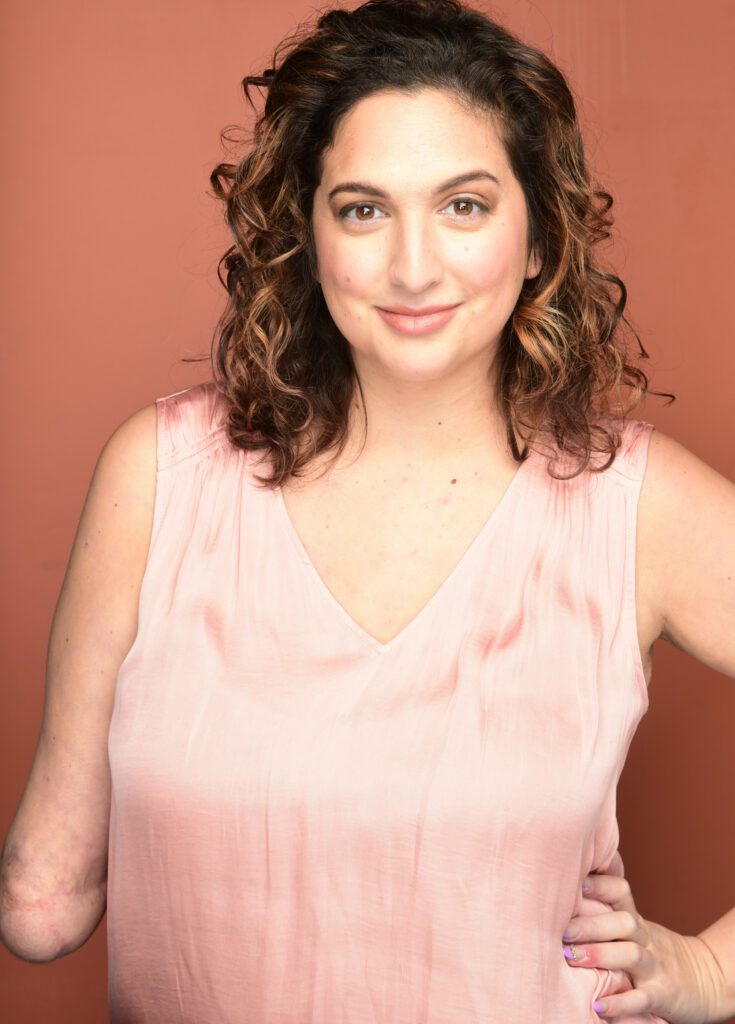 This story was told to CreakyJoints by Melanie Rivera Waldman, a 29-year-old actor, accessible yoga instructor, and disability advocate living in New Jersey. Melanie tells her story of living with autoimmune conditions and limb difference. 
If you have one autoimmune disease, you often have multiple. I live with lupus, rheumatoid arthritis (RA), and Ehlers Danlos syndrome, with signs of other diagnoses on the horizon. Although I didn't get my first official diagnosis until college, my symptoms started when I was only 8.  
As a kid, I'd often have pain in my joints after basketball practice. My mom was my coach and she had RA. I'd tell her my knee hurt and show her how it was swollen, and she'd say matter-of-factly, "You have RA. If it ever gets too bad, we'll have you see somebody." I always knew about RA as a possibility in my life. 
A Long Road to Diagnosis
Fast forward to college. I was home for winter break and decided to pick up a shift at the restaurant where I sometimes worked. While there, I started having trouble breathing — enough that I called an ex-boyfriend to take me to the emergency room. You know your symptoms are serious when you call an ex for transportation help. 
At the hospital I ended up in the cardiac wing, and was the youngest person on the floor by far. They ran tests, but couldn't conclude anything. There were some numbers that seemed off in my bloodwork, but they just told me to follow up in the future — of course, as a senior in college, I didn't.  
So I kept doing life. I went back to school and finished my double major in theater and journalism. Just before my senior showcase I remember my right arm froze at 90 degrees — I couldn't extend it beyond that. I could touch my face, I could feed myself, but I couldn't extend my elbow. So I performed the student showcase in a sling. I didn't know what else to do. I remember taking a selfie from that time and looking at my face and thinking I didn't feel like myself at all. 
Luckily I had the wisdom to go see campus health services about it, and they told me to see a rheumatologist. I thought, "Maybe this is it, the time for my RA diagnosis." But I couldn't make an appointment right away — I had just gotten myself a spot on the Disney College program, and I was moving to Orlando in less than a month. So it took some weeks before I was able to find a doctor there.  
I worked so hard at Disney. I would be on the job most of the day and then afterward I was allowed to go and play in the park until close. It was a dream. I would go to work for eight hours and then go play for six. I enjoyed myself to the fullest.  
But I was also having fevers and other strange symptoms. I would turn corners too early and run into walls. I was fatigued. Sometimes it felt really scary. I was living on my own for the first time and making decisions for myself — like when to go see a doctor. It took me some months, but I finally made an appointment with a rheumatologist. 
It wasn't RA — yet. The doctor told me I had lupus and started me on treatments. But after a few months, the doctor told me I wasn't progressing. The medications were only kind of working. And on top of that, he told me I had a blood clot.  
Losing My Arm
Things happened very quickly at that point. The doctor sent me to a vascular surgeon the very next day. My blood clots were cutting off the blood flow to my right hand and wrist to the point where my fingers were white. I had lesions show up on my hand. And the surgeon admitted me to the hospital for testing. 
I called my mom to tell her what was happening, and she didn't even hesitate. "I'll be there tomorrow," she said. And it was a good thing she came so quickly. That was the first day of what ended up being  a 30-day journey involving stays in two hospitals with 10 surgeries total.  
I had five or six surgeries just in my right arm alone, so doctors could try what they call clot busters. The doctors in the first hospital told me my condition was worsening. They didn't know how to treat me. So they transferred me to a university hospital two hours away, where I went straight into another surgery. But after that came the crucial decision that changed the course of my life: They decided to try a blood thinner, heparin, to help with my blood clots.  
But what doctors (and I) didn't know was that I am allergic to heparin. I developed heparin-induced thrombocytopenia, a rare but damaging drug reaction. I lost function in my fingers. My parents prayed for me in the local synagogue. Finally doctors told me: They would have to take my arm.  
They were explaining all of this information to me, and I couldn't take it in. I kept saying, "Okay. Great. Cool. Thank you so much." Because I'm polite. That's how I've always been. But something in their faces was telling me I wasn't understanding. A counselor came in to talk to me, and was kind enough to include my parents in the conversation so we could all process it. It was during this talk that the counselor introduced me to something that has served me ever since: mindfulness and therapy.   
Getting Back to Me
It took me a long time to get back to the things I love. I took baby steps. My first job was as a babysitter/homework helper because it was a good easy intro to work, only a couple of hours a day. Then I started working part time, and eventually tried to go full time. But trying full-time work was what helped me understand I needed to go on disability. I was denied at first, which a lot of people face.  
I'm at a point now where I can look back and say, "Wow, I was really going through it." But at the time, I had no idea. After losing my arm, it took me a while to get back to any semblance of normal. First was yoga. I was lucky enough that a local studio gifted me a one-on-one with a yoga teacher who happened to also be an occupational therapist. She adapted my whole practice for me. It felt like such a gift.  
I started doing hot power yoga twice a week every week, if not more. And I did that for about a year. It led me to want to get my yoga teaching certificate. And by that summer, I had my 200 training hours down, and began to teach yoga myself.  
I was so into it. I really started feeling more like myself. There were so many mindfulness connections, and also a lot of self-empowerment. Yoga/mindfulness and therapy were two of the biggest pieces of my healing process. Now I'm able to lead accessible yoga for all bodies and help others find that connection to themselves. Learn more about Melanie's accessible/adaptive yoga.
Living With Invisible and Visible Disability
Through therapy and a lot of self-examination, I realized I needed to get back to journalism. I started a blog and writing was a great outlet. But it wasn't long before I felt something else missing — performing.
A friend of mine told me about a competition called the Easterseal Disability Film Challenge, where people with disabilities make five-minute films. It excited me. I hadn't done film and TV, only theater, but I decided to team up with her. That was six years ago, and we've done one every year since. I just finished my 6th film submission (see video below) for Easterseals Disability Film Challenge. 
That involvement with the Disability Film Challenge is what led me to now have my own agent — someone who represents people with disabilities. There's not a lot of that in the industry. And now I get to tell stories — to tell my story — using gifts I've had for years.  
I think that I'm very lucky that I had a mom who not only had both knees replaced before I was a teenager, but who also had RA. I grew up watching someone go through chronic illness. And both my parents taught me that no matter who a person is or what they look like, no matter their disability or their inability, you treat them like a person. And not everyone gets that lesson. 
And now I have eyes in both worlds. A lot of people with disabilities don't understand chronic illness and vice versa. I love the ability to be a physical and visual symbol. I know that I have that power to be just an image to not only like everyone in the world, but especially the chronically ill and physically disabled communities.  
Melanie's Advice for Others with Disability and/or Chronic Illness
Share your story
I love advocacy and I try to do a lot of it. Recently, a good friend of mine, Kelsey, died from brain cancer. She once told me that talking about my journey helped her go through her own loss and trauma. So I think that what I would say to other people is don't be afraid to share your story and don't be afraid to be vulnerable. I'm so grateful Kelsey and I were able to connect on that level. I'm going to carry that with me as I move forward in life. 
Try therapy
I wish I had gotten myself to therapy sooner. What I learned through having limb loss and an acquired disability is that there's a lot to process. There's a former life to grieve. I think if I had gotten into therapy sooner, I would have had a better relationship, not just with others but with myself.   
Give yourself time
It took me years to get to the point where I could not only talk about my disabilities, but genuinely grasp what I'm even talking about.  
Connect with others
You move forward in life because of the people who surround you and believe in you. And that's where your biggest opportunities are going to come from: the people who recognize your work and your potential. And from listening. Listen to other people's stories. Hear what they have to say. Really take it in. And then go from there.  
 

Want to Get More Involved with Patient Advocacy?

The 50-State Network is the grassroots advocacy arm of CreakyJoints and the Global Healthy Living Foundation, comprised of patients with chronic illness who are trained as health care activists to proactively connect with local, state, and federal health policy stakeholders to share their perspective and influence change. If you want to effect change and make health care more affordable and accessible to patients with chronic illness, learn more here.