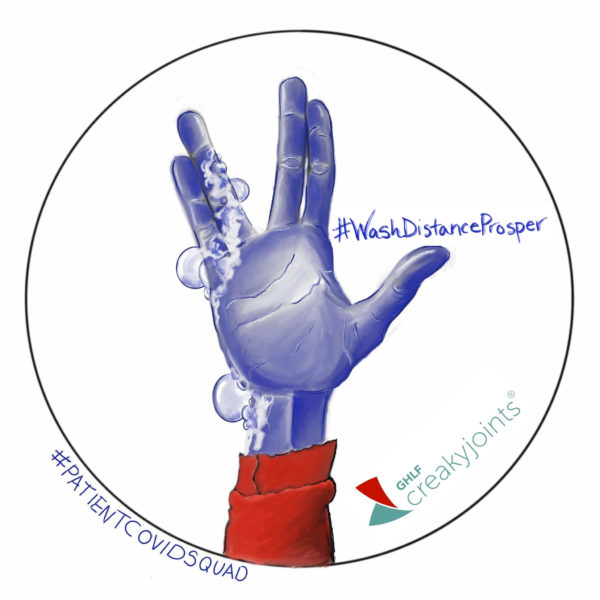 You can make this artwork your Facebook profile frame by clicking here.
More and more parts of routine daily life are coming to a grinding halt in an attempt to #FlattenTheCurve and slow the rate of coronavirus transmissions. But people at high risk for coronavirus complications — members of the Global Healthy Living Foundation patient community — have been self-quarantining for weeks now to protect themselves. For some people, that means having a lot more time on your (very clean) hands than usual, and a lot of anxiety, and lot of emotions about how to connect with other immunocompromised patients for community, support, and education.
Enter the power of art.
Jennifer Walker has multiple chronic health issues, including rheumatoid arthritis, axial spondyloarthritis, osteoarthritis, fibromyalgia, and more. Walker, who wrote an impactful essay weeks ago about feeling dismissed in the early coronavirus coverage, is a multimedia artist who uses art to express her feelings about managing pain, fatigue, and other symptoms from her chronic conditions.
Walker is a CreakyJoints member and ArthritisPower Patient Governor who has been furiously advocating for better education and support for high-risk patients during the coronavirus pandemic. She was one of a handful of patients on the leadership team that got the advocacy hashtag #HighRiskCovid19 trending on Twitter this past weekend and covered in HuffPost, Forbes, Buzzfeed, and elsewhere.
When community spread of the coronavirus outbreak started to take hold in the U.S. last month, Walker took to her art to create something that would make a difference. Here's more about the inspiration and the impact.
Q: Can you explain the symbol/inspiration behind this art and where it came from?
Jennifer: Joseph Coe, a caring and amazing patient supporter who works for the Global Healthy Living Foundation, was complimenting me, Charis Hill, and Dawn Gibson about our early and very vocal efforts to spread awareness around COVID-19 for us as high-risk patients. We saw a trend of being dismissed, ignored, and our health not taken seriously so we stepped in and began raising concerns around our very high risk for coronavirus complications.
We started joking that we were the Patient Covid Squad because of these efforts despite our disabilities, diminished energy levels, and physical limitations during this precarious times. We banded together to amplify one another's voices across social media because we feel a genuine concern and love for our fellow patients and friends.
No one else was looking out for us so we did it ourselves with the help of the Global Healthy Living Foundation and their patient community CreakyJoints. I can't remember who, but someone suggested it be our hashtag and a symbol for other patients who are working vigorously on social media and in their spheres of influence.
I was asked if I could draw something since I dedicate so much of my art to expressing the patient experience to create communication, connection, and a voice. Then we started brainstorming ideas. Dawn Gibson came up with the idea of the Mr. Spock greeting from Star Trek because everyone needs to start practicing social distancing to keep us all safe and slow the spread of the virus. We figured it would be an easy way to promote that idea. And we came up with the hashtag #WashDistanceProsper.
Charis: We all needed something tangible so we could feel acknowledged, valued, and seen for our commitment to this advocacy work for our entire community of high-risk people. It gives me hope to have this collaboration portrayed on a shirt, or a sticker, or even a blog post; and to know that I am part of a group that has put selfless, countless hours into spreading info and literally crying to be seen.
Q: How has art been helping you cope with your emotions and health during the coronavirus pandemic?
Jennifer: I go through waves with my anxiety where I obsess and all I can do is read and educate myself, look at medical reports/journals, pay attention to data and the possible spread, read information from infectious disease experts and follow their advice. I compare it with what I have learned as a professional patient and confer with other amazing advocates who are just as educated about our diseases and risks.
Then I get worn out and can't look at it for a while. And I get overwhelmed emotionally with the very real idea that if I contract COVID-19 that I will die. I have the trifecta of risks happening in my life with an immunocompromised body, asthma, and heart problems for which I take beta blockers. So sometimes I just have to shut everything off, binge a show on TV and sketch.
It helps me re-focus and calm down.
I don't allow myself to think of anything else and pay attention to my thoughts so that if my mind does start to wander, I can correct.
My art is my meditation at this point. It helps me calm down and focus better. It helps to keep my anxiety from spinning out of control and taking over every aspect of my life.
Q: What do you hope others, both with and without chronic illnesses, get out of this piece of art?
Jennifer: I want it to make them laugh, help them nerd out on Star Trek and become an image in their heads as they go throughout their day. I want this to be a solid reminder that simple techniques like hand washing and social distancing are absolutely essential. I hope this image creates a trend for those at risk but also gives them something to share with those around them who may not understand.
Charis: Having this artwork exist provides a real, tangible representation of the countless hours we have poured into this life-saving work. I have thought several times that it will become an artifact for those who survive to look back on with pride for the work we did, and sadness for those we lost along the way. I will wear this artwork as a badge of honor and as a cloak of support, knowing that every time I look at Jennifer's piece I'll be reminded of this close-knit group of committed advocates I am talking to daily through these scary COVID-19 times. This artwork is a symbol of our connectedness, our fear, our commitment, and our belief in the power of what we are doing.
Q: What does it mean to you to be a chronic illness/disability patient advocate during the coronavirus pandemic?
Jennifer: I cannot think of another time in my life that I was so terrified and yet so resigned to the fact of my own death if I contract this illness. I cannot think of another time when I was so honestly frightened of dying in such a slow, difficult way as being on a respirator and not being able to breathe.
All I want to do is gather all my fellow high-risk folks together under an umbrella and protect them. But I cannot.
Our fate is in the hands of those who are healthy, who are asymptomatic carriers and can spread the virus to their at-risk loved ones.
We are the forgotten and the invisible at-risk swarming around the healthy and the able.
We are the silent and unseen who do not speak up because we have been dismissed or had our struggles downplayed.
We are actually the best ones to consult about how to handle a pandemic such as this because we already practice so many of the hygiene and protective techniques that are being suggested.
We are experts in surviving in a world that does not see us and barely lets us speak, yet we are the ones most at risk of succumbing to the effects of this virus as it hits our health care system in the next couple of weeks like a hammer. I hate being in this position. And I am more scared than I have ever been in my life.
Charis: During a time where I am preparing myself for the possibility that I may die, this community is providing a space for me to grieve ahead of time as I go through the rollercoaster of emotions I'm having every day: anger, fear, sadness, confusion, disbelief, and exhaustion.
CreakyJoints' recent Open Letter includes the quote, "We were panicked from the earliest days of COVID-19 community spread — and we were ignored." I think that sums up my feelings about this whole thing. I'm committed to continue waging this war to be protected from this virus.
You can make this artwork your Facebook profile frame by clicking here.
Get Free Coronavirus Support for Chronic Illness Patients

Join the Global Healthy Living Foundation's free COVID-19 Support Program for chronic illness patients and their families. We will be providing updated information, community support, and other resources tailored specifically to your health and safety. Join now.