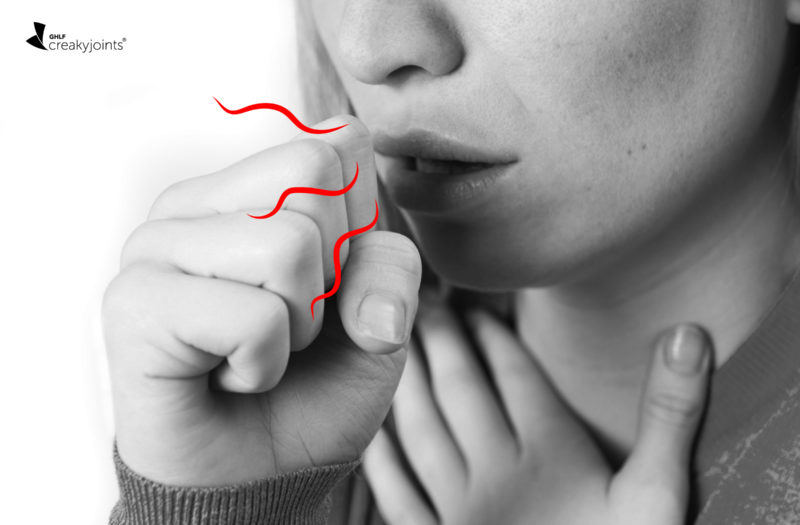 The patient in this story is using a pseudonym to protect her privacy.
Diane Smith started to feel worried on Friday March 6, 2020, when she and her teenage daughter went to get haircuts at a local salon near her Texas home. "The place usually has about 30 stylists and half the staff was out sick." There were no confirmed coronavirus cases nearby, but it raised a red flag.
In her mid-forties, Diane was diagnosed with psoriatic arthritis (PsA), a type of inflammatory arthritis that can compromise the immune system and is also treated with medications that suppress the immune system, about a year ago. She has a history of chronic pain and other health complications, including needing to have one leg amputated below the knee a few years ago due to an ankle surgery that required a bone graft that got infected with antibiotic-resistant bacteria.
In other words, she is among the bigger-than-you-think group of people who are at an increased risk of developing complications from coronavirus because of her suppressed immune system and underlying health issues.
The Phone Call That Sounded an Alarm
Coincidentally, that same day Diane talked with a friend who is a nurse at a dermatology office. "I hope you're self-quarantining," she told Diane. "I'm worried about you." The reason was that her practice had just tested a few patients because they presented with COVID-19 symptoms and three had tested positive.
Two were a couple that had recently returned from overseas travel, including China.
Diane wasn't overly concerned at this point, but she knew that staying home was prudent. She was perfectly fine settling in, staying home, and riding out the outbreak with her family, which included her husband, daughter, dog, and two cats.
An Unusual Church Visit
That Sunday, March 9, Diane's daughter went to services at their church, which featured unusual guest speakers: a family of church members who had been living in Wuhan, China doing missionary work. They were evacuated weeks ago — leaving behind most of their belongings and family pets — and were quarantined in California for two weeks upon their return.
Diane didn't think much of it after her daughter came home and reported back, because they had been quarantined, after all.
The Start of Symptoms
Fast-forward to Wednesday March 11. Diane woke up with a cough and mild fever, which is rare for her: "I can recall having had one fever in my whole adult life." Her temperature went up to 100.2 degrees F for a few hours and then went back down. The cough has remained.
"It makes me sound like a heavy-duty smoker. It's a dry cough. I don't have it all the time," says Diane, who thought maybe at first it was allergies because the seasons are changing and there's more pollen. But her allergies usually cause a post-nasal drip and congestion, and she has no sore throat or runny nose.
She is also very fatigued.
While many people with inflammatory arthritis like psoriatic arthritis report fatigue as a common (and problematic) symptom, Diane says she doesn't usually feel fatigue from her PsA. Pain is more her issue.
"I usually sleep eight hours at night and I wake up and I'm great for the whole day," she says. "But last night, for example, I went to bed and woke up at 12:30 PM today. And then all I wanted to do was go right back to sleep. I just feel beat."
"I've never had a cold or allergies present in this manner," she says. 
Coping and Hoping
The day after her fever and cough started, Diane called her rheumatologist and primary care doctors for guidance. They both said more or less the same thing: It sounded like she could have coronavirus, but they didn't have tests to confirm it.
"There's not much you can do," Diane says they told her. "You can't get tested right now; there are no tests available. If you have breathing problems, call the ER and they'll tell you where to go. They would then test you there. In the meantime, get rest, stay hydrated."
Her doctor also suggested she buy a pulse oximeter on Amazon "to make sure my oxygen saturation stays above 96," she says. "If it gets lower than that, I should go to the ER."
Thankfully, Diane is currently feeling mostly OK right now. She's having some wheezing and feels better when she's lying down.
The one problem: Diane takes a prescription pain medication that requires her to pick up in person from the pharmacy and show identification. She is due for a refill this week and isn't sure how to handle it. She doesn't want to go in person, especially without a face mask, but she has no access to any. "This is the one thing making me mad," says Diane, who wishes there was an easier way for her to access the medication without having to go to the pharmacy in person. She's still discussing possible alternate arrangements.
As for her health, Diane wishes she could get a test so she could know for sure what's going on. But for now, she just wants the symptoms to pass and start feeling better.
"The doctors didn't tell me when to come out of self-quarantine," she says. "I'd rather be safe, so I am thinking 12 to 16 weeks."
As for her advice to other people in high-risk groups? "Take care of yourself. Be smart. Self quarantine," she says. "Ask your neighbor for help if you need supplies. Don't think you're alone. People want to help you."
Update: We recently checked in with Diane and, thankfully, she shared that she has recovered from her symptoms, though she says she still has occasional difficulty breathing. It has taken some time for her to start exercising again, for example, because she was constantly getting winded. She still has some body aches but they are milder than a few weeks ago. "I'm doing more cardiovascular activities to try and build up my lung capacity. It's amazing what at first seemed like a simple 'cold' still is causing damage more than a month later," she says. She says she has been asked to be part of some clinical trials for the NIH on testing COVID-19 antibodies and is looking forward to participating.
Get Free Coronavirus Support for Chronic Illness Patients

Join the Global Healthy Living Foundation's free COVID-19 Support Program for chronic illness patients and their families. We will be providing updated information, community support, and other resources tailored specifically to your health and safety. Join now.