The Centers for Disease Control and Prevention (CDC) recently updated its COVID-19 guidance and eased social distancing and quarantine guidance in community settings. The new guidance takes vaccine status out of the equation and offers the same guidance whether Americans choose to get vaccinated, or not. You can read more about these recommendations and how to keep protecting yourself here. 
While those who are generally healthy may feel relieved that the CDC is continuing to loosen restrictions, many people with weakened immune systems and chronic health conditions may not be.  
In fact, in a poll from earlier this summer, only 30 percent of immunocompromised respondents said they feel more comfortable doing activities in public. The poll also found that people with chronic illness are closely monitoring COVID-19 case rates and are more concerned now than last year. Now, as summer passes by and there's new relaxed guidance, we wanted to learn more about this concern and see how it changed.  
In our latest poll, the Global Healthy Living Foundation's COVID-19 Patient Support Program aimed to gain insight into our community's thoughts on the new recommendations and plans now that we have these lax guidelines. 
Of the 1,197 respondents (93 percent reported they are immunocompromised), the majority (93 percent) are up to date on all eligible vaccines or have taken pre-exposure prevention medicine (e.g. Evusheld). Surprisingly, 95 percent said they had not heard about the latest CDC COVID-19 guidelines before this poll. 
Here are some other key learning and insights from the poll. 
70 percent of people with chronic illness feel unsafe due to the new, less restrictive COVID-19 guidelines
We asked participants if the new guidelines changed the way they feel about their safety when interacting with people outside of their household. The responses were:  
58% said I feel less safe

 

27% said I feel the same

 

12% said I never felt safe

 

2% said I feel more safe

1% said I always felt safe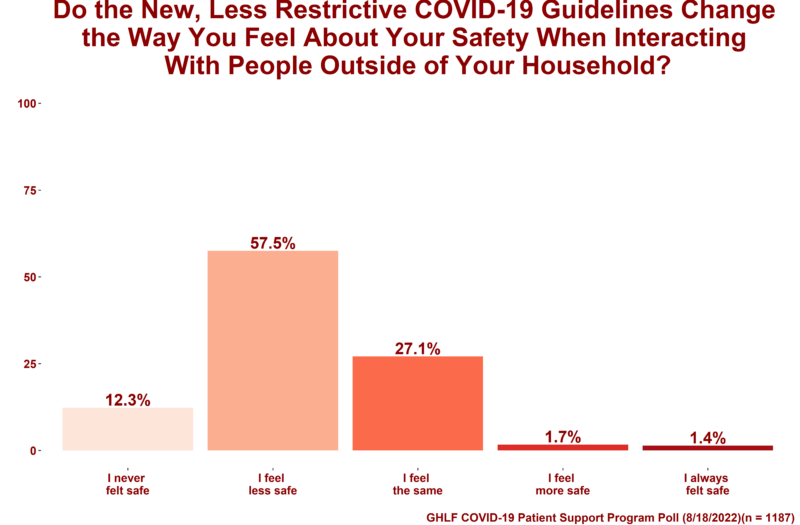 In the free response section of the poll, where participants could share any additional thoughts, many wrote in about feeling left out along with feeling less safe. As one participant wrote, "it really isn't so much what the CDC says/writes etc., but what the public is doing. Many are acting like COVID is over and just getting out there without mask and any other precautions."  
Others shared similar sentiments:  
"

A coworker announced that the new guidelines mean COVID is 'over.' I'm sure many people have this interpretation."

 

"Each time the guidelines are loosened I feel more and more unsafe. The immunocompromised are once again left behind, I feel."

 

"Again, we the immune compromised are left out and feel unimportant to our authorities. Great for healthy people. Not so much for immunocompromised. I'd like to see separate guidelines for us."

 

"I feel frustrated, annoyed, and forgotten. Each time these guidelines lessen, my own life becomes more restricted. It is hard to explain to those not immunocompromised — and even then, some immunocompromised people I know have given up and are facing the risks."

 

"I feel left behind. No one understands how I feel and why I feel the way I do."

 
Most will continue going in public as they have been, including wearing a face mask and practicing social distancing
As part of the poll, we asked how these guidelines will affect public interactions. The responses were split down the middle — 44 percent reported they will go out in public less often and 55 percent said they will go out as much as they have been. Less than one percent said they will go out in public more often.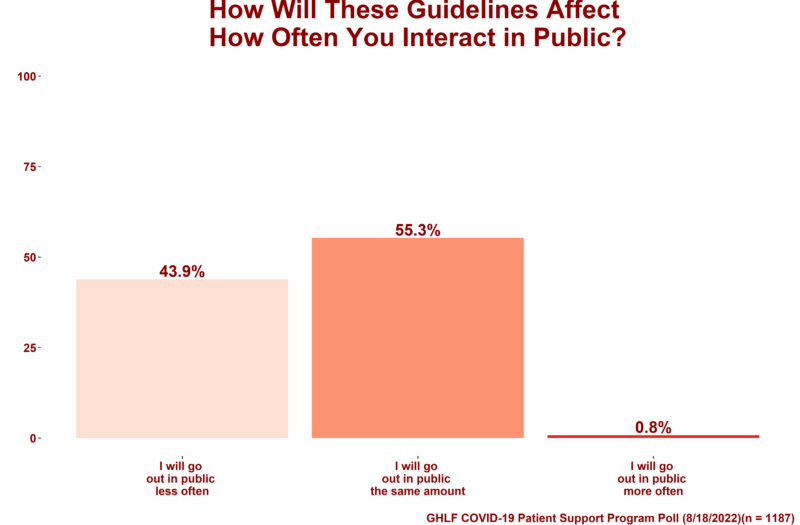 In the free response section of the poll, it became clear that many are still following the traditional COVID-19 safety precautions like masking, social distancing, and hand washing.  
"I continue to follow my doctor's advice regardless of the new guidelines, i.e., wear N95 mask in public, wash hands often, avoid large indoor crowds."

 

"I continue to wear my mask when in public. Wash my hands frequently and use hand sanitizer when I need too. COVID isn't over for me. And I am continuing to take precautions."

 

"I strongly feel that the use of good quality masks should be encouraged, if not mandatory, in enclosed settings such as grocery stores, etc."

 

"At first, I felt very sad. New release is a reminder that immunocompromised folks must be vigilant in masking, distancing, hygiene, and avoidance of high-risk situations. I plan to continue policy of no touching in most instances."

 
The Global Healthy Living Foundation is committed to providing ongoing education about COVID-19 vaccines for the chronic illness and immunocompromised community. To stay informed about the latest COVID-19 vaccine news for people who are immunocompromised, take immunosuppressant medications, or have autoimmune conditions, follow all of our COVID-19 vaccine coverage here. 
About the Patient Support Program Quick Poll
Members of our program have underlying health issues – such as inflammatory arthritis and other autoimmune conditions, heart disease, lung disease, diabetes, and more — that may increase their risk for COVID-19 complications. They are interested in understanding the best ways to stay safe during the pandemic and to be part of a community of people with similar concerns, questions, and fears.  
We regularly poll members, who live in the U.S. as well as around the globe, about a variety of topics, including how the pandemic is affecting their lifestyle, mental health, chronic disease management, medication adherence, and more.  
We use this information to inform the educational resources we provide and to inform other stakeholders — such as public health experts, policymakers, advocacy groups, health care professionals, and pharmaceutical companies — about chronic illness patients' needs and concerns. You can participate in ongoing poll by joining the support program here.