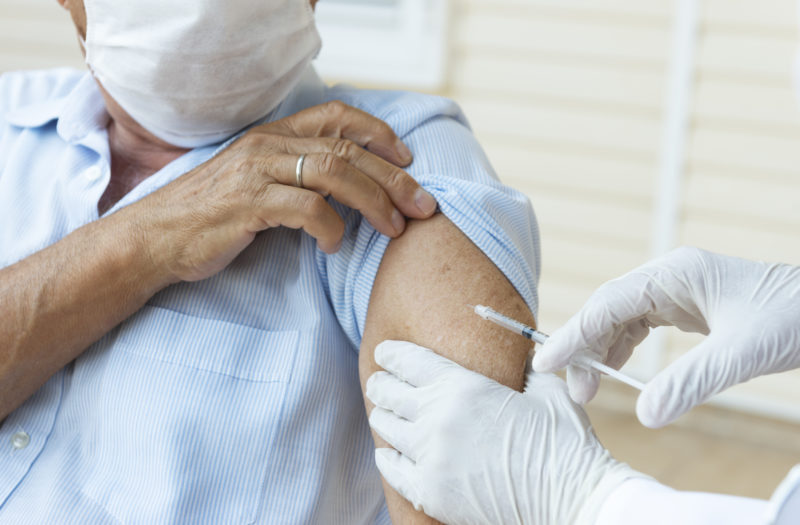 Nearly five months ago, the U.S. Food and Drug Administration (FDA) issued an emergency use authorization (EAU) for Evusheld, a long-acting monoclonal antibodies medication that can be used to prevent COVID-19 before exposure in immunocompromised individuals. To learn more about Evusheld, click here. 
Having another means of protection from COVID-19 is important for our community who live with underlying conditions or take immunosuppressant medications that might have affected their response to the COVID-19 vaccine. Many in our community have been concerned over not garnering a full response to the vaccine, especially as mask mandates and COVID precautions are rolled back.  
While monoclonal antibodies are not a replacement for vaccination, having the option of an additional layer of protection brought relief to many in our community. However, we've heard from a few members of the CreakyJoints and the Global Healthy Living Foundation community that they've been unable to access Evusheld and we sought to learn more about this experience. 
In our latest poll, the Global Healthy Living Foundation's COVID-19 Patient Support Program aimed to gain insight into our community's experience with Evusheld, including if they have heard about it or tried accessing it. 
Of the 1,024 respondents, 64 percent reported they have heard of Evusheld before and, of those who have heard of it, nearly half (41.46 percent) have had at least one dose. 
34.77% said they have not heard of Evusheld before this poll

 

1.17% said they weren't sure if they have heard of Evusheld before this poll

 
Here are some other key learning and insights from the poll.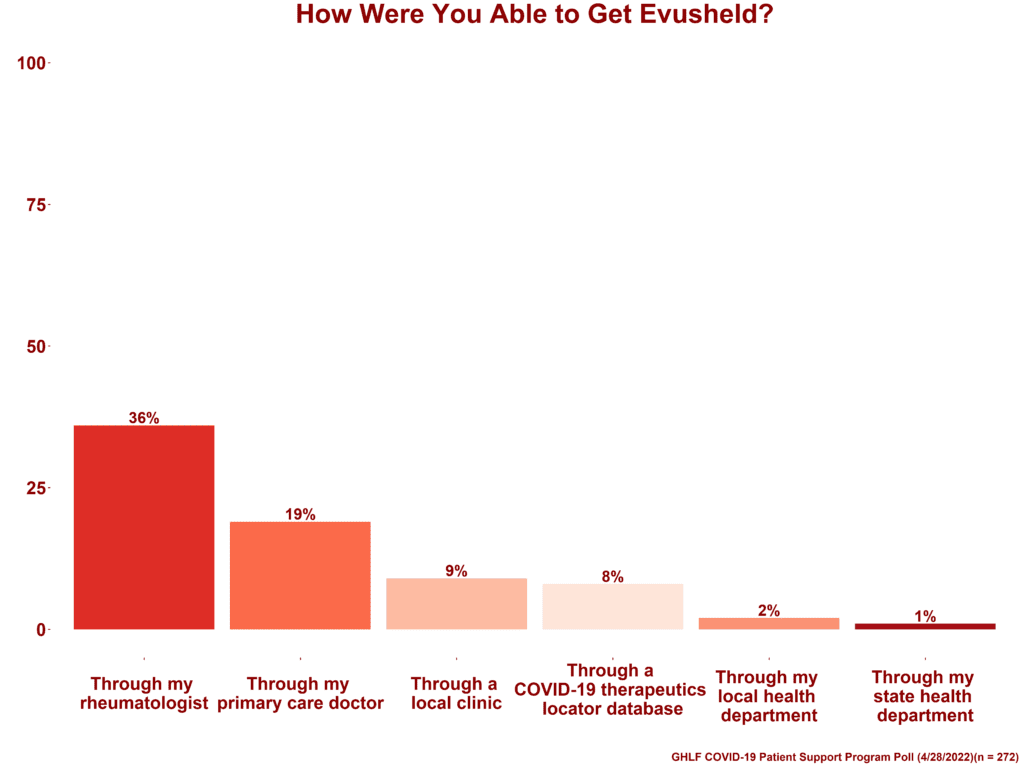 Most have received Evusheld through their specialty doctor
As part of the poll, participants were asked how they were able to get Evusheld, and they were able to select all that apply. 
47% said other

 

36% said through my rheumatologist

 

19% said through my primary care doctor

 

9% said through a local clinic

 

8% said through a COVID-19 therapeutics locator database

 

2% said through my health department

 

1% said through my state health department

 
From the free response section of the poll, it became clear that the "other" choice was referring to other specialists — oncologist, neurologist, nephrologist, pulmonologist, immunologist, transplant doctor, and hematologist were all listed as prescribers.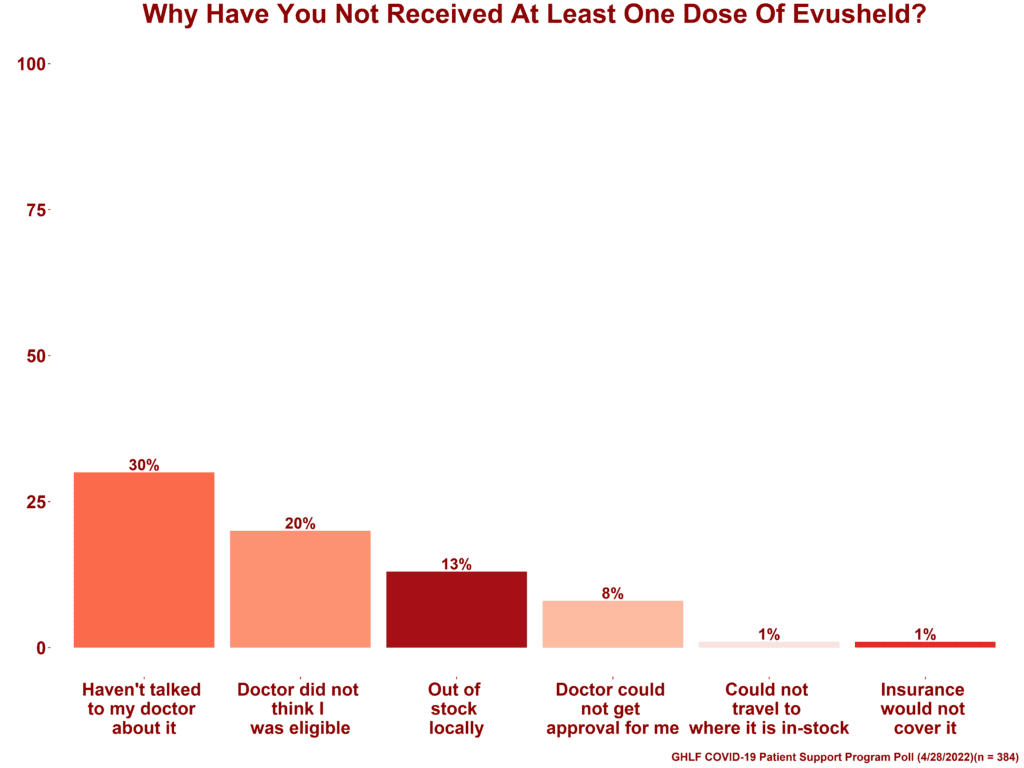 Majority have not had Evusheld because of lack of doctor recommendation and access
For those who answered that they have not received at least one dose of Evusheld (58.54%), we asked why they have not. Participants were able to select all that apply. 
46% said other

 

30% said haven't talked to my doctor about it

 

20% said doctor did not think I was eligible 

 

13% said out of sock locally

 

8% said doctor could not get approval for me

 

1% said insurance would not cover it

 

1% said could not travel to where it is in-stock

 
For the 46 percent that said other, the reasoning varied in the free response section. The most common other reasons for not getting Evusheld were, my doctor didn't feel it was necessary, there is limited availability, and my doctor wants to wait for more information. 
Many wrote a variation of "Dr. did not recommend for me," "Doctor didn't feel necessary," and "Doctor is not interested." 
For limited availability, people described being on a wait list, and uncertainty about insurance coverage: 
"Oncologist said there were 2,000 people in front of me."

 

"

Doctor willing to write script, but didn't think we'd be able to find it. No clue as to whether insurance covers it."

 

"Were on a waiting list, we think. Haven't heard anything for months."

 

"Doctor said it was 'impossible to get.'"

 
Respondents also shared that their doctors are waiting for more information from the U.S. Food and Drug Administration (FDA) before they prescribe it: 
"Doctor wants me to wait until more studies are done and it has full FDA approval and not just EUA. He thinks it's too experimental right now."

 

"Decided against it at this time because it's in the experimental stage and isn't FDA approved yet."

 

"Doctor concerned of possible side effects."

 
Finally, from the free response section we learned that many have an appointment scheduled in the next few months to get a dose of Evusheld. 
Get Free Coronavirus Support for Chronic Illness Patients
Join the Global Healthy Living Foundation's free COVID-19 Support Program for chronic illness patients and their families. We will be providing updated information, community support, and other resources tailored specifically to your health and safety. 
About the Patient Support Program Quick Poll
Members of our program have underlying health issues — such as inflammatory arthritis and other autoimmune conditions, heart disease, lung disease, diabetes, and more — that may increase their risk for COVID-19 complications. They are interested in understanding the best ways to stay safe during the pandemic and to be part of a community of people with similar concerns, questions, and fears.  
We regularly poll members, who live in the U.S. as well as around the globe, about a variety of topics, including how the pandemic is affecting their lifestyle, mental health, chronic disease management, medication adherence, and more.  
We use this information to inform the educational resources we provide and to inform other stakeholders — such as public health experts, policymakers, advocacy groups, health care professionals, and pharmaceutical companies — about chronic illness patients' needs and concerns. You can participate in ongoing poll by joining the support program here.