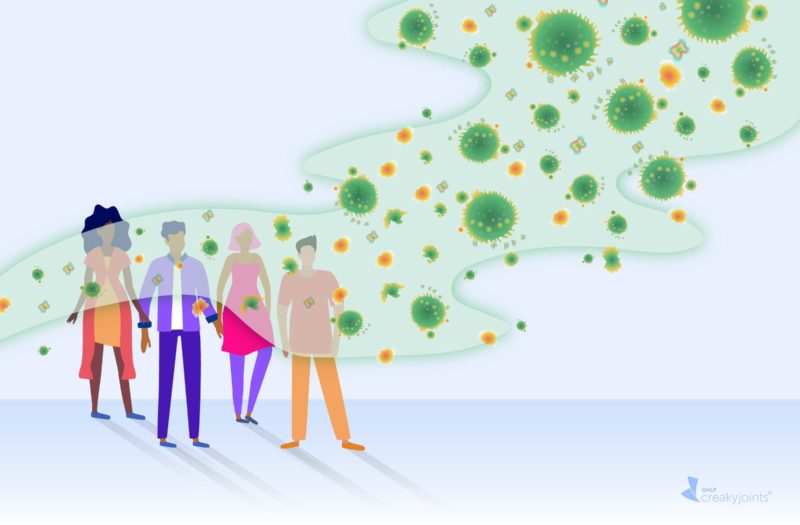 In big news last week, the Centers for Disease Control and Prevention (CDC) eased social distancing and quarantine guidance in community settings, shifting much of the responsibility for risk reduction "from institutions to individuals," as noted by The New York Times.  
While mask guidelines remained the same, the health agency has taken COVID-19 vaccination status out of the equation, offering the same guidance for Americans whether they choose to get vaccinated, or not.  
The new guidelines also modified the "six feet away" social distancing rule to a more generalized statement, urging individuals who want to lower their risk to "maintain distance and avoid crowds."  
However, the CDC continues to stress the importance of staying up to date with vaccinations and urges those at high-risk of severe illness to take advantage of antiviral medications if they do become infected. 
Here's a look at the latest COVID guidance from the CDC:  
In the case of a known COVID exposure, t

he CDC now recommends instead of quarantine, wear a high-quality mask for 10 days and get tested on day five.

 

Regardless of vaccine status, if you are sick with COVID-19 you should isolate yourself for at least five days (those with a weakened immune system should isolate through day 10) and wear a high-quality mask through day 10. The health agency also recommends staying from anyone at high risk for getting sick from COVID-19 until day 11.

 

If you experience a rebound infection, which have been reported by some people after taking the antiviral treatment Paxlovid, you should restart the clock on isolation.

 

Screening testing of asymptomatic people without known exposure is no longer recommended in most community settings (including schools).

 

Contact tracing should be limited to hospitals and certain high-risk group-living situations, such as nursing homes.

 
"This guidance acknowledges that the pandemic is not over, but also helps us move to a point where COVID-19 no longer severely disrupts our daily lives," said Greta Massetti, PhD, a CDC epidemiologist in a statement. "We're in a stronger place today as a nation, with more tools — like vaccination, boosters, and treatments — to protect ourselves and our communities, from severe illness from COVID-19," she said.  
Dr. Massetti also emphasized that we have a better understanding of how to reduce exposure to the virus, including wearing high-quality masks, testing, and improving ventilation.  
What Our Community Thinks
While those who are generally healthy may feel relieved that the CDC is continuing to loosen restrictions, many people with weakened immune systems and chronic health conditions are not.  And for many people in our community, the guidelines are moot. They'll continue to mask up, social distance, isolate, and do their part to stay up to date on vaccinations — no matter the behavior of others.  
We asked our community, "How do you feel about this guidance as someone who lives with a chronic illness?" Here are some of their responses:   
"My health is up to me, ultimately. I'll wear a mask and keep clean. There will always be limits on me but that doesn't mean everyone needs to follow it. Pre-COVID I was able to stay germ-free." — @msmarcellamac 
"I will continue to protect myself and my family to the best of my ability and hope others are taking precautions because I try to be on optimist, but I honestly don't think many were listening anyway." — @nicole.grindz 
"I knew it would be coming. However, as a mother of two school aged children it scares me. Too many families do not take it seriously and send their children to school regardless." — @naijakourtney 
"Lockdown and shielding were really tough (on mostly all of us) but I became suicidal and struggled so I am happy being able to return to somewhat normal." — @chronicallyem13 
"I knew it was coming. However, as a mother of two school-aged children it scares me. Too many families do not take it seriously and send their children to school regardless." — @queens27 
"Left behind and forgotten, again." — @brittaminnesota
"In a word, depressed. Other words: despair, hopelessness, anger, disgust. There's only so much you can do to protect yourself when everyone else is 'back to normal' all around you." — @shennaganss
"I'll continue to be safer than the general public. Autoimmune disease dictates that. I think the CDC is being irresponsible in relaxing guidelines. You can't reach herd immunity unless you vaccinate the entire herd. Basic knowledge if you grew up on a farm/ranch." — @tmorse895 
"I've felt a certain way about the CDC for a while now but the complete disregard for human life is astounding. It's infuriating to see a government funded organization actively promote the death or mass disabling of millions. While I know it's all for capitalism, it still hurts knowing how deeply this will impact poor, trans, and/or BIPOC communities." — @kelseysmigraine 
"Although we will continue to mask up and be extra cautious, it feels like a setback for immunocompromised people like me who were slowly starting to think about getting back out there, slowly, and a gamble with everyone's health. Now more will have COVID, no one will know and spread it and on and on." — @barbourmbey 
What You Can Do to Protect Yourself
It seems like COVID is here to stay — and "although it can still be a looming threat to our community, you can protect yourself with some preventative measures," says Daniel Hernandez, MD, Director, Medical Affairs and Hispanic Outreach for Global Healthy Living Foundation. Even better news, you may already be taking these steps and precautions.  
Dr. Hernandez recommends the following precautions:   
Continue to support each other as a community (we'll continue to do the same) 

 

Stay

up to date

with all of the required/eligible vaccines

 

Speak to your doctor about taking the COVID-19 prophylactic Evusheld

 

Make a "COVID-19 plan," per the CDC, including w

hat you're doing to protect yourself, what you'll do if you're exposed or develop symptoms, what you'll do if you test positive

 
Get Free Coronavirus Support for Chronic Illness Patients
Join the Global Healthy Living Foundation's free COVID-19 Support Program for chronic illness patients and their families. We will be providing updated information, community support, and other resources tailored specifically to your health and safety. Join now.