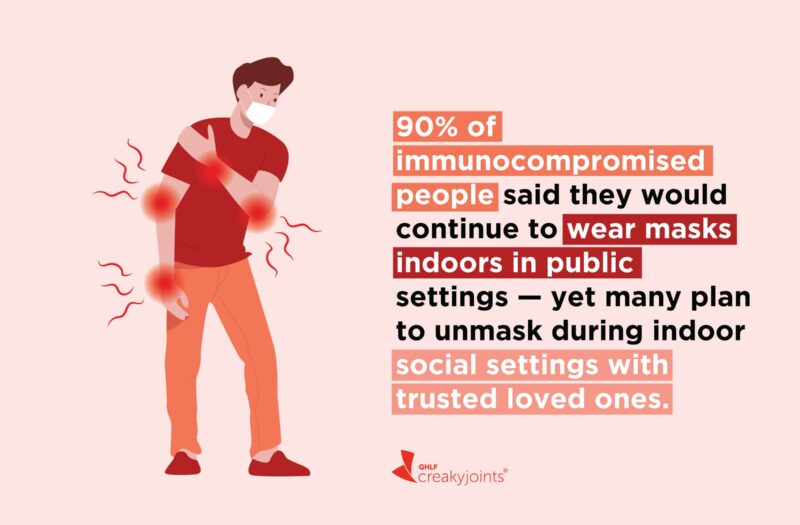 The U.S. Centers for Disease Control and Prevention (CDC) recently released new recommendations about mask wearing, which for the most part, said that fully vaccinated people do not need to wear masks indoors in public settings. 
More specifically, the guidance is broken up into three COVID-19 community risk levels: low, medium, and high. Levels are determined by hospital beds being used, hospital admissions, and the total number of new COVID-19 cases in your area. According to the CDC, people in low- and medium-risk areas do not need to wear masks, however, if you are immunocompromised and live in a medium-level area you should consult with your doctor about wearing a mask. People in high-risk areas are advised to wear well-fitting masks indoors regardless of vaccine status. 
Last year, when the CDC changed its mask guidance to say that those who are fully vaccinated can resume activities without wearing a mask or physically distancing, we asked our community about their mask-wearing plans. The poll results showed that 90 percent of immunocompromised patients planned to continue wearing masks indoors but were more willing to go without a mask when among family and friends — and this poll showed similar results. 
As we enter yet another phase of the pandemic, the Global Healthy Living Foundation's COVID-19 Patient Support Program aimed to gain insight into our community's plans to continue wearing masks and in what scenarios.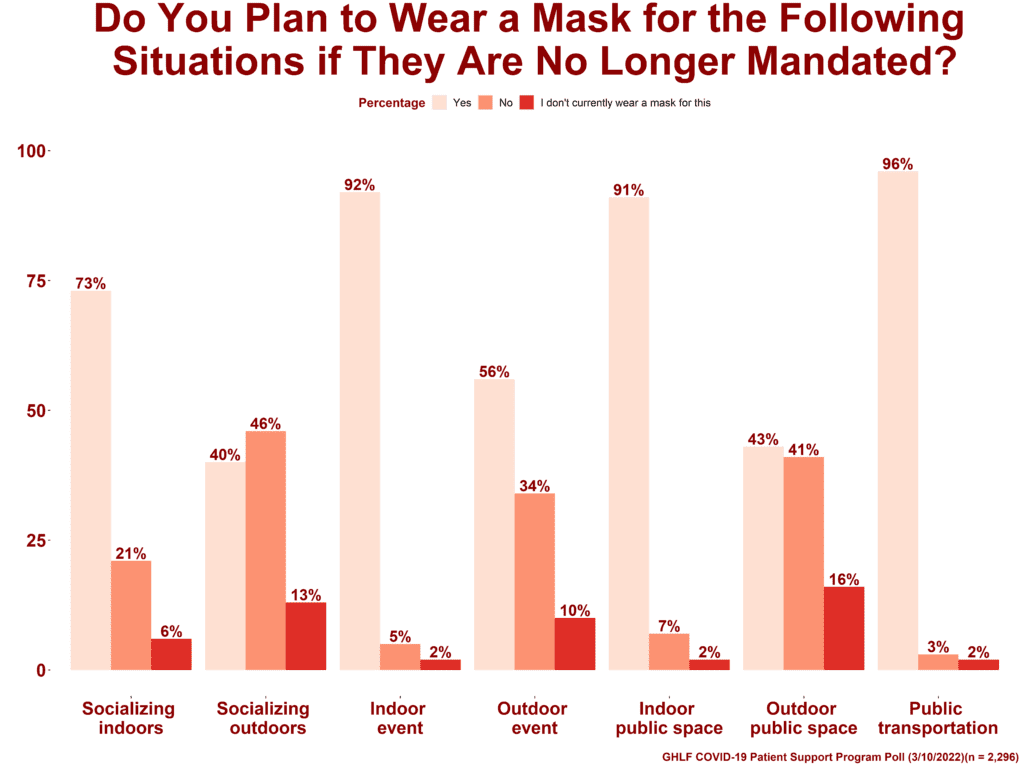 Of the 2,296 respondents (90 percent reported they are immunocompromised) polled, 93 percent reported being vaccinated against COVID-19, including having received all additional vaccine doses that are available. 
Here are some other key learning and insights from the poll. 
Many immunocompromised people will continue to wear masks indoors 
As part of the poll, patients were asked if they would continue to wear a mask for various situations if masks are no longer required. Of the situations presented, four took place indoors. 
When asked if they would continue to wear masks in indoor public spaces: 
91% said yes

 

7% said no

 

2% said I don't currently wear a mask for this

 
When asked if they would continue to wear masks at indoor events 
92% said yes

 

5% said no

 

2% said I don't currently wear a mask for this

 
When asked if they would continue to wear masks on public transportation 
96% said yes

 

3% said no

 

2% said I don't currently wear a mask for this

 
There was, however, one indoor situation where people with chronic illness were more willing to go without a mask: socializing indoors. For this, 73 percent of respondents said they would still wear a mask, while 21 percent said they would not. (Another 6 percent said they currently don't wear a mask for this).
This reason, based on answers in the free response section, is more about the people than the setting. Simply put: People feel more comfortable removing their mask around trusted friends and family.
"[It] depends on the group I'm socializing with. If they are all 'highly' vaccinated, I will go without mask."

"Socializing indoors is a quandary. If I'm with my family, I won't wear a mask. If I'm with strangers, I will wear a mask."

 

"I only socialize indoors with friends and family who are vaccinated and are careful."

"I will continue to wear my mask whenever I am away from my home and family."

 
More immunocompromised people are more willing to take off their masks outdoors than indoors 
We also asked about mask-wearing preferences in outdoor settings. Overall, more people feel comfortable to go without a mask when they are with people they know, and there is the ability to social distance.  
"Regarding outdoor mask use in public spaces and events, I may wear a mask if it is crowded or if I am standing still with others for a longer period of time (or if it is not windy). It's all very dependent on the situation."

 

"Any outdoor masking will depend on the crowd size and proximity to others as it has this whole time."

 
When asked if they would continue to wear masks in outdoor public spaces: 
43% said yes

 

41% said no

 

16% said I don't currently wear a mask for this

 
When asked if they would continue to wear masks at outdoor events: 
56% said yes

 

34% said no

 

10% said I don't currently wear a mask for this

 
When asked if they would continue to wear masks when socializing outdoors: 
40% said yes

 

46% said no

 

13% said I don't currently wear a mask for this

 
Most immunocompromised evaluate mask wearing on a case-by-case basis
For the most part, many are calculating whether they will wear a mask on a case-by-case basis, using what COVID safety precautions are being practiced as the measure.  
"I am still really uncertain. I have been evaluating each situation indoors. I look at the size of the group. Do I know the vaccination status of the people? I also check the risk in my county."

 

"It depends on the nature of the indoor space. Large indoor space with few people? Indoors with family members or others who you can reasonably trust to also be careful in their regular lives? There's no one-size-fits-all answer to these questions."

"I would mask at an outdoor event or public space if I could not keep at least six feet of distance. Or I might forgo going out altogether."

 
The new masking recommendations has immunocompromised people feeling ignored and judged
From the free response section of the poll, it's clear that immunocompromised people have continued to feel left behind as society goes back to a pre-pandemic "normal" — and the new recommendations are only exacerbating that feeling.  
Here are some of the written responses:  
"Again, it feels like a large segment of society that is vulnerable has been ignored. We are 'on our own' to try to protect ourselves…so much for 'public health' measures."

 

"As with most of the immunocompromised, I feel that we're an acceptable loss. All of the guidance has been geared for people who are not at a higher risk and the burden has been shifted almost entirely to people that are. We feel forgotten, left behind, and expendable."

 
Beyond feeling left behind, the judgment for wearing a mask is also impacting people's mental health. Immunocompromised people have handled pushback throughout the pandemic, and from the free response section of our poll, it became clear that the pushback is getting harder to handle.  
"As an immunocompromised person, I try to limit my exposure to unmasked people. As mask mandates are lifted and most people no longer wear a mask, it makes it harder on me. The judgmental looks and being made to feel lame from people who have no idea of my health issues just hurt."

 

"Now I feel mask-shamed wherever I go."

 

"I am very conflicted and just don't know what to do. I am finding it more difficult to mask when others around me are not than I thought I would."

 
The Global Healthy Living Foundation is committed to providing ongoing education about COVID-19 vaccines for the chronic illness and immunocompromised community.  
To stay informed about the latest COVID-19 vaccine news for people who are immunocompromised, take immunosuppressant medications, or have autoimmune conditions, follow all of our COVID-19 vaccine coverage here. 
Get Free Coronavirus Support for Chronic Illness Patients
Join the Global Healthy Living Foundation's free COVID-19 Support Program for chronic illness patients and their families. We will be providing updated information, community support, and other resources tailored specifically to your health and safety. 
About the Patient Support Program Quick Poll
Members of our program have underlying health issues — such as inflammatory arthritis and other autoimmune conditions, heart disease, lung disease, diabetes, and more — that may increase their risk for COVID-19 complications. They are interested in understanding the best ways to stay safe during the pandemic and to be part of a community of people with similar concerns, questions, and fears.  
We regularly poll members, who live in the U.S. as well as around the globe, about a variety of topics, including how the pandemic is affecting their lifestyle, mental health, chronic disease management, medication adherence, and more.  
We use this information to inform the educational resources we provide and to inform other stakeholders — such as public health experts, policymakers, advocacy groups, health care professionals, and pharmaceutical companies — about chronic illness patients' needs and concerns. You can participate in ongoing poll by joining the support program here.