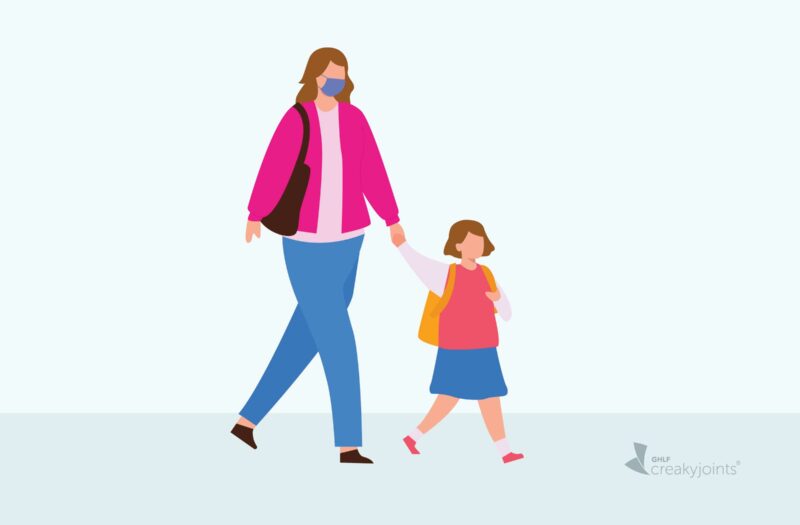 If you're immunocompromised, you may find yourself navigating more risk assessments as the world takes steps to return to "normal" during the current drop in COVID-19 cases in parts of the United States. One of these changes is schools eliminating mask mandates. 
Most states have now eliminated mask requirements in schools (with the exception of Hawaii at the time of publication). As an immunocompromised parent or caregiver to a child who goes to a school where masks are no longer necessary, you may wonder how your risk level is affected and what additional precautions you should take.  
We asked several experts about how to stay safe and lower your risk of contracting COVID-19.  
Risk Level in Schools
While eliminating precautions like masking in schools may raise risk, the actual jump in risk is determined by a variety of factors.  
An analysis of health data from Sweden published in the Proceedings of the National Academy of Sciences in February 2021 showed that keeping schools open with only minimal precautions (including no masking) made it 17 percent more likely that parents of children in school would be diagnosed with COVID-19 than those with children who were remote learning.  However, the study didn't stipulate how many of those parents were immunocompromised.
Meanwhile, a series of September 2021 studies from the U.S. Centers for Disease Control and Prevention (CDC) showed that the school districts that didn't have universal masking policies were more likely to have COVID-19 outbreaks. That said, masking was treated as one of many mitigation measures (including vaccination and social distancing), which complicates matters when it comes to assessing effectiveness of masks in schools.  
The risk also depends on transmission in your community. If COVID-19 cases rise and hospitalization rates increase, masking may need to be used as a mitigation method in schools again.  
"I think at this point in the pandemic, kids being unmasked in schools is a minimal risk to parents and caregivers in most places," says Benjamin Linas, MD, an infectious disease doctor and Professor of Medicine at Boston University School of Medicine. "There's been research to suggest that when cases are down around this level of 10 or so per 100,000, the risk of transmission in school buildings is very low."  
You're further protected if everyone in your family (who is eligible) is vaccinated for COVID-19. While it's true that certain medications or underlying conditions may hamper the effects of the vaccine, even some protection is much better than none. That's why experts recommend that eligible immunocompromised people still get vaccinated.   
"That combination of low cases that make it unlikely for there to be a COVID-19 exposure and everyone in the home being vaccinated really should give people a sense of security," says Dr. Linas. "If folks are still concerned, they should take solace in the fact that one-way masking when cases are this low works. I think that an immune-compromised family can send their children to school and feel confident — the question is, do they want their kid to keep masking or not?" 
Of course, if your child is uncomfortable in a mask or doesn't want to be the only kid wearing a mask in school, it can be a challenging decision to make.  
"I would reassure parents that at these case rates, if they're vaccinated themselves, they can feel safe letting their kids go to school without a mask," says Dr. Linas. "But it's a personal decision for the family."  
Children represent only about 19 percent of all reported COVID-19 cases in the United States since the pandemic began, per the Mayo Clinic. The most common symptoms in children are cough and fever, though up to 50 percent of children and adolescents might have COVID-19 with no symptoms.  
When New York City's public schools — the nation's largest school system — reopened for thousands of students in 2020, the schools saw remarkably low virus transmission compared to the spike of cases in the community, per a May 2021 study in the journal Pediatrics. That said, again, masks were mandated at this time. Still, schools don't appear to pose a major risk.  
"Numerous studies have found that schools don't offer such a high risk and they're not the root cause for transmission," says Ashlesha Kaushik, MD, Medical Director of Pediatric Infectious Diseases at UnityPoint Health in Sioux City and Director of the Antimicrobial Stewardship Program at UnityPoint Health – St. Luke's. "It's not to say that schools are protected, but they're not the number one source of transmission either."  
Your child going to an unmasked school may not present all that different of a risk than, say, your family going out to dinner at a restaurant.  
"There's nothing magical about a school in one direction or another," says Dr. Linas. "Any congregate setting without masks will be similar. There are a lot of people in a school, but I would put it in roughly the same category as a restaurant."  
Taking Steps to Protect Your Family
One of the most important steps you can take to protect yourself and your family is making sure everyone who is eligible receives all doses of the COVID-19 vaccine, including boosters.  
Vaccination rates are low in the youngest group (ages 5 to 11) eligible for the vaccine. Only about a quarter of this population is fully vaccinated, per the Mayo Clinic. Meanwhile, nearly 60 percent of the age 12-17 group is fully vaccinated.  
You should also make sure you have all recommended doses and boosters of the COVID-19 vaccine, too.  If you're immunocompromised, you may be eligible for a fourth booster dose five months after your third dose.
"The best thing immunocompromised people can do is make sure they're vaccinated for COVID-19, including an additional dose, for the primary series — plus the booster," says Dr. Kaushik. "All of these measures are directed at increasing the odds of getting a better immune response in these immunocompromised patients."  
You can also talk to your kids about personal hygiene that extends beyond mask wearing: Explain why it's so important to wash their hands, use a tissue when coughing or sneezing, and to not touch their face (especially with unclean hands!). Talking about how they can prevent getting sick or passing a virus onto their friends and loved ones can help give your child a sense of control and ease anxiety, per the Cleveland Clinic.  
Also, talk to your doctor about preemptive treatments you can take if your child does contract COVID-19. For example, immunocompromised patients can now be treated with REGEN-COV, a monoclonal antibody treatment to prevent COVID-19 after exposure — or even AstraZeneca's Evusheld, a monoclonal antibody treatment that can be taken before exposure to COVID-19.  
"It's extremely important to be in touch with your health care provider to see if you do qualify to receive some of those preemptive measures and treatments," says Dr. Kaushik.  
How to Discuss Masking With Your Kids
Keep in mind that your kids may have their own opinions about wearing masks at school. Talk about this topic together as a family to decide on next steps.  
"As a parent and a physician, I think it's important to talk about these masking decisions with kids and to understand their preferences," says Dr. Linas, who has an 18-year-old, 14-year-old, and 12-year-old. "For example, my kids are actually choosing to wear their masks to school. I think it's safe for them not to, and I told them to do whatever makes them comfortable — but they wanted to wear masks."  
If you're going to ask your child to continue to wear a mask, make sure they understand why and find out how they feel about it. You might even help them prepare for how to talk to other kids or answer questions about their mask if they're one of few students wearing one.  For example, they might say honestly: "My mom's high-risk for COVID-19, so I'm wearing a mask to help keep her healthy" or "My parents want me to wear a mask because they think it's safest for our family and I trust them."
If your child receives pushback or further questions from peers, they might diffuse the situation by saying, "Oh, it's OK if you don't want to wear a mask, I respect your decision. I'll keep mine on, though. It's no big deal — we can still play."
You may also need to have conversations with your adult children if you find it's too risky to see your grandchildren while they're in school for the season — or if you would feel more comfortable seeing them outside or in a masked environment. Talk to your doctor to assess your own individual risk based on your condition and the medications you take.  
And most importantly: Keep an eye on your community's transmission rate, as the risk assessments you make for your family and with your doctor may change as cases rise or drop.  
"This is a two-way decision," says Dr. Linas. "I don't know how it will play out in the future, but if we're at a place where cases are rising again, I would change my tune. If we're back at a spot where cases are 15 to 20 or more per 100,000, then I would say it's time to put masks back on [your kids]."   
Get Free Coronavirus Support for Chronic Illness Patients
Join the Global Healthy Living Foundation's free COVID-19 Support Program for chronic illness patients and their families. We will be providing updated information, community support, and other resources tailored specifically to your health and safety. Join now. 
COVID-19 in babies and children. Mayo Clinic. March 3, 2022. https://www.mayoclinic.org/diseases-conditions/coronavirus/in-depth/coronavirus-in-babies-and-children/art-20484405. 
How to Talk to Your Child About Coronavirus. Cleveland Clinic. March 13, 2020. https://health.clevelandclinic.org/how-to-talk-to-your-child-about-coronavirus/.   
Interview with Ashlesha Kaushik, MD, Medical Director of Pediatric Infectious Diseases at UnityPoint Health in Sioux City and Director of the Antimicrobial Stewardship Program at UnityPoint Health – St. Luke's 
Interview with Benjamin Linas, MD, an infectious disease doctor and Professor of Medicine at Boston University School of Medicine 
Varma JK, et al. COVID-19 Infections Among Students and Staff in New York City Public Schools. Pediatrics. February 24, 2021. doi: https://doi.org/10.1542/peds.2021-050605.   
 Vlachos J, et al. Keeping schools open without masks or quarantines doubled Swedish teachers' COVID-19 risk. Proceedings of the National Academy of Sciences. February 11, 2021. doi: https://doi.org/10.1073/pnas.2020834118. 
Studies Show More COVID-19 Cases in Areas Without School Masking Policies. CDC Newsroom. U.S. Centers for Disease Control and Prevention. September 24, 2021. https://www.cdc.gov/media/releases/2021/p0924-school-masking.html.
U.S. COVID-19 vaccine tracker: See your state's progress. Mayo Clinic. Accessed March 17, 2022. https://www.mayoclinic.org/coronavirus-covid-19/vaccine-tracker.