Early in the pandemic, the Global Healthy Living Foundation (GHLF) started an online COVID-19 Patient Support Program to provide news, information, advice, and support for people living with chronic illness. The program is free and you can still sign up here.
Members of our program have underlying health issues — such as inflammatory arthritis and other autoimmune conditions, heart disease, lung disease, diabetes, and more — that may increase their risk for COVID-19 complications. They are interested in understanding the best ways to stay safe during the pandemic and to be part of a community of people with similar concerns, questions, and fears.
We regularly poll members, who live in the U.S. as well as around the globe, about a variety of topics, including how the pandemic is affecting their lifestyle, mental health, chronic disease management, medication adherence, and more.
We use this information to inform the educational resources we provide and to inform other stakeholders — such as public health experts, policymakers, advocacy groups, health care professionals, and pharmaceutical companies — about chronic illness patients' needs and concerns.
Here are the results of our poll about support for more stay-at-home orders amid rising COVID-19 infections and deaths.
Conducted: November 24-28, 2020
Number of respondents: 914
What We Asked
Some governments around the world have been increasing restrictions to combat the spread of COVID-19. Depending on where you reside, you may currently be living with another stay-at-home order. In the U.S., with cases spiraling out of control, different cities and states have been implementing various levels of restrictions in recent weeks. Here is a list (updated regularly) from the New York Times of coronavirus restrictions in all 50 states.
The GHLF COVID-19 Patient Support Program was interested to see how supportive our community is of varying levels of stay-at-home orders.
We asked:
What are your thoughts on a regional or local stay-at-home order to slow the spread of coronavirus (COVID-19) where you live?
We also gave participants the opportunity to share their thoughts on stay-at-home orders in an open-ended response.
What We Learned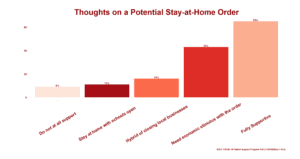 There were 914 respondents to the poll. Of those respondents, many had similar sentiments toward stay-at-home orders.
The most common responses toward stay-at-home orders were as follows. (Participants were able to select more than one response.)
65%: Fully supportive of a stay-at-home order if it is what we need to combat coronavirus
43%: Okay with a stay-at-home order if local businesses and unemployed or furloughed workers receive a stimulus to compensate for economic losses
16%: Prefer a hybrid of closing restaurants and other businesses before a full stay-at-home order
11%: Prefer a stay-at-home order that allows schools and daycares to remain open
Only 9 percent of respondents reported they do not at all support another stay-at-home order.
What This Tells Us
Many of our members feel strongly that any methods that help prevent the spread of the coronavirus need to be taken.
Some free responses expressed specific concerns about how potential stay-at-home orders should be implemented this time around, including perspectives from our global community.
"Although I support implementing any type of stay-at-home order if it means success in combatting COVID-19, at the same time I believe it is imperative for the federal government to provide support to the nation's citizens whether that be financial, medical, or other. We can have both, well planned stay-at-home orders if needed and well-planned economic activities."
"I am in Victoria, Australia, where have just hit over 28 days with ZERO cases and ZERO deaths!!! Yes, we were under strict lockdown from July to end October. Yes, it was tough, but the restrictions are almost all gone, and we are enjoying life pretty much like normal. Back in July, Victoria had around the same tally of daily cases as the U.K. (around 900), we went into lockdown and they did not. We are now considered to have eliminated it while they are having tens of thousands of cases a day, with all the deaths and long-term illnesses that follow. Stay at home, mask wearing, curfews, etc. are really hard, but they really pay off. It's a no-brainer."
"I am Canadian and have been satisfied with the measures taken here, which is allowing schools to stay open."
"People need information and direction. They do not understand how a pathogen is spread so easily or why isolating is necessary. The federal government needs to launch an information campaign and show what people look like on ventilators and how overwhelmed the hospitals get. Informed people will voluntarily comply. Call it a scare tactic if you want, I call it reality. I am a retired respiratory therapist and have friends in harm's way."
While most respondents expressed similar support toward stay-at-home orders, some expressed displeasures with the potential for more stay-at-home orders or with their local/regional governments. The diversity of responses provides an accurate representation of what we have seen in the United States and abroad.
One of the most challenging aspects of the pandemic for people living with chronic illness is that you can control your own behavior, but you can't control how others' behavior affects your health and safety. While everyone is bracing for a long, difficult winter, here are some resources that can help you stay vigilant and safe:
Get Free Coronavirus Support for Chronic Illness Patients

Join the Global Healthy Living Foundation's free COVID-19 Support Program for chronic illness patients and their families. We will be providing updated information, community support, and other resources tailored specifically to your health and safety. Join now.