Early in the pandemic, the Global Healthy Living Foundation (GHLF) started an online COVID-19 Patient Support Program to provide news, information, advice, and support for people living with chronic illness. The program is free and you can still sign up here.
Members of our program have underlying health issues — such as inflammatory arthritis and other autoimmune conditions, heart disease, lung disease, diabetes, and more — that may increase their risk for COVID-19 complications. They are interested in understanding the best ways to stay safe during the pandemic and to be part of a community of people with similar concerns, questions, and fears.
We regularly poll members, who live in the U.S. as well as around the globe, about a variety of topics, including how the pandemic is affecting their lifestyle, mental health, chronic disease management, medication adherence, and more.
We use this information to inform the educational resources we provide and to inform other stakeholders — such as public health experts, policymakers, advocacy groups, health care professionals, and pharmaceutical companies — about chronic illness patients' needs and concerns.
Here are the results of our poll about chronic illness patients' willingness to get a coronavirus vaccine.
Conducted: November 24-28, 2020
Number of respondents: 914
What We Asked
The development of coronavirus (COVID-19) vaccines has accelerated quickly in recent weeks. The FDA will likely authorize emergency use authorization for more than one vaccine in the coming weeks and months.
As vaccine supply will be limited, vaccines will be distributed to the most in-need groups first, starting with health care workers and people who live and work in long-term care facilities. People with chronic illnesses that increase the risk for severe COVID-19 disease and death — which may not include those with autoimmune conditions alone, but rather comorbidities such as heart, lung, and kidney disease and others — will likely be prioritized after those first groups.
The GHLF COVID-19 Patient Support Program was interested to see how people with chronic illnesses are thinking about getting the vaccine when it becomes available.
We asked:
Would you get a coronavirus vaccine now that there is more than one vaccine that may soon get emergency use authorization from the FDA and become more widely available later next year?
Depending on your response, we asked a follow-up question to those hesitant towards getting the vaccine:
What hesitations, if any, do you have toward getting a coronavirus vaccine?
We also gave participants the opportunity to share their general thoughts and concerns about coronavirus vaccines in an open-ended response.
What We Learned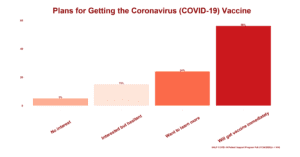 There were 914 respondents to the poll. Of those respondents, 403 were asked to answer the follow-up question on why they may have hesitations.
The most common responses for getting the vaccine were:
56%: Will get the vaccine as soon as it becomes available and health authorities advise getting it
24%: Would like to learn a lot more about the vaccine before getting it when it is available
15%: Interested but hesitant about getting the vaccine when it is available
Only 5 percent of respondents said they have no interest at all in getting the vaccine when it becomes available
Hesitations Toward Getting a Coronavirus Vaccine
The most common hesitations toward getting the coronavirus vaccine were as follow. (Participants were able to select more than one response.)
76%: There hasn't been enough time to study the long-term side effects of the vaccine
58%: There hasn't been enough time to study the long-term effectiveness of the vaccine
57%: Worried about getting the vaccine because of chronic condition(s)
52%: Worried about the side effects of the vaccine
41%: Worried about getting a vaccine because of medication taken for chronic condition(s)
27%: A new vaccine makes me nervous
Additionally, 3 percent of respondents expressed they do not believe in vaccines in general. Less than 1 percent said they have a fear of needles and do not like getting vaccinated.
What This Tells Us
Many people expressed they are more than willing to get a coronavirus vaccine, as long as their physician or public health authorities ensure its safety.
Here are some free responses about concerns and confidence in the vaccine.
"I am wanting the vaccine as long as it is safe for someone taking a biologic and methotrexate. I would find this out from my doctor before getting vaccinated."
"I will take this as soon as my rheumatologist advises it is safe for me to do so. I'm more concerned about whether the types of vaccines available are safe for me on my medications than I am whether the vaccine is safe for the general population, which I believe it is based on early trials. More education about how vaccines are developed, why they often take years, and why this one was developed so quickly might help the general public accept the vaccine faster."
"If the vaccine is a result of appropriate and time-tested trials and is presented in a respected medical journal, I would welcome a vaccine."
"I'm all for it and hope that they consider the immunocompromised people along with the elderly and frontline workers to have access to the vaccine first."
The responses to the poll show that our community desires more information on the short and long-term safety of the coronavirus (COVID-19) vaccine.
While most of our patients have expressed confidence in vaccines in general, many still want more information about vaccine safety and efficacy in specific health conditions and immunosuppressive medications.
It will be important for people with chronic illnesses to ask their doctors any questions they have about their personal health issues so they can understand what is known — and is not yet known — about the vaccine in order to make an informed decision, weigh the risks and benefits, and feel reassured about getting vaccinated.
CreakyJoints and the Global Healthy Living Foundation will continue to provide information about the safety and efficacy of the vaccine in certain medical conditions as this information becomes available.
Get Free Coronavirus Support for Chronic Illness Patients

Join the Global Healthy Living Foundation's free COVID-19 Support Program for chronic illness patients and their families. We will be providing updated information, community support, and other resources tailored specifically to your health and safety. Join now.