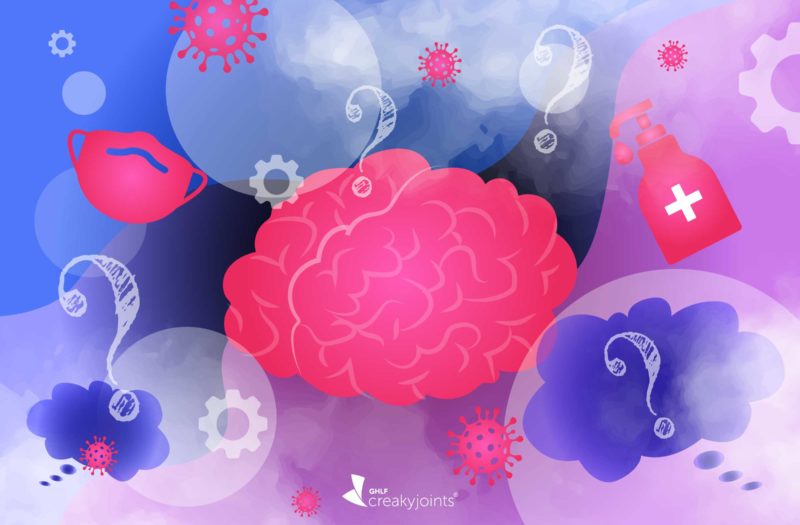 Mental illnesses like major depression and generalized anxiety disorder are very common, and people with chronic physical conditions like arthritis and rheumatic diseases are even more apt than those in good physical health to develop them. While that's worrisome in and of itself, it now turns out that having a history of mental health issues might increase the likelihood of contracting COVID-19.
Depression, anxiety, and other mental health problems certainly don't cause this viral illness, but a new study, published in The Lancet Psychiatry, suggests that they might somehow make you more likely to contract it.
The study, which was led by University of Oxford researcher Maxime Taquet, PhD, looked at the incidence of psychiatric diagnoses among people who later contracted COVID-19. The researchers also measured the number of psychiatric diagnoses that occurred later among people who had recovered from the coronavirus.
The researchers used electronic health data from a large database that contains information on nearly 70 million Americans, 62,354 of whom were diagnosed with COVID-19 between January 20 and August 1, 2020.
According to their findings, people who had been diagnosed with any psychiatric condition in the previous year were significantly more likely to be diagnosed with COVID-19 during this period — an increased risk that the authors said "was independent of known physical health risk factors" for the virus.
"We did not anticipate that psychiatric history would be an independent risk factor for COVID-19," the authors wrote. "This finding appears robust, being observed in all age strata and in both sexes, and was substantial… The risk persisted when problems related to housing and economic circumstances were controlled for."
Why might mental illness predispose someone to a contagious virus?
"Possible explanations for the association include behavioural factors (e.g., less adherence to social distancing recommendations) and residual socioeconomic and lifestyle factors (e.g., smoking)," the authors suggested.
"It could also be that vulnerability to COVID-19 is increased by the pro-inflammatory state" that some experts have theorized may occur as a result of having a mental illness or taking psychiatric medication.
Dr. Taquet's group also examined incidence of mental health issues that cropped up after someone was infected with COVID-19. They found that various psychiatric disorders, dementia, and insomnia were all more common among coronavirus survivors.
Nearly 6 percent of COVID-19 survivors were diagnosed with a psychiatric illness for the first time within the 90 days after being diagnosed with the virus. In the same time period. By comparison, 3 percent of a control group (whose members did not contract COVID-19) were also diagnosed with a psychiatric illness.
"Thus, adults have an approximately doubled risk of being newly diagnosed with a psychiatric disorder after COVID-19 diagnosis," the researchers explained.
Anxiety disorders were especially common, which may not be surprising given the stress of being ill with a potentially deadly virus during a pandemic. At this time, it's too early to say "whether post-COVID-19 anxiety will have a particular post-traumatic stress disorder-like picture," the authors wrote.
Get Free Coronavirus Support for Chronic Illness Patients

Join the Global Healthy Living Foundation's free COVID-19 Support Program for chronic illness patients and their families. We will be providing updated information, community support, and other resources tailored specifically to your health and safety. Join now.
Taquet M, et al. Bidirectional Associations Between COVID-19 and Psychiatric Disorder: Retrospective Cohort Studies of 62,354 COVID-19 Cases in the USA. The Lancet Psychiatry. November 9, 2020. doi: https://doi.org/10.1016/S2215-0366(20)30462-4.