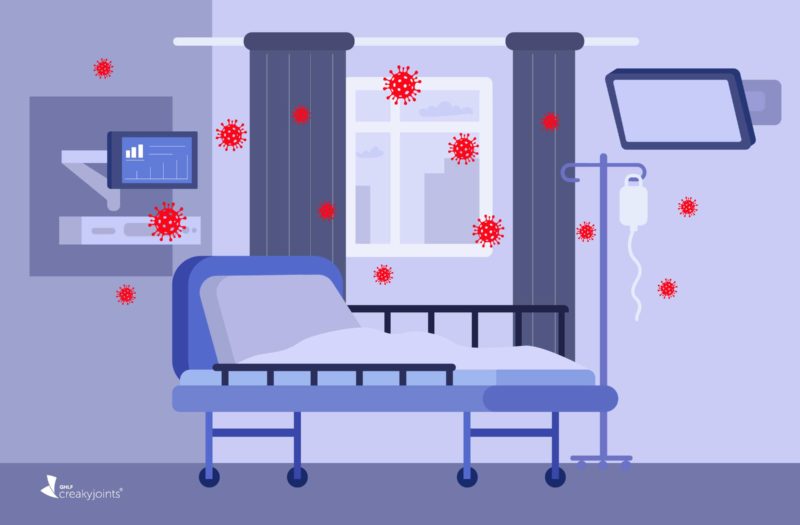 The coronavirus impacts those it infects differently: Some people never even realize they're infected (and are considered to be asymptomatic) while others struggle with miserable symptoms for weeks. Still, in general, the odds of survival for most people are excellent. The equation changes, however, for people who get sick enough that they need to be hospitalized.
Not everyone who is hospitalized with COVID-19 will die from the virus. In fact, the opposite is more likely to be true. But a new study, published in the journal the Annals of Internal Medicine, has some grim news for a smaller but substantial group of patients — including some who died within 60 days after being discharged from the hospital.
The study focused on 1,648 people in Michigan who were hospitalized with COVID-19 between March and July 2020. Since the science on this virus has evolved rapidly, people who are hospitalized today might fare better than those who were part of this study. Still, the research provides some insight into what may happen not only in the hospital but also after a patient is released.
The researchers, led by Vineet Chopra, MD, Associate Professor of Medicine at Michigan Medicine, found that 1,250 out of the 1,648 hospitalized individuals were discharged alive. Most were sent home (975 people), but 158 of them went from the hospital to a nursing or rehab facility for further care.
Within the next 60 days, an additional 84 people died and 189 were readmitted to the hospital. Those who had been treated for COVID-19 in the ICU had the highest risk of ultimately dying after being released from the hospital.
Dr. Chopra and his colleagues also found that many COVID-19 survivors were still struggling after they returned to their "normal" lives. Nearly half said they had been emotionally hurt by the experience, and some reported that they still had a cough or trouble breathing. Many had lost jobs or were forced to scale back their hours at work.
A different study, this one led by the COVID-19 Response Team from the U.S. Centers for Disease Control and Prevention, similarly found that the story doesn't always end when someone is discharged from the hospital. This research, led by Amy Lavery, PhD, found that 9 percent of people who leave the hospital after being treated for COVID end up being readmitted within two months.
In Dr. Lavery's study, which focused on hospital admissions and readmissions between March and August 2020, most of the people who returned to the hospital were 65 or older or had an underlying chronic condition.
"Information on the frequency of, and risk factors for, readmission can inform clinical practice and discharge disposition decisions especially with regard to the acuity and location of ongoing care needed for persons who might appear stable at discharge," Dr. Lavery's group wrote.
Dr. Chopra and his colleagues concluded that "the toll of COVID-19 extends well beyond hospitalization," and that "better models to support COVID-19 survivors are necessary."
Get Free Coronavirus Support for Chronic Illness Patients

Join the Global Healthy Living Foundation's free COVID-19 Support Program for chronic illness patients and their families. We will be providing updated information, community support, and other resources tailored specifically to your health and safety. Join now.
Lavery AM, et al. Characteristics of Hospitalized COVID-19 Patients Discharged and Experiencing Same-Hospital Readmission — United States, March–August 2020. Morbidity & Mortality Weekly Report. November 13, 2020. doi: http://dx.doi.org/10.15585/mmwr.mm6945e2.
Vineet C, et al. Sixty-Day Outcomes Among Patients Hospitalized With COVID-19. Annals of Internal Medicine. November 11, 2020. doi: https://doi.org/10.7326/M20-5661.