Each day, it seems, more parts of the country are continuing to reopen and people are becoming gradually more comfortable with going to work and resuming aspects of everyday errands, activities, and socializing.
This "gray area" following strict quarantine is tricky for everyone to navigate, but it's especially anxiety-provoking for people who have underlying health issues that may put them at a higher risk of coronavirus complications.
We asked members of our Global Healthy Living Foundation COVID-19 Patient Support Program, which offers personalized resources for people with chronic illnesses to help them navigate the pandemic, about how they are approaching issues like wearing face masks and social distancing behaviors in a recent community poll.
You can see top-line results in the infographic below.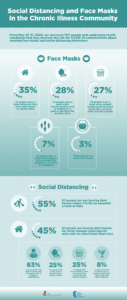 Not surprisingly, the vast majority of our community is following public health guidance when it comes to face coverings. More than one-third (35 percent) of people say they wear a face mask whenever they leave their home, no matter where they are going. More than one-quarter (28 percent) say they wear a mask when around people, such as walking in a park or going to the grocery store, while about the same number said they will wear a mask when around people in an enclosed space like a grocery store, but not outside. Just 3 percent of respondents said they do not wear face masks.
As for quarantine and social distancing, a full 55 percent of respondents said they are not leaving home except for an essential errand or item. Of the remaining 45 percent of respondents, most people are continuing to limit their exposure and still stay home as much as possible. For example, while two-thirds of that group said they are leaving home to work or go to doctor or treatment appointments, only 8 percent said they are resuming such activities as going to restaurants, bars, salons, and other businesses.
We included a free response field and asked people: Is there anything else you would like to add regarding wearing masks and social distancing?
Here is a sample of responses, which are anonymous.
What Chronic Illness Patients Think About Masks and Social Distancing
1. "I have found that as time has gone on people are not so mindful of physical distancing and if I don't get out of the way, I'm too close for comfort. Due to this I'm pretty sure I'll be wearing a mask more frequently and in more spaces."
2. "I don't go into anyone's home, and my neighbors shop for me for groceries. I socialize, but only outdoors."
3. "I try to visit places where masks are required by the business, such as Costco.  When walking in my neighborhood, although most people are not wearing masks outside, people watch and step aside when we are going to pass on the sidewalk.  We jokingly refer to it as doing the sidewalk dance."
4. "The state in which I reside has 'reopened' and many seem to have the impression there are no risks.  I do not feel safe in my community as a low percentage of people are wearing masks or following social distance guidelines."
5. "I have just started to go out and walk but I only do it if I can stay far away from other people. I did have to go to work and our workplace is supposed to have rules, but my coworker wasn't wearing a mask at all and wasn't social distancing. I don't want to go back to work again even if I'm asked to go in. The public transit to get to work didn't allow a six-foot distance to be maintained. I feel like I can't keep myself safe and still commute or work. I was more relaxed before I saw how things actually were vs. how I expected them to be based on what policies I read at work and about public transit."
6. "I wouldn't feel right around people for a very long time, like at church."
7. "I live in a neighborhood where many people walk down the middle of the street. We all generally make sure we walk on opposite sides of the street.  Some of us are now joining others in 'garage' parties… we bring our own chair, drink, etc. and sit eight feet from each other.  The social contact and laughing has been very important."
8. "Let's face it: If people didn't feel comfortable sitting in a restaurant three weeks ago, why would they feel comfortable doing that today? What has changed? There is still no vaccine or widespread testing. For the last three months people have stayed home. Shelter-at-home orders have brought the numbers down to a manageable level, but it has also created a false sense of security that the virus has passed."
9. "I wonder why I always follow CDC rules with mask, gloves, and distancing but there are more than less people who don't, and do not care when you confront them about it."
10. "Most people respect efforts to create space fortunately; a few are a bit clueless."
11. "I still feel very vulnerable at the thought of going to the grocery store and out shopping.  With having two chronic illnesses it is very scary and lonely."
12. "Those of us who are immunosuppressed are going to be left out as society 'opens up.'  I've already had several friends just drop me because I'm not comfortable sitting six feet away from them. But I will do what I have to do because I know I will die someday, but this is not the way I want to die.  I've seen two people that I really cared about … gasping for breath and it is not a good way to go. Better to just lose a few friends."
13. "How do I encourage people to keep their distance who are not intuitively? To some degree, isn't breaching my personal space putting me at risk? Isn't it a form of passive assault?"
14. "I am more afraid now than when we were in lockdown. Judging by what I saw when I picked up a curbside order at Target, people are acting like everything is over.  The store's parking lot was full and most people were not wearing masks."
15. "There is no consideration for low-income persons in property-based section 8 senior/disabled housing. We are wearing the same masks repeatedly day after day, if we have any at all. Some people have asthma or dementia, unable to wear masks, but are stigmatized and bullied by friends and strangers. Police, Fed Ex, UPS, and other authorities go unmasked."
16. "It is so important for me with my health history to stay away from people. You have to remind yourself everyone is possibly contagious."
17. "In my opinion masks should be mandatory. I'm terrified of COVID-19 but see people every day acting like it never happened. I feel self-conscious wearing a mask as there are only a handful of people doing the same. It seems as restrictions are being lifted people think it's over: less handwashing, no [hand sanitizer] use, and certainly no masks. For someone with a chronic illness it's scary I'm petrified of a second wave."
18. "I have diabetes and my husband is recovering from cancer treatments. It is infuriating when I encounter people in the grocery or pharmacy with no masks.  That's why I still don't go out unless necessary."
19. "Our neighbors get together with less than 10 people, social distance, wear masks, bring own chairs and  beverages, masks are removed for beverages. Just to have social time, sometimes we go to a park or the beach and pack sandwiches. We call it happy hour. It has helped keep us sane, as we are all above 64 have some minor health concerns."
20. "It amazes me that some people think just because you wear a mask you don't have to social distance."
21. "People should not bully or shame a person who is not wearing a mask; a person may have a medical condition or physical disability that makes mask wearing problematic."
22. "Since I have asthma and masks make it difficult to breathe, I try not to be in situations where I need a mask."
23. "I wish we could get masks at reasonable prices that protect us as well as others."
24. "Most people don't handle masks properly in terms of contamination control, such taking masks on and off without washing hands, sliding masks down and then back up, etc."
25. "I wear a mask to show that I care about others and their health and mine. Masks are a sign of respect for the whole community."
26. "I think that certain places — such as grocery stores, banks, etc. — should prohibit people from entering if they aren't wearing a mask so that those of us who are high-risk can visit these places and feel safe."
27. "I wish more folks understood that freedom comes with responsibilities. Maybe they need refresher courses on the Constitution. I have been wearing a mask since mid-March, mainly because testing in the U.S. is incredibly pathetic and I have no idea if I am one of the asymptomatic carriers. I would be devastated if I discovered that I unknowingly spread the virus.  As it is, I am also high-risk, so I wear a mask to both protect others, and, hopefully ward off potential spreading of those who very mistakenly think it's a fashion faux pas."
28. "I prefer to patronize stores that require their staff to wear masks and will avoid stores that do not (require: Menards; do not require: Fleet Farm)."
29. "I have always felt at risk due to a suppressed immune system. This virus has made me more fearful than I have ever been in my life.  My husband is an essential worker and we even practice social distancing between the two of us in our home.  People who do not wear mask are exposing everyone else to risk that are unnecessary."
30. "I with everyone would be concerned about others and wear a mask when near each other rather than fight about having so called rights."
31. "It's a crying shame many Americans haven't gotten the message that it's RESPECTFUL of others to wear a mask."
32. "I live in Berlin, Germany and had bad experiences in the last weeks when I went out to do some necessary shopping. I met some rude reckless people in and outside shops who refused to wear masks (it is obligatory in shops). Lots of places outside were overcrowded with people not social distancing and not wearing masks, so it was stressful for me to keep my distance from them. These experiences make me avoid going outside in spite of spring, nature and good weather being a balm to my soul. Everything would be easier and less stressful if everyone had to wear masks everywhere."
33. "I don't feel safe because almost no one wears masks while exercising in my neighborhood, and they get really close. I had to go to Petco and I was the only one wearing a mask, other than the employees."
34. "Without any consistent rules of engagement for all, I do not feel safe because there are enough people out and about who seem to think they don't need to wear masks because it infringes on their civil liberties. It does make me sad people can't see their actions affect everyone they come in contact with."
35. "Sometimes I do take the mask off if we are far apart outside. I would not visit indoors with others, even with a mask. I do not wear the mask if I go for a walk in the neighborhood and do not see other people. If I am on a trail in the woods, I put it on when I pass others."
Get Free Coronavirus Support for Chronic Illness Patients

Join the Global Healthy Living Foundation's free COVID-19 Support Program for chronic illness patients and their families. We will be providing updated information, community support, and other resources tailored specifically to your health and safety. Join now.